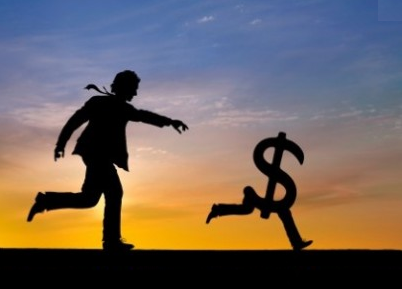 Stocks were due for a pullback and early debt ceiling lines in the sand by the combatants stimulated some selling.
I'm happy to report ETF Digest 2012 portfolio returns from 7 model portfolios were 6%, 7%, 15%, 16%, 17%, 20% and 22%. The lowest returns were from portfolios with the heaviest cash balances. So it's onward to 2013 with many challenges ahead.
There was little in the way of economic news and earnings season will be much in view as Alcoa (NYSE:AA) leads the charge with fourth quarter results.
Beginning January 10th, the ECB will be meeting with the focus on eurozone interest rates and Draghi's pledge to defend the euro (NYSEARCA:FXE). Further, the yen (NYSEARCA:FXY) rallied from a 3 week low as investors study what the ECB will do. Overall, the yen is a crowded short trade and some feel there will be some resistance against newly elected Prime Minister Abe's stimulus designed to weaken the yen and stimulate growth. Many believe the overall yen trade target is 90 to the U.S. Dollar (NYSEARCA:UUP), which fell Monday.
Gold (NYSEARCA:GLD) continues its battle to find direction even as noted the dollar was weaker. Commodity prices (NYSEARCA:DBC) were mixed to flat. Stocks were broadly lower by less than half a percent.
As a consequence of the overall lackluster action, this commentary will be short as we await more action.
Volume was quite light once again on selling. Breadth per the WSJ was mixed to mildly negative overall.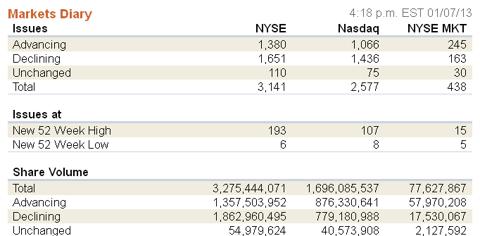 Click to enlarge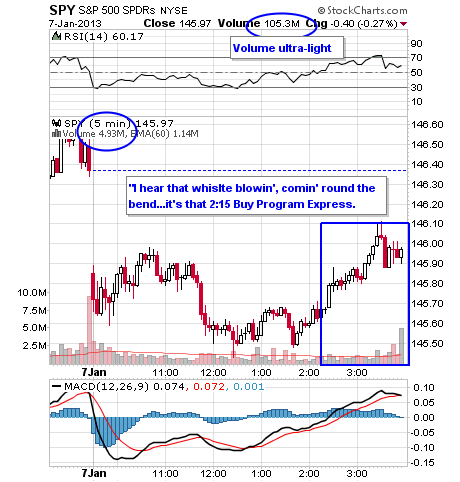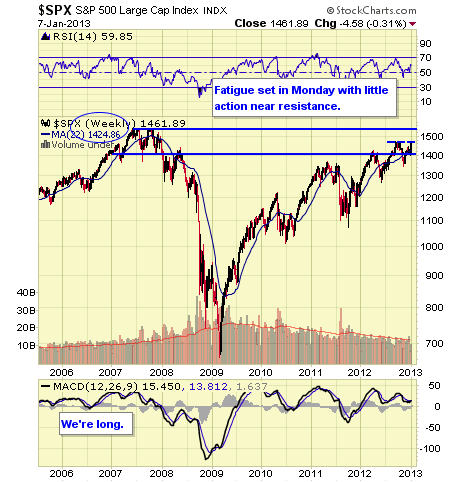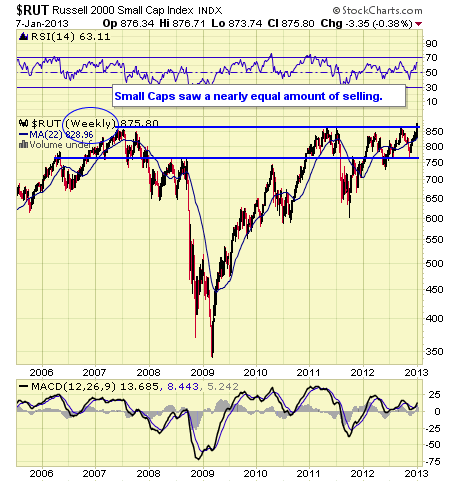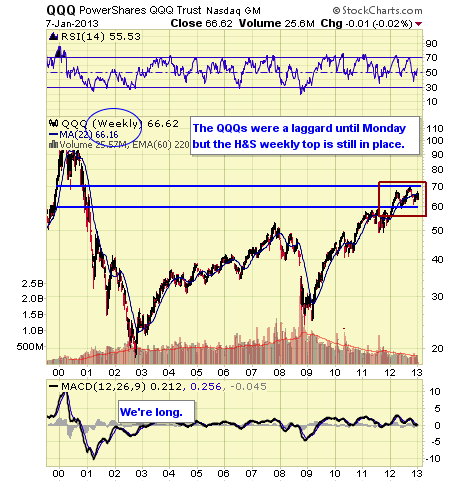 Continue to U.S. Sector, Stocks & Bond ETFs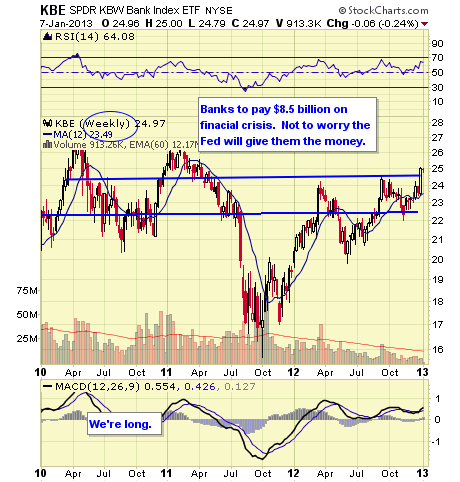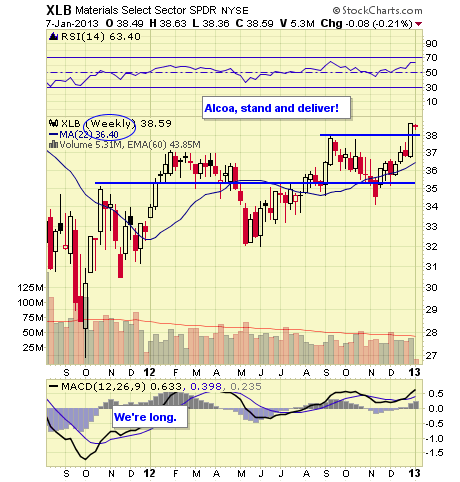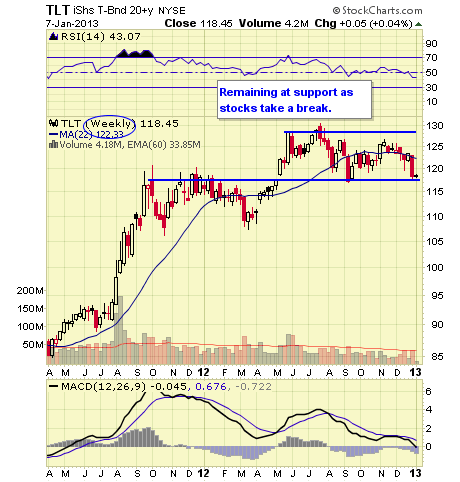 Continue to Currency & Commodity Market ETFs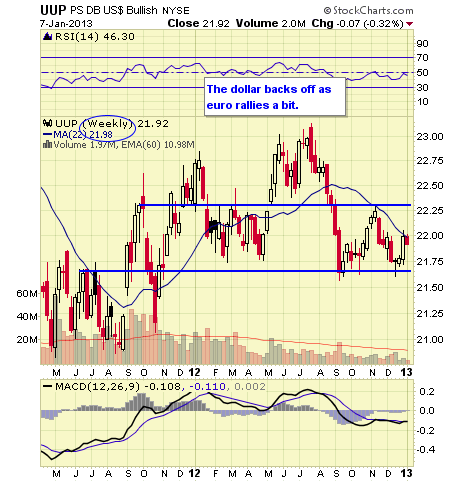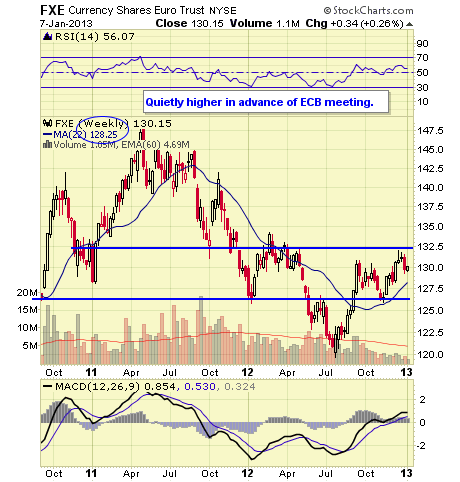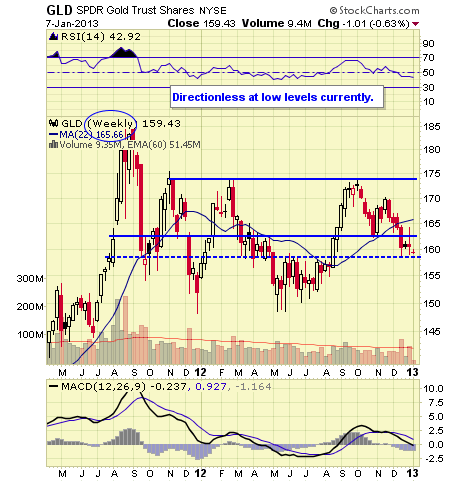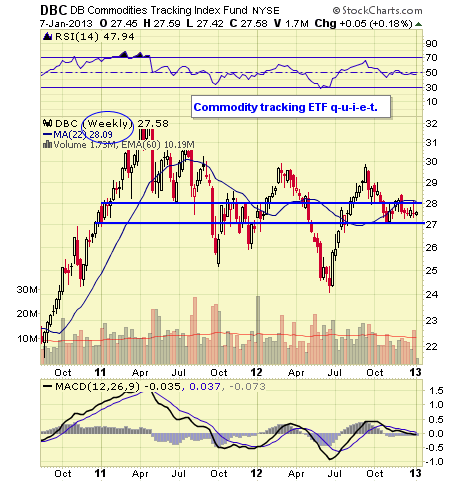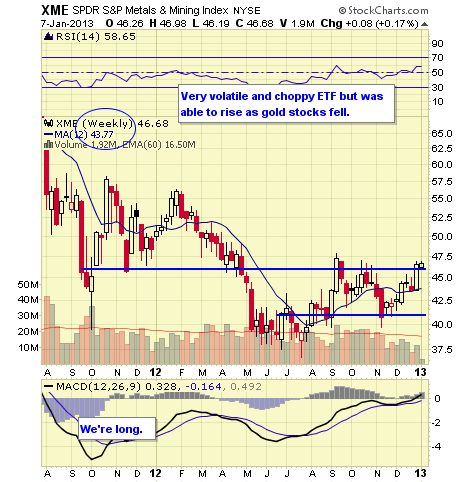 Continue to Overseas Sectors & ETFs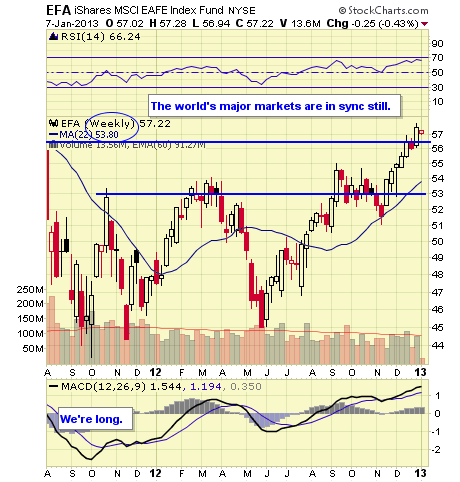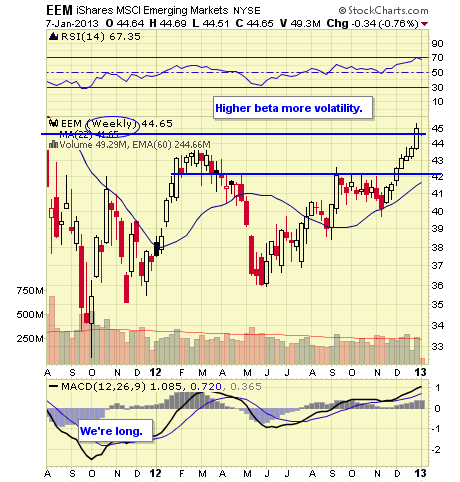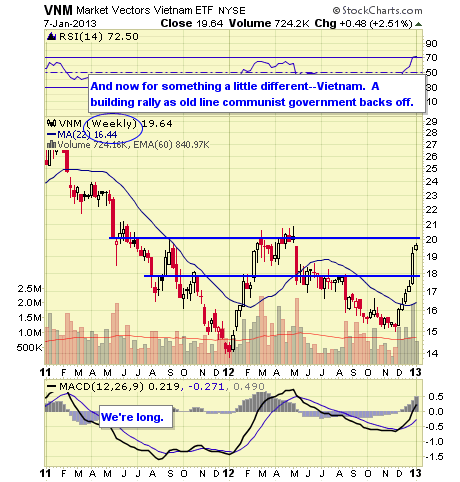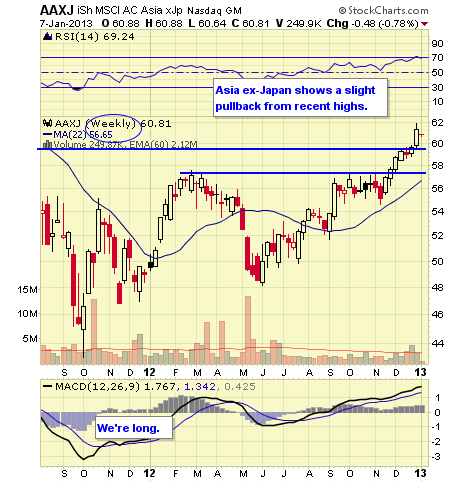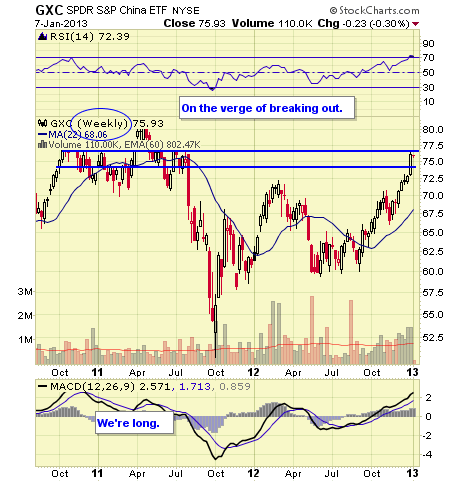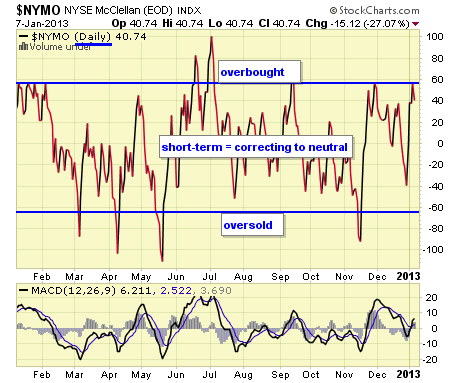 The NYMO is a market breadth indicator that is based on the difference between the number of advancing and declining issues on the NYSE. When readings are +60/-60, markets are extended short-term.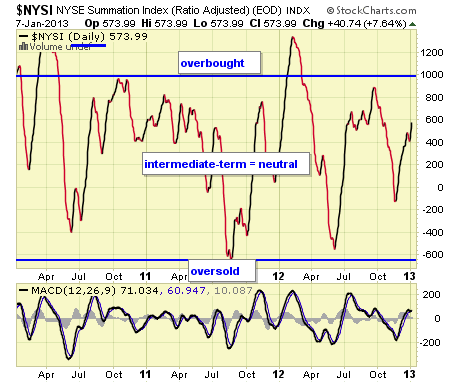 The McClellan Summation Index is a long-term version of the McClellan Oscillator. It is a market breadth indicator, and interpretation is similar to that of the McClellan Oscillator, except that it is more suited to major trends. I believe readings of +1000/-1000 reveal markets as much extended.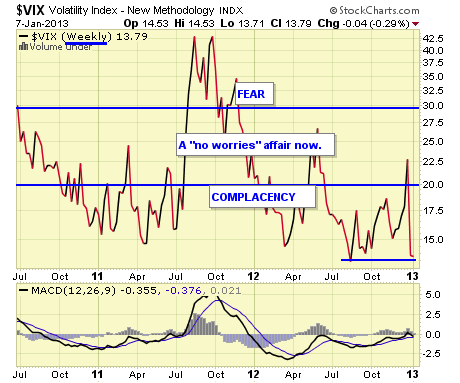 The VIX is a widely used measure of market risk and is often referred to as the "investor fear gauge." Our own interpretation is highlighted in the chart above. The VIX measures the level of put option activity over a 30-day period. Greater buying of put options (protection) causes the index to rise.
Concluding Remarks
I won't bore you with a repeat about trillion dollar platinum coin proponents and debt ceiling battles yet to come. It's first things first, which will be earnings news Tuesday beginning with Alcoa .
Disclaimer: The ETF Digest maintains active ETF trading portfolio and a wide selection of ETFs away from portfolios in an independent listing. Current "trading" positions in active portfolios if any are embedded within charts: Lazy & Hedged Lazy Portfolios maintain the follow positions: VT, MGV, BND, BSV, VGT, VWO, VNO, IAU, DJCI, DJP, VMBS, VIG, ILF, EWA, IEV, EWC, EWJ, EWG, & EWU.
The charts and comments are only the author's view of market activity and aren't recommendations to buy or sell any security. Market sectors and related ETFs are selected based on his opinion as to their importance in providing the viewer a comprehensive summary of market conditions for the featured period. Chart annotations aren't predictive of any future market action rather they only demonstrate the author's opinion as to a range of possibilities going forward. More detailed information, including actionable alerts, are available to subscribers at www.etfdigest.com.
Disclosure: I have no positions in any stocks mentioned, and no plans to initiate any positions within the next 72 hours. I wrote this article myself, and it expresses my own opinions. I am not receiving compensation for it. I have no business relationship with any company whose stock is mentioned in this article.