Last week, I wrote an article titled How to Find a Wonderful REIT at a Moderate Price. The purpose of the article was two-fold: (1) First, I wanted to provide intelligent investors with the 'secret sauce" for finding cheaply-valued REITs and (2) I wanted to filter out possible REITs that could be potential "diamonds in the rough."
By screening securities, much like the legendary Ben Graham, I was hoping to find a "crown jewel" opportunity that I could add to my Intelligent REIT portfolio (in the Forbes Intelligent REIT Investor newsletter).
As most investors know, the wider the margin-of-safety, the lower the risk and greater the potential for gain. Conversely, when we buy stocks at too high a price, we find that what we thought was a bona fide investment opportunity turns into a speculative wager that involve considerable peril. As I explained:
The margin of safety concept is a deceptively succinct and simple tool representing an enormously powerful concept and it is no surprise that it has become the sacred motto for value investors. Much of Graham's beliefs are rooted in the notion that "if we follow the speculative crowd we are going to lose money in the long run." (Graham).
Trying to Find a REIT that Shines Bright Like a Diamond
One of the best tools for REIT investors to measure valuation risk is to utilize Funds from Operations (or FFO), a standardized metric (though not GAAP) and Adjusted Funds from Operations (or AFFO), not standardized. By utilizing these valuation methods, it is helpful for investors to compare relative valuations among REITs (but not so helpful as a measurement of absolute valuation).
By utilizing the price to FFO valuation (or P/FFO), analysts and investors can determine the trading history of each REIT by itself and relative to the entire REIT sector. In addition, AFFO is a better indicator of a REIT's free cash flow since this formula subtracts capex, amortization of TI (tenant improvements), leasing commissions, and adjustments to remove rent straight-lining and gain or loss on early debt extinguishment.
So for REIT investors, it is important NOT to use P/E (for REITs), or to compare P/E for REITs with P/E for non-REIT stocks. Instead, analysts and investors use P/FFO or P/AFFO multiples to value and compare REITs. Here is a snapshot of the twenty (randomly selected) REITs that I ranked (in order of highest to lowest P/AFFO multiples) in the How to Find a Wonderful REIT at a Moderate Price article: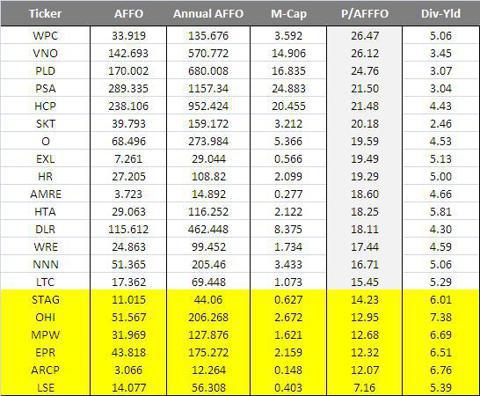 Now, as you can see, I have identified (in yellow) six REITs on the list with possible bargain prices. Last week, I wrote on EPR Properties (NYSE:EPR), a triple-net REIT sporting a 5.39% dividend yield. In addition, I have written about the other REITs including CapLease (NYSE:LSE), American Realty Capital Properties (ARCP), Medical Properties Trust (NYSE:MPW), Omega Healthcare Investors (NYSE:OHI), and STAG Industrial (NYSE:STAG).
Could there be a gem among the REITs mentioned? As I wrote about last week, I like EPR Properties but I don't consider the value proposition to lead me to scream: Wow! Also, I have recently polished off CapLease, Medical Properties Trust, and Omega Healthcare - darn good stocks but no Wow! I like em' all but they aren't "eye popping" screamers.
That leaves me with ARCP and STAG.
As you know, ARCP has announced a merger with ARCT III (see article I wrote here). I have not yet made up my mind regarding the value proposition of the two entities (proposing to merge into one). I have an interview scheduled with ARCP's Chairman, Nichols Schorsch, later this week and then I plan to write my opinion on ARCP.
That leaves STAG.
She's a "Brick House." Shake it down, shake it down now
As the lyrics go in the Commodore's funky Motown ballad, Brick House:
The lady's stacked and that's a fact,
ain't holding nothing back.
STAG Industrial, Inc. is indeed one heck of a REIT, and that's a fact. I won't hold nothing back. More simply said, Wow!
Formerly known as STAG Capital Partners, the predecessor company has been around since 2004 and the industrial REIT closed on its IPO in April 2011 (just twenty one months ago) when it generated around $205 million (in gross proceeds). The offering included 13,750,000 shares of common stock priced at $13 per share.
Since that time, STAG has soared to a price of $18.12 per share (up 39.38%):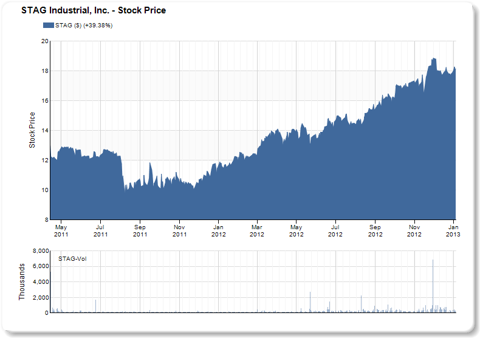 And during the past year (since Jan 5th 2012) STAG has ballooned with shares up an incredible 53.95%.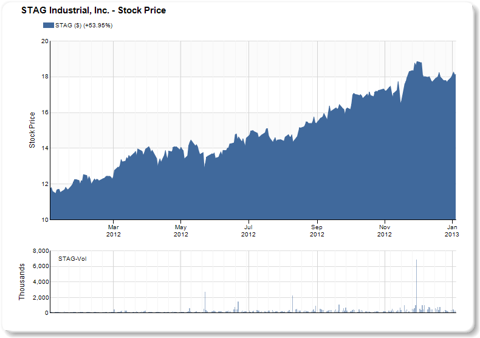 STAG is not the only Industrial REIT that has been a standout performer. In fact, the Industrial REITs (with a combined $22.7 billion market capitalization) were the second best performers in 2012 (behind the timber REITs) with a return of 31.28%.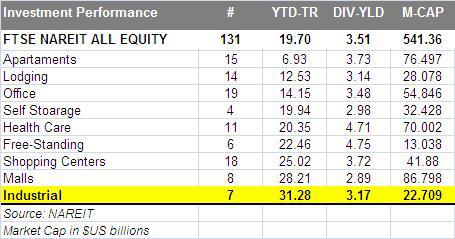 The big dog (of Industrial REIT-dom), Prologis (NYSE:PLD) has a $15.5 billion market capitalization and the global logistics giant represents almost 75% of the entire Industrial sector. The other smaller STAG peers include First Industrial Realty Trust (NYSE:FR), DCT Industrial (NYSE:DCT), Eastgroup (NYSE:EGP), and Monmouth REIT (NYSE:MNR).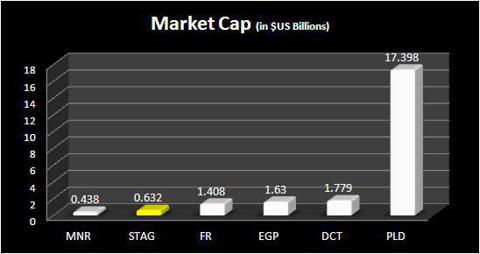 As explained in the company's latest press release:
STAG has grown significantly over the past twenty one months. In the last quarter of 2012, STAG acquired 40 industrial facilities consisting of approximately 6.5 million square feet in the fourth quarter. On a square foot basis, these acquisitions increase STAG's asset base by almost 30%. These properties were purchased at an average cap rate of 9+% based on in-place income for a total cost of approximately $213 million.
STAG's peer group has not come close to the volume of acquisitions over the past year: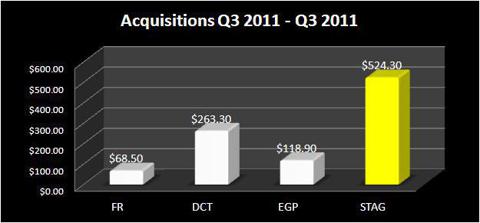 As stated in STAG's January 2nd press release:
The Q4-12 acquisitions bring STAG's total acquisition volume for 2012 to approximately $427 million. Since its IPO in April 2011, STAG's total acquisition volume is approximately $553 million, increasing STAG's asset base by 125% on a square foot basis.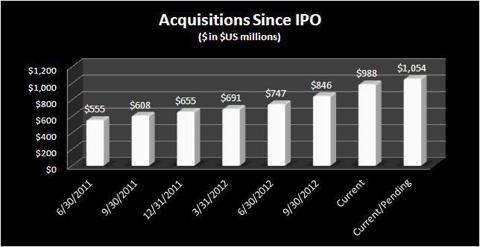 STAG's portfolio consists of 172 properties in 31 states with approximately 29.4 million rentable square feet.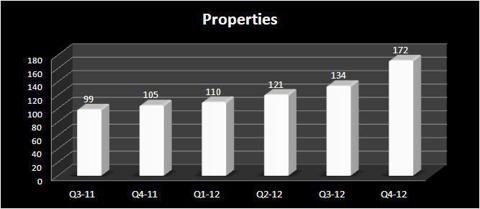 Comparatively, STAG is still a smaller REIT, especially when measured by the massive size (and number of properties) of Prologis.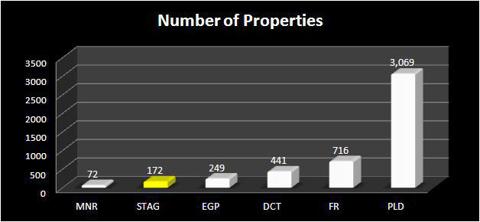 Sometimes Good Things Come in Small Packages
After closing on $213 million in the fourth quarter (of 2012), STAG has surpassed over one billion dollars ($1.0 billion) of assets under management. However, STAG is still not a fraction of the size of Prologis.

But the size comparisons stop there. STAG has the highest occupancy rate in the peer group (at 96.3%):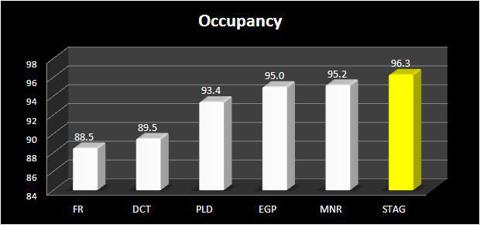 Year-to-date, STAG has produced a tenant retention rate of 88% with minimal tenant improvement and leasing commission expenses (just 4% of NOI in Q3-12). STAG leased 327,449 square feet new and expansion leases year-to-date and the company's weighted average same-store occupancy increased 230 basis points between Q3-11 and Q3-12.
Unlike Prologis and the other peers, STAG's competitive advantage is its focus on Class-B assets, specifically secondary markets. This differentiated investment thesis is driven by a strategy to acquire properties in smaller markets where there is less competition but producing higher yield.
Accordingly, STAG's differentiated investment strategy is aimed to generate higher returns in second tier markets where there is decreased occupancy and rent volatility. Simply said, STAG's risk-averse model is built on a market niche differentiation that has resulted in an increasingly sustainable and highly profitable (accretive) growth strategy.
Simply said, STAG has the highest dividend yield in the Industrial REIT sector: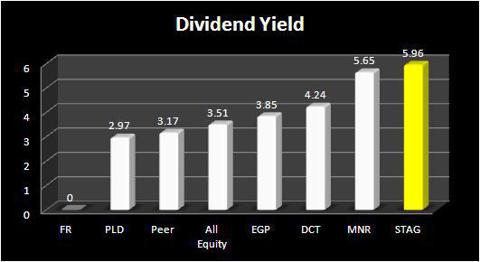 Driving STAG's predictable cash flow is its ever-increasing diversification by tenant, industry, and geography. The company's well-balanced industry classification groups provide increased diversification within the differentiated risk-aligned platform. Here is a snapshot of the leading industry classifications.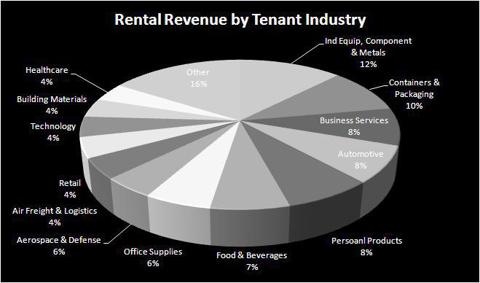 Another differentiator for STAG is the company's lower cost rental income obtained from Class-B space. As I wrote in a previous Seeking Alpha article on STAG (on November 2011):
Many industrial users are attracted to facilities with lower occupancy costs. Also, many such "Class-B" market tenants tend to stay longer since moving costs and business interruption costs are expensive relative to relocating a "critical function" facility.
These stable occupancy metrics make STAG less volatile with more predictable cash flow generators. Here is a snapshot of STAG's Top 10 Tenants, representing just 22.9% of the company's diversified tenant portfolio (based on revenue):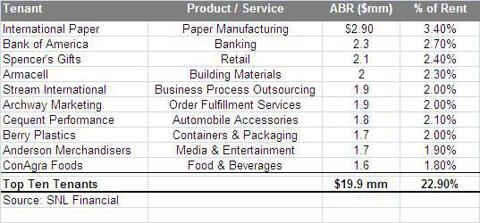 The majority of STAG's assets are located in the Northeast, Southwest, and Midwest; however, the company has begun to forge west with three properties in Oregon (577,000 sf). STAG's differentiated "Class B" investment platform provides tremendous growth opportunities and this less competitive strategy gives STAG a "wide moat" geographic diversification model. Here is a snapshot of STAG's well-balanced rental income by geography: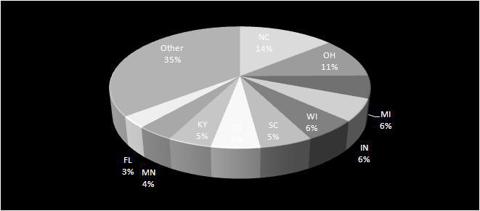 STAG Uncovers a Gem of Its Own in Greenville-Spartanburg
I grew up in Greenville, South Carolina where I attended nearby Presbyterian College (in Clinton, SC). In the December edition of The American Spectator, Ben Stein (writer, actor, economist, and lawyer) wrote an article titled: Once There Were Greenvilles. As Stein explained:
WHAT A GREAT TOWN THIS IS. It is very roughly two-thirds of the way between Charleston and Columbia. It is near Spartanburg, with which it shares an adorable airport. Spartanburg has become an industrial hub, with big BMW and Michelin plants and many others.
Stein did a great job explaining my favored community of Greenville-Spartanburg and STAG has known about the town's best kept secret for some time.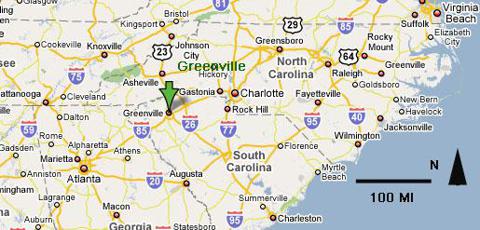 As stated in an April 2012 press release:
STAG acquired a $9.1 million, approximately 409,600 square foot, warehouse and distribution facility consisting of four adjoining buildings located in Spartanburg, South Carolina. The buildings are 100% leased to Louis Dreyfus Commodities Cotton Storage LLC, a subsidiary of Louis Dreyfus Commodities LLC, under a lease with approximately 4 years of remaining term. Louis Dreyfus Commodities Cotton Storage LLC is involved in the storage and distribution of agricultural cotton.
As stated in STAG's August 2012 press release:
STAG acquired two industrial buildings for approximately $9.2 million containing a total of 411,994 square feet located in Simpsonville, South Carolina (Greenville MSA). The buildings are primarily leased to Lanxess Corporation with over 4 years of remaining lease term. Lanxess Corporation develops, manufactures, and markets chemicals, synthetic rubber, and plastics to the automotive, plastics manufacturing, construction, and sports industries.
One month later (in September 2012), STAG announced (in a press release):
The company acquired two warehouse and distribution facilities containing a total of 787,380 square feet for approximately $26 million in Duncan, South Carolina (between Greenville and Spartanburg). The two adjacent buildings fully-leased with an average lease term of 4.5 years.
In addition, STAG explained (in the press release):
The 474,000 square foot building is primarily leased to L. Perrigo Company, a leading global healthcare supplier that develops, manufactures and distributes over-the-counter and generic prescription pharmaceuticals, infant formulas, nutritional products, and active pharmaceutical ingredients. L. Perrigo uses this location for warehouse and distribution of its nutritional products.

The 313,380 square foot building is leased to Arvato Digital Services, LLC. Arvato provides various manufacturing and distribution services to media & entertainment, technology, and other industries. Arvato produces and manages data storage media for third party clients at this facility.
Here is a snapshot of downtown Greenville, South Carolina: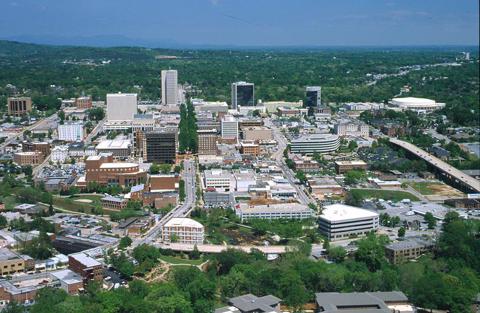 STAG Keeps Racking Up Deals
In a recent press release, STAG's CEO, Ben Butcher said,
Our strong fourth quarter was the icing on a very successful 2012 for the Company. We enter 2013 with good momentum and high expectations.
In the same press release STAG announced its December acquisition activity:
Six industrial buildings in six individual transactions containing a total of 1.4 million square feet for approximately $55 million. STAG's acquired properties consist of one light manufacturing facility and five warehouse and distribution facilities and the locations include two properties in Georgia, two properties in Illinois, one property in Ohio and one property in Missouri. The properties are all 100% leased with an average remaining lease term of over five years.
As STAG continues to grow and diversify its platform, the company continues to maintain a well-balanced (and predictable) lease roll-over model. This insures that STAG can continue to build a sustainable record of occupancy with an impressive track record of risk management (tenant retention).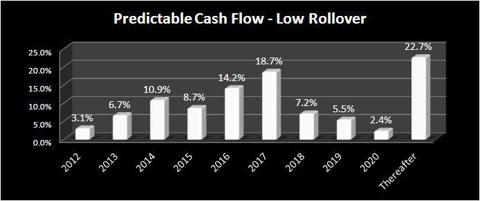 In addition, STAG has just 29% of its leases expiring through 2015 compared with 55.6% for its peer group (source: STAG December Presentation):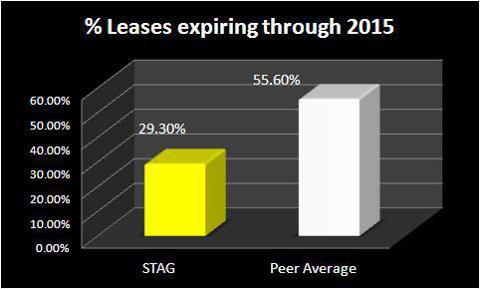 How Strong is the Brick House?
STAG has some impressive stats, but what about the balance sheet?
Still a young and growing company, STAG has been enjoying conservative capitalization that provides sound operational and financial flexibility. As of September 31, 2012, total debt was $274 million with total debt to total assets of 34.1%. In addition, STAG has a 4.9x interest rate coverage multiple, about 65% less than the peer multiple of 6.8x.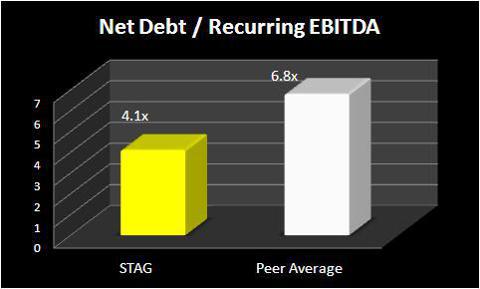 STAG maintains moderate liquidity levels with around $236 million in liquidity as of September 30, 2012.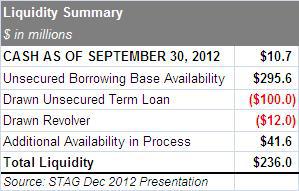 With a new $350 million unsecured credit facility, STAG emphasizes the use of unsecured lines and the company has no debt maturities through 2015.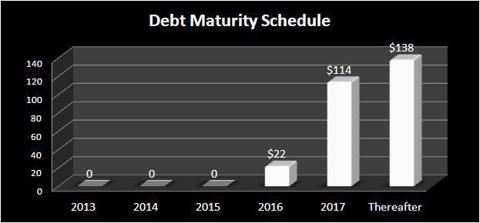 She's a Bad Mama Jama
Well, STAG is certainly proven to be a "bad mama jama." Carl Carlton sang it best:
Her body measurements are perfect in every dimension
She's got a figure that's sho' 'nuff gettin' attention
She's poetry in motion, a beautiful sight to see
I get so excited viewin' her anatomy
As noted above, STAG pays the highest dividend yield (of 5.96%) in the Industrial sector and the company's Q3-12 core FFO dividend payout ratio was 93%. With just seven quarters as a public company, STAG has begun to forge a track record for increasing its dividend as evidenced by a 4% increase in Q2-12.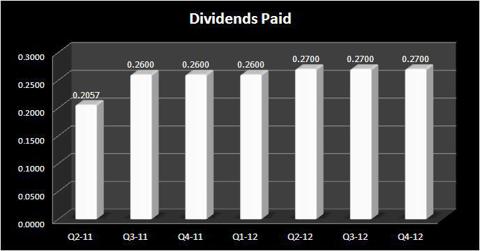 Of course, the last dance for the beauty queen is summed up by an unmatched record for growth. Compared with its peer group STAG has almost doubled the total return of the group by reporting an astonishing 65.05% (year-over-year).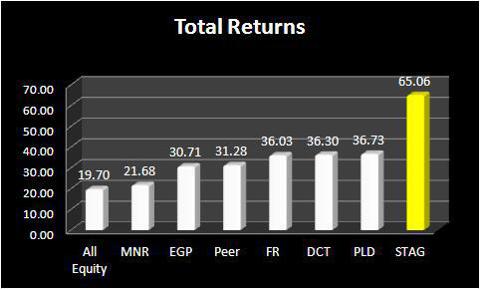 Putting that into perspective, the S&P 500 returned 17.42% and the Russell 2000 returned 10.4%.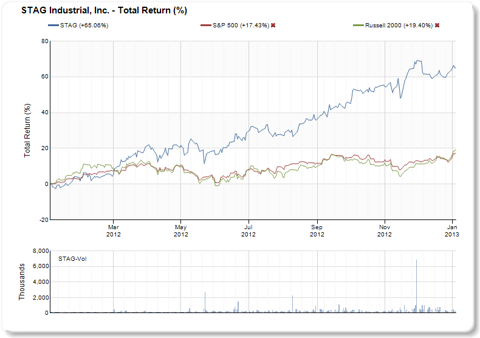 When examining the fundamentals of STAG, we discover a REIT differentiated by strong cash flow and consistent FFO growth (FFO growth rate of 12.2 times). More importantly, STAG appears to be moderately valued based on traditional measurements of valuation regarding a REIT. These valuation metrics include fair value relative to its income (the pinkish purplish line on the graph), and its intrinsic value based on Funds From Operations (FFO- the orange line marked with an F).
As I referenced in the beginning of the article, I was attracted to STAG because the company fell within my "vetted list" with a P/AFFO of 14.23 (and a P/FFO of 15.9). Here is a FastGraph that illustrates STAG's consistent growth thesis: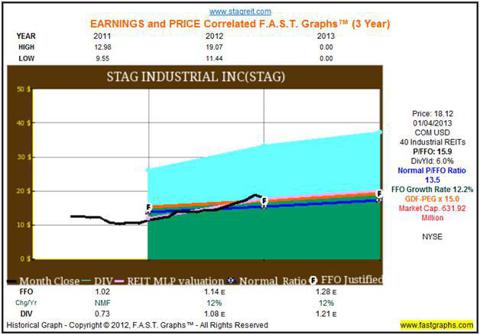 STAG's differentiated strategy is made up of three primary ingredients: yield (5.96%), diversification (172 properties), and growth (65.05% total return). I see plenty of runways remaining for STAG to keep growing its unique "secondary market" platform. In addition, STAG has an extraordinary value proposition in that the company is able to acquire assets at 8% to 9% cap rates utilizing conservative debt and with a weighted average interest rate of 4.2%.
This relatively new REIT is nothing but hot and the best way for me to summarize the selection is from an excerpt written by co-authors Chris Zook and James Allen in Repeatability:
The power of a repeatable model lies in the way it turns the sources of differentiation into routines, behaviors, and activity systems that everyone in the organization can understand and follow so that when a company sets out on a particular path, it knows how to maintain differentiation that led to its initial success…that strongest source of differentiation in a company's business are its crown jewels.
At $18.12 per share, STAG has plenty of growth remaining. Even if growth slows 66% in 2013, investors should easily get returns north of 25% (20% appreciation plus a 5.96% dividend).
Also, STAG has one series of preferred stock outstanding. As Michael Terry explained in an April 18th article (STAG Industrial: Strong Business Profile, Strong Cash Flow, Solid Business Plan):
The 9.00% Series A Cumulative Redeemable Preferred Stock. Liquidation preference is $25 per share, redeemable at the issuer's option on or after 11/2/2016 at $25 per share plus accrued and unpaid dividends, and with no stated maturity.
The STAG Preferred Series A price is $25.79 ($0.18 is dividend) with a redemption date of November 2, 2016.
At the end of the day, Benjamin Graham would look at each business behind a security as a prospective buyer would of the whole business. Once he ascertained that, he would look at the current price to determine a course of action that would be the most advantageous. I'm not sure what Graham would conclude, but I can sum up my course of action in one simple word: Wow!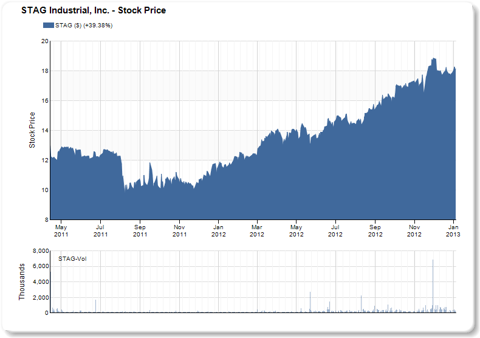 Source: SNL Financial, STAG December 2012 Presentation, NAREIT, F.A.S.T. Graphs
Disclosure: I have no positions in any stocks mentioned, and no plans to initiate any positions within the next 72 hours. I wrote this article myself, and it expresses my own opinions. I am not receiving compensation for it (other than from Seeking Alpha). I have no business relationship with any company whose stock is mentioned in this article.