The Dogs of the Dow theory presumes that investing in the 10 Dow Jones Industrial Average components that start each calendar year with the highest yields is a prudent investing strategy. The theory is based on the premise that these higher yielding dogs are often laggards and could provide both capital appreciation and an above-average income stream. Dogs are expected to be relatively strong, liquid and familiar companies due to their inclusion in the Dow.
In a traditional dog portfolio, a dog investor will hold each investment for no less than a year, though possibly much longer than a year as many dogs remain dogs for several consecutive years. Many non-purist dog enthusiasts modify such rigid requirements by doing things like selecting their own entry date rather than the start of each calendar year, more actively trading the portfolio and many other methods.
In 2012, the dogs appreciated by 5.7%, underperforming the broader Dow 30, which appreciated by 11%. In 2011, though, the dogs appreciated by 12.2%, while the DJIA was up 1.2%. In 2010, the dogs were up 15.5%, while the Dow was up 9.2%. Over the last three years, the dogs had an average yield of about 3.8% and the broader Dow had a yield of about 2.8%.
In 2013, the new dogs of the Dow are Hewlett-Packard (NYSE:HPQ) and McDonald's (NYSE:MCD). In early November, I noted that these two companies appeared to be the most probable additions. McDonald's was a dog in 2011, but left the list after being the best performing dog, appreciating by 30.71% through 2011. In 2012, McDonald's was relatively flat, with a weak fourth quarter, and instituted a 10% dividend increase, from $0.70 to $0.77 per quarter. These two factors contributed to MCD's addition, leaving the company with the ninth highest yield in the Dow, at about 3.5%.
See a recent performance chart for MCD: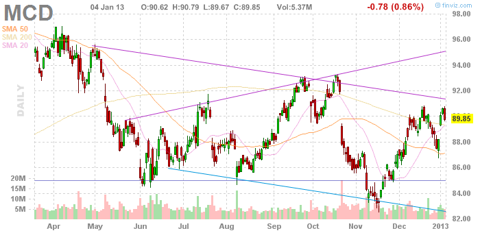 Hewlett-Packard also raised its quarterly dividend from $0.12 to $0.13 in 2012, but its inclusion in the 2013 list is more about its substantial decline during 2012, falling by over half before rebounding slightly to end the year. HPQ's recent dividend increase and equity losses have combined to result in the sixth highest yield in the Dow, at about 3.7%.
See a recent performance chart for HPQ: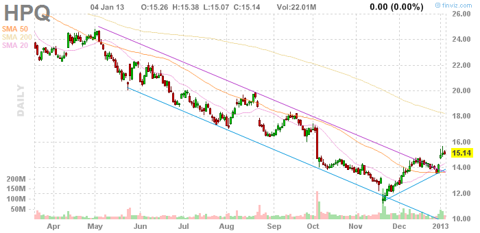 The companies that exited the dog pound were Kraft and Procter & Gamble (NYSE:PG). Procter & Gamble joined the list in 2012 and left after a relatively flat 2012 for it, where too many others substantially increased their dividends and/or declined in price. Similarly, Johnson & Johnson (NYSE:JNJ), which underperformed the broader market in 2012 nearly left the list and ended up with the tenth highest yield.
Kraft left the Dogs because it split into two companies and neither remained in the Dow. The former Kraft now exists as both Kraft Foods Group (KRFT), a diversified food company, and Mondelez International (NASDAQ:MDLZ), a confectioner. Kraft Foods would have remained on the list in 2013 had it remained in the DJIA.
Hewlett-Packard has started off 2013 with an impressive 6.25% gain, but the company is still about 43% below its value one year ago. The company has been plagued by declining computer sales and margins, and the effect of a global transition to smartphones and tablets made by competitors. Hewlett-Packard has most recently had to deal with its recent problematic acquisition of Autonomy, but that was just one of many other questionable purchases made by the company.
Hewlett-Packard had also acquired Palm and its mobile OS in an effort to compete with Apple's (NASDAQ:AAPL) iOS and Google's (NASDAQ:GOOG) Android OS, but the subsequent HPQ tablet was not well-received by the average consumer. The company has also had to deal with tough competition in its server and printer businesses, among others, and a series of questionable acquisitions and CEO transitions that have left the tech giant on unsure footing. The company now looks likely to shed assets and exit markets.
While the future success of HPQ is highly uncertain, both McDonald's and Kraft should find interested consumers going forward. Both companies are also susceptible to commodity price and availability fluctuations, but their size and price point should make them capable of dealing with most conceivable situations. Kraft Foods Group, with its brands such as Kraft, Maxwell House, Oscar Mayer, Planters, and JELL-O, appear likely to survive any downturn and pass through price increases as well as most of the company's competitors.
Many Dow Dogs and other higher yielding equities may have also declined in November and December due to concern over qualified dividend tax increases, but the rates largely remained unchanged. This may mean that high yielding equities are poised to outperform the broader market in the near term. This could bode well for the 2013 Dogs in January, as well as many other high yielding large-cap companies.
Disclosure: I have no positions in any stocks mentioned, and no plans to initiate any positions within the next 72 hours. I wrote this article myself, and it expresses my own opinions. I am not receiving compensation for it (other than from Seeking Alpha). I have no business relationship with any company whose stock is mentioned in this article.