Introduction:
Well, it's that time of the year again! It's the New Year and investors are making changes in their portfolios. We are all adding new positions, adding to existing positions, and cutting back on other positions. It's very much become a "rite of passage."
In the past, I've shared with you, a portfolio called the "Portfolio For Do It Yourselfers." This is a portfolio that I started with my kids back in 2006 and one that we have used as a family, to teach some of the basics of investing and investing strategies.
The portfolio began with 10 dividend growth stocks: Abbott Labs (NYSE:ABT), Colgate (NYSE:CL), Johnson & Johnson (NYSE:JNJ), Coca Cola (NYSE:KO), Procter & Gamble (NYSE:PG), AT&T (NYSE:T), Exxon Mobile (NYSE:XOM), Kimberly Clark (NYSE:KMB), McDonald's (NYSE:MCD), and Wall-Mart Stores (NYSE:WMT).
An initial investment (01/04/2006) of $100,000 was divided equally into 10 positions and the dividends were not re-invested. These are all Dividend Champions with 25 or more years of dividend increases.
What You Should Know:
This portfolio did very well for us. At the end of 2011, the portfolio was worth $165k. It was at that point that we decided to restructure the 10 stock portfolio and add an additional 5 companies to the mix. So, we trimmed our $165k portfolio back to roughly 10k positions for each of the existing stocks and used the cash we generated to purchase these five companies:
We purchased Intel (NASDAQ:INTC), Harris Corp (NYSE:HRS), Emerson Electric (NYSE:EMR), Illinois Tool Works (NYSE:ITW) and Aflac (NYSE:AFL). We kept $16,564 in cash and decided that we would take all future dividends in cash and not reinvest them in the individual companies as they were paid to us.
The year end results for our portfolio in 2012 look like this: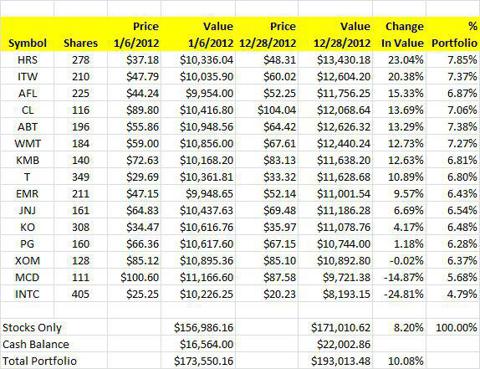 The portfolio has grown to $193k in value, from the original $100k invested and we have increased our cash balance to $22k and we intend to redeploy that capital and trim existing positions to purchase an additional 5 companies, to bring the portfolio up to 20 positions.
Here is a recap of the dividends received by the portfolio since its inception. I have also shown the dividends received with the new selections from 2012.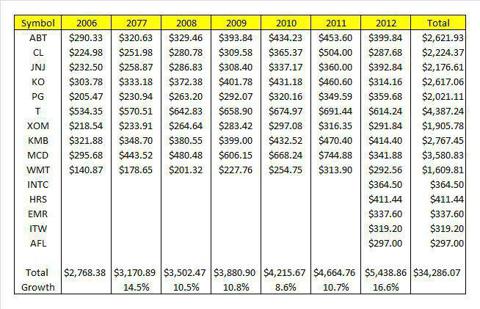 As DG investors, the growth of dividend income is a major factor in our strategy. Dividends are a part of our investment strategy that we need to be more vigilant about. As companies begin to decrease their rate of dividend growth, a DGI investor has to address the issue of whether or not that particular stock should continue to be a part of the portfolio.
This is something that I have been less that vigilant on and need, as a New Year's resolution to become more aware of those dividend growth rate changes.
What I Know:
As Dividend Growth Investors, my kids and I are looking for companies that:
1. Increase dividends on an annual basis
2. Increase those dividends at a rate that is greater than inflation
3. Have the earnings power to continue increasing dividends
4. Are priced at a value to intrinsic worth for new purchases or entry
However, being primarily DG investors does not mean that we are blocked from purchasing stocks that do not meet these criteria. Every investor should feel free to "step out of the box" when it seems appropriate to do so. When opportunities come knocking, sometimes it is a good idea to go ahead and open the door.
So, out selections moving forward may or may not be part of a DGI strategy as laid out here (in what I think is a pretty orthodox view of DGI). So, this should get interesting (but I doubt it).
Conclusion:
As a family, we have been very happy with how our portfolio has been performing. I think the lessons learned here are that time goes by quickly. It's hard to imagine that when we started this portfolio back in 2006 that we would already be entering 2013.
Another thing that we've learned is that with this core group of stocks, constantly checking on things is not required on a daily basis. The kids tend to look at things at the end of the month, when the statement from Schwab arrives online, but other than that, we all pretty much go about our business every day.
Investing should be fun. "Beating the market" has never been an issue with us. Having our portfolio grow in value every year has been more of our focus. Additionally, having the income stream growing every year has been an eye-opener for the kids. They can project a time in the future where the income from the portfolio will be as much if not more than their salaries.
All from a family meeting around a kitchen table back in 2006.
For Part 2, go here.
Disclosure: I am long ABT, AFL, CL, EMR, HRS, ITW, INTC, JNJ, KMB, KO, MCD, T, PG, WMT, XOM. I wrote this article myself, and it expresses my own opinions. I am not receiving compensation for it (other than from Seeking Alpha). I have no business relationship with any company whose stock is mentioned in this article.