In case you missed it yesterday, I posted a "smack down" of Goldman Sachs defending shares of the pure play outlet REIT, Tanger Factory Outlets (NYSE:SKT). I explained my recommendation (Tanger Outlets: Goldman is Wrong) on TheStreet.com:
My Recommendation: Don't Sell. Tanger shares should grow by 15% in 2013 and combined with a durable 2.45% dividend, I expect the company to outperform and provide total returns of at least 15%. This is an "intelligent REIT pick" and a sell of the stock today is simply foolish.
What sparked my "smack down" article (on TheStreet.com) was the fact that Tanger shares were downgraded by analysts at Goldman Sachs from a neutral to a sell rating. In a research report on Tanger, analysts mentioned:
A broader lowering of our retail REIT coverage view to neutral from Attractive as SKT is our third retail downgrade in the last three weeks.
Valuation: Our $30 price target implies -10% total return vs. 13% average upside for our coverage universe.
Less earnings dynamism than peers, despite strong current fundamentals as a large amount of floating-rate debt limits refinance potential and reduces the sensitivity to top-line growth.
Well thanks to the good folks at FastGraphs I have provided Goldman with a picture that is worth a thousand words.
Although Tanger is trading at a moderate premium (P/FFO of 19.1) to its historical valuation, there are a few circumstances that investors might want to consider. First of all, the company's growth rate is accelerating based on many of the positive trends I discussed in my article yesterday. Also, today's low interest rate environment suggests that fixed income is less competitive than normal with equity investments such as REITs. Finally, the stock price does have momentum as depicted on the FastGraph below.
When examining Tanger's performance since December 31, 2009 coming out of the Great Recession, we find a strong total return story with a nice dividend kicker. Tanger has produced returns that are twice the S&P 500 even during this period when the index performance has been strong.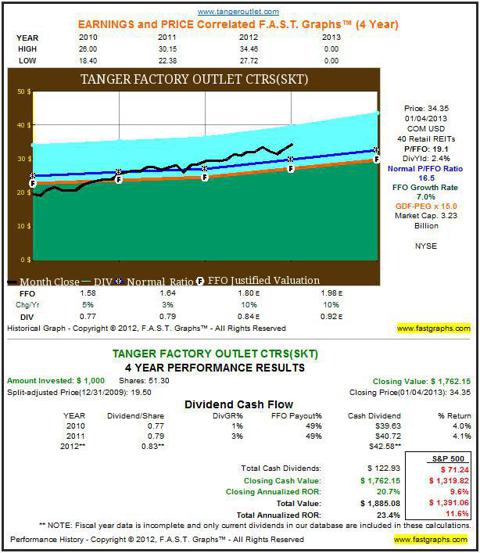 As I explained in my article on TheStreet.com:
At $34.35, I am not arguing that Tanger is a bargain. It's not. With a P/AFFO multiple of 20.27, the blue-chip REIT is what I would consider moderately expensive. However, selling a blue-chip REIT that has been throwing off and increasing dividends for 20 years in a row is foolish -- especially when the business model seems bullet proof (31 consecutive quarters of NOI increases).
And this is my second picture that will tell a thousand words: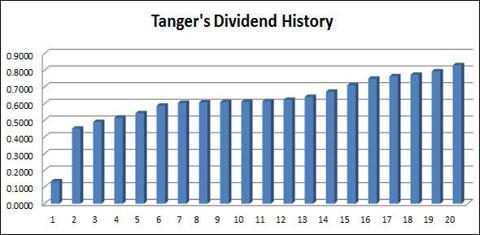 Rebalancing is an important part of investing and I can understand the importance of "jumping off the train" when valuations are expensive. However, there are plenty of other stocks in the Goldman "universe" that are at more risk than Tanger shares. In fact, Tanger has one of the most reliable dividend platforms in REIT-dom (only unmatched by a handful of REITs) and the company's stalwart balance sheet is simply sound.
Enough said. Tanger is a SWAN (sleep well at night) REIT and a sell now is foolish.
Source: FastGraphs
Disclosure: I have no positions in any stocks mentioned, and no plans to initiate any positions within the next 72 hours. I wrote this article myself, and it expresses my own opinions. I am not receiving compensation for it (other than from Seeking Alpha). I have no business relationship with any company whose stock is mentioned in this article.