We really like the strength which we are seeing in markets as of late, especially when markets are weak. Looking at the new highs and new lows each day, it has become obvious to us that the trend is dramatically tilted towards new highs rather than new lows - both on up days and down days. Yesterday for instance the NYSE saw 207 new highs to 6 new lows while the Nasdaq saw 109 new highs versus 10 new lows and the AMEX had 14 new highs compared to 4 new lows. The market appears to be anything but weak at this point and as readers know we are ones to buy into strength.
We have economic news due out today, and it is as follows (these are the consensus estimates):
Consumer Credit (3:00 PM EST): 10.6 billion
Asian markets finished lower today:
All Ordinaries - down 0.54%
Shanghai Composite - down 0.41%
Nikkei 225 - down 0.86%
NZSE 50 - up 0.14%
Seoul Composite - down 0.66%
In Europe markets are mostly higher this morning:
CAC 40 - up 0.35%
DAX - down 0.11%
FTSE 100 - up 0.10%
OSE - up 0.32%
Biotechnology
The big mover yesterday was Peregrine Pharmaceuticals (NASDAQ:PPHM) which saw its shares rise $1.08 (80.00%) to close at $2.43/share after the company provided an update on the internal review of its Phase II second-line non-small cell lung cancer trial. Readers will remember that the company came out in September and disclosed that there were discrepancies in its previously reported stellar trial results which hammered shares. Yesterday's announcement provided information on exactly what was effected and to investors' surprise it was not the entire study, but rather confined to the 1 milligram dosage of the drug, bavituximab. You can find the entire press release here.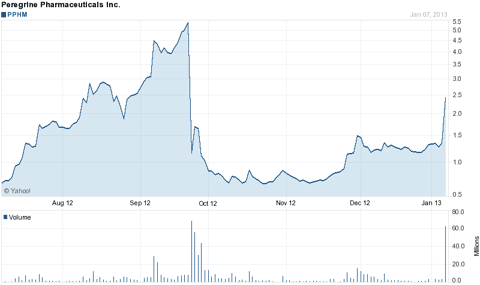 Click to enlarge
Chart courtesy of Yahoo Finance.
There was a nice bounce yesterday in shares of Peregrine, however the shares have a ways to go before they get back to levels prior to the pullback.
Investors also saw shares in Vivus (NASDAQ:VVUS) come alive yesterday after the company announced that Qsymia, the company's diet drug, saw prescriptions rise to 12,978 for the four weeks ended December 21, 2012. We are seeing sales begin to take on an exponential growth curve as the company also announced two other four week periods ending:
November 23, 2012: 7,749
October 26, 2012: 5,394
It is worth noting that the October figures were revised from the previously reported number of 4.904.
Qsymia appears to be gaining traction in the market as doctors become more familiar with it and the company is beginning to do a better job of marketing the drug. On November 19, 2012 the company initiated a trial program for eligible patients to get a free 14 capsule starting dose in order to promote the product.
Retail
Keeping with the theme of pharmaceutical drugs, we wanted to take a look at Rite-Aid (NYSE:RAD) which has in fact backed off of its highs recently. After the huge run-up it was expected but now it is time to begin to figure out where this one ends up in the short-term. We would look for support to develop around the $1.25/share level with the $1.20-1.25 range being where we settle down initially. As we have previously stated, we want to see another quarter or two of good results before jumping to conclusions that the company has turned a corner as there have been previous instances where the market was fooled into thinking that was the case when it was not. The company's competition is formidable and we are noticing in our area, which was a Rite-Aid strong hold before via the Eckerd acquisition, that the company's stores are becoming less busy over time even though they have stores which have been upgraded and in many cases have easier access due to better corners.
Financial
One company that we have totally missed over the past few months is Nationstar Mortgage Holdings (NYSE:NSM) which is a mortgage servicer. The company is seeing the big banks lessen their exposure to the business as the regulations have changed and Nationstar and its competitors are now in the process of buying rights from the big banks to service packages of their mortgages. Yesterday saw Nationstar purchase from Bank of America (NYSE:BAC) the rights to $215 billion worth of mortgages for $1.3 billion. The news pushed shares up to a new 52-week high as shares closed at $38.83/share after closing up $5.60 (16.85%) on volume of 9.4 million shares.
Solar
Another stock which had caught fire recently had a pullback on Monday as shares in SunPower Corporation (NASDAQ:SPWR) fell $1.10 (12.60%) to close at $7.63/share. The company was not alone in its performance as the entire solar sector fell after the sharp moves higher from last week. A retracement is in order and yesterday's price action does not begin to cover it. We are used to seeing 60% retracements after parabolic moves such as the one SunPower recently had, so that will be something to watch.
Disclosure: I have no positions in any stocks mentioned, and no plans to initiate any positions within the next 72 hours. I wrote this article myself, and it expresses my own opinions. I am not receiving compensation for it (other than from Seeking Alpha). I have no business relationship with any company whose stock is mentioned in this article.