Starbucks (NASDAQ:SBUX) recently entered the single-serve coffee market by launching the Verismo System in stores for the 2012 holiday season. Although there was great anticipation for the machine, the store launch was a bit of a blunder, at least in Toronto, as there was little to no proactive promotion of the system during the holiday season. While I frequent Starbucks stores about 3-4 times a week, I was never there on an occasion that they demonstrated the machine (contrast this to Nespresso's Toronto launch in Bay stores, in which I sampled several Grand Crus and was instantly sold).
Verismo's launch borders on being too little too late to enter the single-cup market. Although some Green Mountain Coffee Roast (NASDAQ:GMCR) investors may have been concerned over the expiration of K-cup patents, the Starbucks system competes from a different market position. The variety of coffee pods is significantly limited as compared to other systems, and pods are priced higher than both K-cups and T-discs. In addition, signature Starbucks drinks can't be replicated without buying a collection of syrups, and serious effort on the consumer's part. The only real market share for the Verismo system is Starbucks enthusiasts who would rather enjoy their java from home. The machine is more so an outlet for the company to save a portion of their sales disappearing from consumers desiring a home brew, rather than to gain market share from other single-cup brewing machines.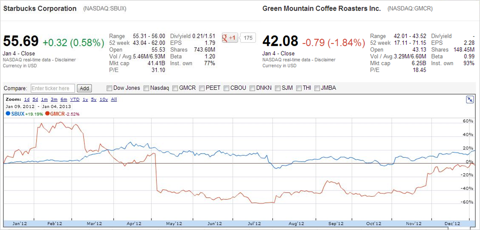 Click to enlarge
Core Business
Despite the poor launch of the Verismo System, the sensation of Starbucks is not threatened by the growing popularity of single-serve machines. Ask a Starbucks obsessed customer, and you will notice that their devotion has little to do with their addiction to caffeine, but more about their addiction to the Starbucks experience. The loyalty and Starbucks culture is just as much part of the company's core business as selling coffee is.
Key indicators of why Starbucks sales will be unaffected by the Verismo system and other single-serve competitors:
Gold Card Loyalty Program
The loyalty program and mobile payment app which was revamped recently in October 2012 is like no other store membership or points system. If you are unfamiliar with the app, it provides a platform for payment, store details, saving favourite menu items, and tracking rewards (the elite Gold Card membership grants a free drink every 12th purchase). More importantly, consumers aren't disconnected from the culture of the store, as they manage their account on an engaging interface almost solely on their phones, and enforcing the loyalty of the brand.
Store Atmosphere
The store experience cannot be mimicked by single-cup machines. Starbucks stores will remain to be a central meeting place, and a place to work away from the home or office. Visiting the stores will remain a social activity, and provides the convenience of coffee on the go. Of course this is paralleled at other coffee vendors, but recall the loyalty of customers, collecting stars towards their rewards, and the unique Starbucks store atmosphere.
Signature Drinks and Hot Foods
Starbucks continues to introduce new items into the product mix, including feature signature beverages offered seasonally, and new all-day gourmet breakfast sandwiches. The bonus is that these items are being cleverly promoted in conjunction with the rewards program, which further reinforces the loyalty of the brand. With the new acquisition of Teavana (TEA), more products will be introduced to the mix, ready to catch the recent tea craze.
Conclusion
The Verismo System is not positioned well to be a strong competitor against single-serve machines such as Keurig, Tassimo, or Nespresso, and sales are neutral to Starbucks' outlook. However, the core business of selling the Starbucks culture remain strong with the increased penetration of the loyalty program and continual launch of fresh product ideas.
Disclosure: I have no positions in any stocks mentioned, but may initiate a long position in SBUX over the next 72 hours. I wrote this article myself, and it expresses my own opinions. I am not receiving compensation for it (other than from Seeking Alpha). I have no business relationship with any company whose stock is mentioned in this article.