Numerous airline stocks hit 52-week highs last Friday, including Delta Air Lines (NYSE:DAL), United Continental Holdings (NYSE:UAL), Southwest Airlines (NYSE:LUV), US Airways (LCC), and Hawaiian Holdings (NASDAQ:HA). The airlines benefited from general bullish market sentiment following Tuesday's "fiscal cliff" resolution and from hopes that US Airways may finally be on the verge of merging with bankrupt American Airlines (AAMRQ.PK). After hours on Friday, the two companies announced that they had reached a memorandum of understanding with their pilot groups, in order to facilitate evaluating the potential benefits of a merger. Many of the airlines have recorded spectacular gains over the past year, as shown by this chart (courtesy of Yahoo (NASDAQ:YHOO) Finance):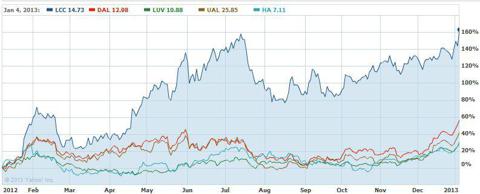 With all of these companies up at least 25% in the past year (and US Airways up more than 150%!), the sector is starting to approach fair value. However, there are still a few undervalued companies left in the sector. For 2013, I believe that investors will be better off owning airlines that are showing success already, rather than those which may be "turning the corner".
Investors already have high expectations for airlines that struggled somewhat in 2012 (like United and Southwest) to turn around performance in 2013. Meanwhile, merger anticipation has already driven the US Airways share price through the roof. Investors are unlikely to see further gains even if a merger is consummated this year. By contrast, Delta and Hawaiian have posted solid results throughout 2012, and are poised to grow earnings in 2013. With these two companies trading at valuations near the bottom of the industry, Delta and Hawaiian are my top two airline picks for 2013.
United and Southwest are both in the midst of merger integration and have experienced significant turbulence while attempting to do so. Technology problems have been the downfall of both companies recently. United's unit revenue performance has lagged the industry, particularly since a change in computer systems to Continental's "Shares" platform went awry in March. The IT problems resulted in severe customer service problems, and many previously loyal United fliers moved their flying to competitors like Delta and American. While Southwest has not seen any comparable disasters, technology problems have led to a very slow integration of AirTran. Despite having purchased AirTran in May, 2011, Southwest is only just beginning to connect the two route networks. The merger integration will not be complete until the end of 2014 (which is actually slightly earlier than previously projected). The main culprit has been Southwest's reservations and IT systems, which have trouble handling codeshares and international flights. Analysts are currently projecting profit to double next year at both United and Southwest. This assumes that the best case scenario is the only possible scenario. The history of airline mergers suggests that investors should be more cautious, as integration synergies may be slow to emerge, and the companies could face additional hiccups this year.
While US Airways has performed well over the past year (and the stock has performed extraordinarily well), there is an impending valuation problem. The company's fully diluted market value passed $3 billion early Monday morning before pulling back somewhat. With US Airways management proposing a 30% ownership stake in a merger with American Airlines, the new company would need to be worth at least $10 billion for US Airways investors to avoid taking a haircut. While Delta's recent run has put that company's market cap at $11 billion, it is also vastly more profitable than a merged American-US Airways would be. It is hard to see where US Airways investors could extract any additional upside. On the flip side, AMR creditors want to own more than 70% of the combined carrier, which could lead to the deal falling through. In that scenario, US Airways shares would probably drop significantly.
By contrast, Delta and Hawaiian are both solid companies with well thought out plans to improve profitability going forward. Delta's management is looking to gain market share in Europe and Latin America through ownership stakes in foreign airlines, which will support codesharing and revenue-sharing partnerships. Meanwhile, the company is cutting costs by improving productivity and replacing the most inefficient aircraft from Delta's fleet. By contrast, Hawaiian is focused on growth; it has expanded rapidly in the past several years, and the management team sees significant additional opportunities for expansion going forward. Growth and diversification can drive shares of Hawaiian higher for years to come, as the company taps demand from the expanding middle class in East Asia.
With Delta and Hawaiian already posting strong results and trading at bargain valuations relative to peers, there is no compelling reason to take on the risk of turnaround plays like United and Southwest. Moreover, the M&A arbitrage opportunity in US Airways is more or less gone. Airline investors should stick with the highest quality companies for the best returns in 2013.
Disclosure: I am long DAL, HA. I wrote this article myself, and it expresses my own opinions. I am not receiving compensation for it (other than from Seeking Alpha). I have no business relationship with any company whose stock is mentioned in this article.
Additional disclosure: I am also short UAL. I have sold March $14 calls against my position in DAL.