It doesn't matter what the gold (NYSEARCA:GLD) bugs say, because gold has massive overhead resistance at $1,800 and fading fundamental catalysts.
Even though many fundamental reasons seem to support gold prices rising from here, they are outweighed by the enormous amount of overspeculation and the limitless number of faulty arguments that point to a dangerous investment with much downside. Yes, the threats of global recession, insurmountable debt, terrible government policy, central bank support, and many other very persuasive arguments present gold as a very appealing investment or safe haven. But all of this is an illusion. Gold was a sensible investment in the early part of the bull market (1999-07), but has now become a false sense of security for many investors who will soon learn the hard way. Not only are the fundamentals already priced in, the technicals severely weakened, and the extremes in gold optimism easily apparent, but the bad news for gold could soon get much worse.
After peaking in September 2011 above $1,900, gold has been stuck in a tight, yet highly volatile, sideways trend between $1,520 and $1,800. Over the same time period, the threats of a renewed global recession have risen and governments have acted irresponsibly and even foolishly, yet gold -- the supposed safe haven -- has failed to provide the investment solution many had hoped it would be. Instead, gold has performed very poorly in dangerous markets, has seen very sharp price drops, and may have already seen the end of its historic bull market. Over the next months, gold will make its decision: It will either resume its rise and break out to new all-time highs, or will plummet below its current sideways pattern as investors flock out of gold due to its underperformance. The market is digesting, and gold is looking increasingly vulnerable.
Why Gold Will Drop (Fundamentals)
The reasons for gold's incredible danger are so numerous, but can be grouped into four main categories (the many specific examples are available in my book Gold Bubble):
Click to enlarge images.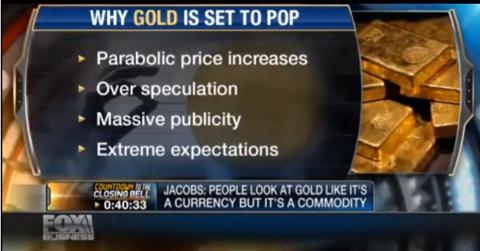 Put simply, with prices soaring since 2001, extreme risk-taking and over-enthusiasm by gold buyers, lack of hedging by the miners (NYSEARCA:GDX), and a false reliance on gold as a "safe haven," it at least pays to be cautious. Add to that gold's poor performance in recent times of turmoil, a strengthening U.S. dollar (UUP), a European recession that is still unresolved, Middle East turmoil, a China slowdown (NYSEARCA:FXI), and weakening overall commodity prices, and gold's future is much riskier than many are able to detect or willing to accept.
Though gold is supposed to be a hedge against inflation and economic turmoil, our current situation might point to a deflationary period where economic turmoil actually results in falling gold prices. A global economic slowdown leads to lower demand for goods and raw materials, which in turn results in falling prices for stocks and commodities. Since poorer economic conditions lead to a loss of wealth and decreased liquidity, gold will be affected regardless of its "safe" status. If people have less money to use or invest, they will simply has less money left to buy gold. If the price of nearly everything else falls, gold will not be spared -- especially when we are already seeing gold weaken substantially.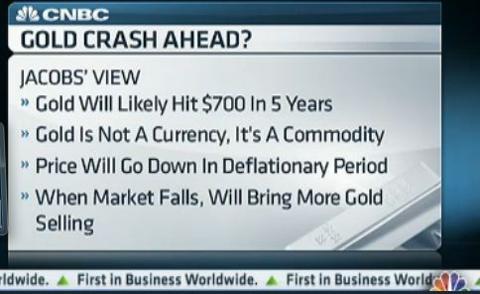 Now, with some gold bulls turning more cautious (Jim Rogers admits gold may continue to fall, and Goldman Sachs reduced its 2013/2014 year-end targets) and with the fate of quantitative easing (QE) uncertain, there may be much more downside for gold as reality sets in on what has become an overspeculative and crowded asset. If the economy continues to recover, there will be no need for gold as a flight to safety; and if the economy continues to deteriorate, gold will likely not be safe from the deflationary pressures or flight to liquidity. It appears that gold was a smart bet 10 years ago, but is now just a deceitfully dangerous investment for those who buy into a tremendously overcrowded trade. Gold is an illusion of safety in an uncertain world.
Failure At $1,800 (Technicals)
The fundamental reasons for gold may have continued to convince investors, but the technicals have grown increasingly ominous.
After peaking above $1,900 in September 2011, gold dropped sharply to $1,550 before recovering to $1,800. However, while gold was able to stop a further decline below $1,500, it has been stuck in a large sideways trend for over a year. Prices almost never remain in such a tight range, and must eventually choose a future direction.

The future direction of prices is usually signaled by a "breakout" above or below the trading range. In our case, gold has shifted up and down between ~$1,520 and $1,800 since November 2011. Every time it has approached the upper or lower boundary, it has "bounced" off and reversed course. Specifically, gold bounced off the bottom ($1,520-$1,550) three times and bounced off the top ($1,800) three times as well.

Gold is now increasingly in danger because it is fighting against a strong, proven resistance level at $1,800. Over the past two years, the smart investor is the one who has bought gold at $1,550 and sold at $1,800. In late September and early October 2012, gold gave us another chance to sell near highs of $1,800. Even more importantly, gold has now failed for the third time at $1,800. Since prices have "bounced" from $1,800 and have now reversed course downward, gold is picking up a lot of downside momentum as it approaches the $1,500 support level for the fourth time.
Since support and resistance levels tend to eventually be broken as the number of attempts increases, the $1,500 support level could break soon if gold is not able to stabilize. If the $1,500 level breaks, gold's bull market is almost certainly over and prices will have confirmed a much larger future decline. If gold falls below $1,500, next support levels will be $1,400, $1,200, and $1,000 on the way to our prediction of $700 within five years. It may sound extreme or implausible, but based on research and all the relevant warning signs it is way more probable than you think.

Since reversing course after failing at $1800, gold has seen sharp falls on its way down to as low as $1,626 in three months. The volatility has increased, and we've already seen 10 occasions when gold has dropped $20 or more in one day. Gold prices could stabilize here at $1,650 and resume their rise to break above $1,800, but the momentum is still pointing down. The next weeks or few months will hopefully give us a lot more clarity.
Regardless, investors truly need to reconsider their gold purchases and decide on an absolute price at which they will sell out of their position in case they win or lose. It would be very smart to, at the very least, watch the $1,500 and $1,800 levels.
Watch some of my predictions about gold in the video below (start at 3:31):
Disclosure: I am short GDX. I may initiate short positions in GLD or long/short options plays in GDX and GLD. I wrote this article myself, and it expresses my own opinions. I am not receiving compensation for it (other than from Seeking Alpha). I have no business relationship with any company whose stock is mentioned in this article.