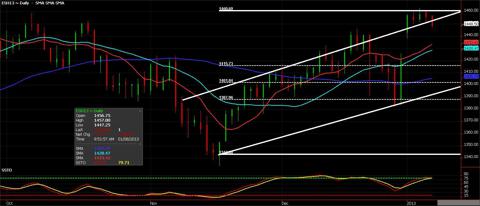 Click to enlarge
After a 5% advance in the last few weeks it appears 1460 is the line in the sand in March futures. My expectation is that we have reached an interim top and prices of equities have started to roll over. My first objective is the gap to be filled from last week which would mean a 25 point depreciation from current levels. That would put prices under its 9 and 20 day MA which had previously acted as resistance until the gap higher on news of a potential solution with the fiscal cliff. I anticipate in the coming weeks for prices to trade back into the up sloping channel seen on the chart above. For prices to correct 50% and trade back to the bottom of the existing channel puts prices of March futures under 1400...it is my suggestion to position expecting this scenario.
I have taken some heat for clients in open positions short stocks but they've decided to stay the course. For weeks now we have been short futures and sold out of the money puts 1:1 against our futures. On the way up when they were losing on their futures the losses were partially offset by the depreciation in the options. From here I think we can make on the futures leg and potentially also pick up gains in the options as theta could kick in…stay tuned.
The next dilemma is the debt ceiling which I think could be just as a large problem as the fiscal cliff. I heard some commentator compare the US to an individual that has maxed out his credit card and I thought this was a great analogy. We must start paying down our debt before interest rates move higher which in my opinion could start in the next few years. This needs to be a priority as the longer the can is kicked down the road the larger this problem becomes.
Risk Disclaimer: The opinions contained herein are for general information only and not tailored to any specific investor's needs or investment goals. Any opinions expressed in this article are as of the date indicated. Trading futures, options and Forex involves substantial risk of loss and is not suitable for all investors. Past performance is not necessarily indicative of future results.
Disclosure: I have no positions in any stocks mentioned, and no plans to initiate any positions within the next 72 hours. I wrote this article myself, and it expresses my own opinions. I am not receiving compensation for it. I have no business relationship with any company whose stock is mentioned in this article.