Michael Kors Holdings (NYSE:KORS) has soared in 2012, with stellar fundamental and price action. The company had an IPO in mid-December 2011, which was priced at $20. During 2012, the price reached as high as $58.62, and is not far from there at the moment.
2012 highlights
February - The stock price bolted 25% higher after reporting blowout earnings and revenue, and raising guidance.
March - The company filed for a Secondary Public Offering in early March, raised guidance and priced the SPO at $47.
May - The stock went down along with the market, and especially after Fossil (NASDAQ:FOSL) tumbled 38% in a single day after lowering 2012 forecast (Michael Kors sells Fossil watches).
June - Earnings and sales beat expectations again, guidance raised.
August - Another earnings and sales beat, with raised guidance, sending shares to new all-time highs.
September - Same action as in March, the company files for another SPO in early September, then raises guidance, and prices the offering at $53, stopping the rise of the stock price.
November - Another strong quarter, with earnings and sales up 123% and 74% respectively.
Valuation and fundamentals
The company has a 41.70 trailing PE ratio, forward PE of 25.80, and a PEG of 1.13, based on a 5year growth rate of 29.60%, according to Yahoo Finance. Michael Kors has a quite high return on equity of 46.12%, and practically no debt. EPS trend is rising, with estimates for current year (fiscal 2013) rising to 1.56 from 1.44, 90 days ago, and from 1.85 to 2.03 for the next year in the same time period of 90 days. The company is poised to deliver quite high growth levels in the future, especially having such high surprise rates on EPS, which range from 22.50% to 122% in the last four quarter, and average 63.50%.

Source: Earnings.com, ycharts and Yahoo Finance
Chairman and CEO John Idol said in the November conference call:
"Our performance was driven by continued growth in comparable store sales, strong performance of our new stores, successful conversion to shop-in-shops in department stores, and advances in our international expansion strategy as we continued to build brand awareness."
The company has 6 key growth initiatives:
1. North America, with 45% comparable store sales increase last quarter, which is a 26th quarter of consecutive growth in the region.
2. Retail expansion efforts in North America continue with ten new stores in the quarter.
3. Conversion of North American wholesale department store doors into branded shop-in-shops.
4. Expansion in Europe, which shows strong growth despite the weak economy, as revenue increased 97% to $57 million, and comp sales up 50%.
5. Expansion in Japan, where revenue increased 129% to $5 million and comparable store sales up 17%. The company opened two stores in Japan in the last quarter, and ended the quarter with 21 locations, with plans for Japan to be a strong contributor for revenue and income in the future.
6. Building a foundation for growth in other areas of Far East.
The company is very successful with social media. It has 1 million followers on Twitter, and over 2 million fans on Facebook. They anticipate they will have well over 5 million fans on Facebook at end of next year, and continue to build brand awareness both domestically and internationally.
Price action
The stock price increased substantially in 2012. The momentum was stopped with two offerings in March and September, and the stock is in consolidation since the September offering. The stock needs a new catalyst for the next move up, and that might be the next quarter results.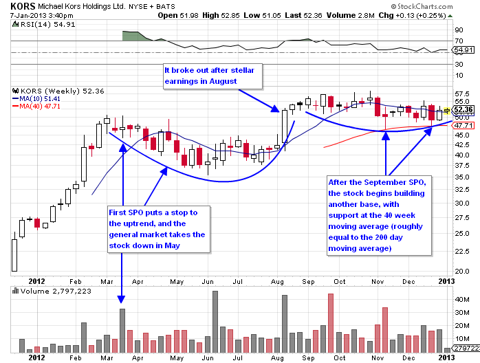 Source: stockcharts.com
Summation
Michael Kors has certainly marked 2012, and I expect them to shine this year also. Higher valuation seems justified when you look at the outperformance it had in 2012, with an average 63.50% earnings surprise, and guidance and analyst estimates constantly being raised. Insider selling through two offerings had a negative effect on the stock price, and put the stock price in consolidation recently, and it needs a new catalyst to push the price higher.
Disclosure: I have no positions in any stocks mentioned, and no plans to initiate any positions within the next 72 hours. I wrote this article myself, and it expresses my own opinions. I am not receiving compensation for it (other than from Seeking Alpha). I have no business relationship with any company whose stock is mentioned in this article.