Cummins (NYSE:CMI) is a leading manufacturer of truck engines and power generation systems. The company was founded in 1919, and has had a long history of business relationships with Chrysler, Daimler, Volvo, Ford (NYSE:F), Navistar (NYSE:NAV), and others. With the projected growth in truck sales, particularly in Cummins' overseas business, I believe Cummins will experience a period of double-digit percentage earnings growth and is significantly undervalued at current levels.
Cummins operates in four segments: Engines (53% of sales), Power Generation (14%), Components (16%) which produces mostly parts for existing engines, and Distribution (17%) which distributes the company's products to end users.
The company's growth strategy consists of several key principles. First, Cummins wants to become the lowest-cost producer in all of their particular markets, both by globally sourcing their products and by increasing technical productivity as much as possible. Cummins also aims to make logical expansions into markets related to their current product lines, such as its expansion into light trucks over the past decade or so. Also, the company tries to leverage complementary businesses, by sharing as much technology as possible amongst their product lines.
Over the next several years, as previously mentioned, most of CMI's growth will come from its international business, particularly in India, China, and Brazil, all of whom are expected to grow their infrastructure spending considerably. See this report by UBS for specific details on the outlook for infrastructure spending, by country. These countries all have rapidly growing GDP's, and will invest in new equipment proportionally to their means.
Cummins has also done a very good job of creating shareholder value, both with buybacks and by dividend increases. In fact, Cummins just recently approved a new $1 billion share buyback plan. The company currently pays a $2.00 annual dividend, which equates to 1.89%. Also worth noting is the steady increase of the dividend over the past several years (see chart below).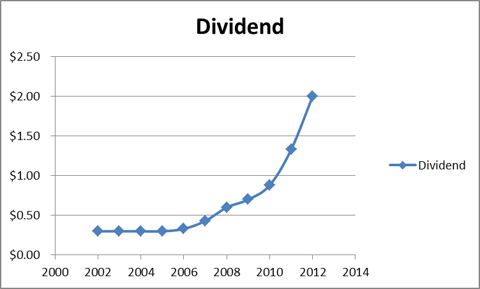 Consensus estimates call for a nice growth rate, with earnings rising from $8.44 in 2012 to $9.03 and $10.47 in 2013 and 2014, respectively, an average earnings growth rate of 12%. This more than justifies the P/E ratio of 12.5 that the company currently trades at, and in fact Cummins trades at a historic average of 14.4 times earnings. Using this, and the consensus, I arrive at a 1-year price target of $130.00, which is roughly 22.8% above current levels.
My favorite way to play the undervalued pricing of Cummins is through a conservative call spread, using the January 2014 LEAPS. I want to buy the $105 calls for $18.00 and sell the $125 calls for $8.75, for a net cost of $9.25. I like this trade because of the low breakeven price of $114.25, as well as the maximum profit of $10.75, a 116% gain, which is achieved if the stock closes at $125 or above in January 2014, which is $5 less than my target. I think this play on infrastructure spending has a risk/reward ratio that is too favorable to be ignored.
Of course, I advocate the outright purchase of the shares as well, but as an options strategist my mind always goes that way. As long as you are on the long end of the trade, it's hard to go wrong with Cummins.
Disclosure: I have no positions in any stocks mentioned, but may initiate a long position in CMI over the next 72 hours. I wrote this article myself, and it expresses my own opinions. I am not receiving compensation for it (other than from Seeking Alpha). I have no business relationship with any company whose stock is mentioned in this article.