I have been a long-term holder of Coca-Cola (NYSE:KO) since March of 2010, and it has served its purpose in my portfolio. With the initial need of a low beta, high quality dividend grower. Coke has protected my portfolio and has offset the frightening declines of riskier holdings on those nasty days of red. I am currently in the black nearly 38% not including the DRIP - a reasonable result from this foundation like core holding. However, over the past six months, Coke and its non-alcoholic beverage peers - Pepsico Inc. (NYSE:PEP), Dr Pepper Snapple Group Inc. (NYSE:DPS) and Monster Beverage Corp. (NASDAQ:MNST) - have lagged the SPDR S&P 500 ETF (NYSEARCA:SPY).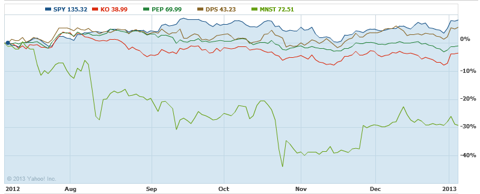 Looking back even further over both the past year and 2 years, KO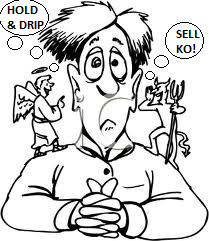 has lagged the SPY by 5%. Because of Coke's relative under-performance by comparison, I honestly find myself fighting the urge to sell this core holding and move on to a "better" performing position. During these itchy moments I weigh the good vs. the bad in KO stock. But more so, I find I am weighing my own responsibility as an investor. So far, the patient side of me has prevailed, and I have not sold a share. The realization that Coke is the best of breed in the sector, with very strong brand value and solid dividend history, reminds me that KO is meant to be a more steady, slower moving cog in the total "clock" which is my portfolio as a whole. In addition, my 3.74% yield on investment and 15% renewed tax rate is a great reason to hold for now.
KO's Relative Performance:
With a general acceptance that Coke is a steady investment, let's examine Coke's performance over the recent past: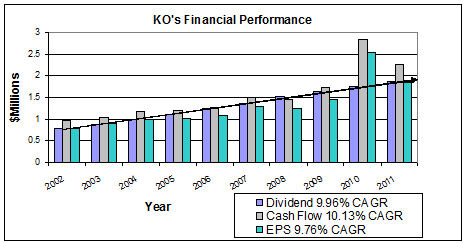 Sporting a Dividend Compound Annual Growth Rate (OTCPK:CAGR) of 9.96% since 2002, it appears KO's payout growth has been very solid. Note even through the financial crisis of 2008-2009 the dividend was increased rather routinely. Although cash flow was slightly weak for 2008, it was not dramatically reduced as was so prevalent among other companies. Let's compare Coke's performance to that of Pepsi, KO's strongest competitor: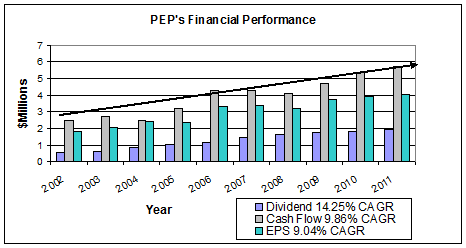 Pepsi's dividend growth was slightly healthier than that of KO's. However, KO's cash flow and EPS growth was slightly stronger and perhaps more consistent than Pepsi's. Overall, these basic metrics of Pepsi's financial performance have been comparable to Coke's over the past 10 years.
| | | | |
| --- | --- | --- | --- |
| Company: | KO: | PEP: | DPS: |
| Dividend: | 2.71% | 3.10% | 2.98% |
| Dividend Growth Since March 2010 Buy: | 15.9% | 19.55% | 126.6% |
| Dividend CAGR Since 2002: | 9.96% | 14.25% | N/A |
| Current Coverage Ratio: | 0.53 | .57 | .466 |
| Beta: | 0.5 | 0.5 | 0.7 |
| Dividends Since: | >20 yrs | >20 yrs | 2010 |
| Estimated 2013 EPS Growth: | 8% | 8% | 8% |
| P/E Ratio ttm: | 19.66x | 18.5x | 15.62x |
| P/S Ratio: | 3.55x | 1.64x | 1.59x |
| P/Book Ratio: | 5.09x | 5.0x | 4.11x |
| Market Cap: | $168.9B | $107.4B | $9.5B |
KO's P/E ratio seems in-line at this point in time, considering Coke's long term average P/E is around 20x. Sporting a 19.66x P/E with 8% growth, the stock has a 1 year PEG of 2.45x- a relatively high metric. However, these metrics are comparable to Pepsi, the most comparable rival by market cap and global positioning in the industry. In addition, KO's dividend growth is very similar to PEP. Using this basic analysis, Pepsi does seem comparable to Coke going forward since the last several years have been very similar for both companies.
DPS:
Although not really a bellwether like KO or PEP, DPS does seem to have its strong points. Trading at around 14.4x next year's EPS projections while sporting a 3% yield, DPS seems like a stock worth additional research. Perhaps some aspects to consider before falling in love with its cheaper valuation is DPS's dwarfed enterprise value, minimal dividend history, weaker brands, debt, and minimal global footprint. Conversely, DPS's smaller size creates more opportunity for growth and higher beta, which is why it probably isn't as safe as an investment as industry titans KO and PEP.
Brand Strength vs Industry Weakness
Speaking of brands, it is important to remember that Coke has the # 1 and #2 best selling sodas in the world: Coke and Diet Coke. However, Pepsi and Dr Pepper fill the trailing ranks. It will be interesting to see the changes in market share for these 3 companies for 2012. In addition, the total volumes of soda will be critical in my opinion, as the top four soda brands, Coke, Diet Coke, Pepsi, and Mountain Dew, all saw declining sales in 2011 according to Beverage Digest, due to healthier alternatives gaining traction. This is concerning because regardless of which company loses/gains share, if consumers dramatically reduce spending on soda it may not matter. In 2011, Beverage Digest noted while KO's market share was flat at 34%, while PEP's and DPS's market share declined to 27% and 11% respectively. Again, although soda is a difficult market currently, KO's dominance is profound, and does justify its richer valuation.
Bottling
Also, KO has solid bottling operations. KO owns 34.8% of Coca-Cola Bottling Co. (NASDAQ:COKE), a company that has relationships with the other Coca‑Cola bottlers in the U.S., and with other beverage companies, including DPS and Monster, whose products are distributed in certain parts of its franchise territory. This is an interesting strength for KO, as perhaps its bottler has access to volume data of competitors and also MNST. Monster is not really a competitor but some have thought MNST was a buyout candidate of KO.
The Take Away:
KO is a huge company with arguably the strongest brand in the

industry, which I intend on holding into the future. KO's powerful brand and overwhelming industry foothold are strengths overlooked by investors in my opinion, since valuation metrics often fail to appreciate their hidden benefits. In addition, I see the dividend growth continuing, considering a great coverage ratio and reliable EPS growth. KO can definitely be considered a steady, reliably moving cog in the total "clock" which is a balanced portfolio on a whole. Pepsi is a comparable investment to Coke, while DPS could be considered as a reasonable investment as well. However, DPS is of a different kind than these two industry leading titans, whom continue to perform in the face of financial crisis and despite healthier consumers.
Disclosure: I am long KO. I wrote this article myself, and it expresses my own opinions. I am not receiving compensation for it (other than from Seeking Alpha). I have no business relationship with any company whose stock is mentioned in this article.