Intel (NASDAQ:INTC), the microprocessor giant, reports its fourth-quarter 2012 financial results on Thursday, Jan. 17 after the final trading bell. This is later than usual for Intel and on a different night for the semiconductor giant. Typically, Intel reports on the Tuesday night of the first full week of earnings.
Per Thomson Reuters, analyst consensus is looking for $0.45 in earnings per share (EPS) on $13.766 billion in revenues for expected year-over-year declines of 30% in earnings and 1%, respectively. The stock was down 15% in 2012, excluding the dividend.
The Q4 2012 gross margin guidance in the third-quarter earnings report just crushed the stock, as INTC management lowered the expected Q4 gross margin to 57%, from the third quarter's 63%. Even revenue guidance was lowered for Q4 2012, as the typical seasonal revenue growth is +7% for Q4 2012, but the Street was given a +4% guidance range to chew on.
Since the October earnings report EPS estimates have been further reduced to the $0.45 from the $0.47 estimate we saw immediately after earnings, even as revenue estimates have actually ticked a little higher, from $13.618 to $13.766 in the last three months. (That likely means gross margin continues to get squeezed in the analyst models.)
Readers don't need a re-hash of what has pushed Intel to such cheap levels:
Worst year of PC growth since 2001, for a variety of reasons including the secular adoption of the tablet, increasing use of the cloud and the virtual desktop, etc.
Subdued employment growth, which I think is a bigger deal than most people give credit for, since any new employee in a service business usually gets a laptop or desktop PC (or both).
Windows 8: The new "touch" screen is a big change and will likely have a slower adoption rate than the Windows 7, although it seems corporate I/T departments haven't yet gotten to a widespread adoption of 7.
INTC's mobil strategy is, by most accounts, still lacking and the company is thought to be well behind the curve. I'm not a techie, so I try to read both sides of the debate.
The point is most of this news is discounted in current valuations, and in the current price of the stock. Or put in another way, "Is anyone expecting good Q4 2012 quarter out of Intel when results are released on Jan. 17?"
In 2001, Intel saw revenues decline 21% while earnings per share fell 68%, by far the worst year for that company in the years we have data (starting in 1992). Including 2006, which was another tough year, Intel has now had four years -- 2006, 2008, 2009, and 2012 -- where revenues and earnings per share have been negative year over year.
The difficult aspect to INTC's business model is that huge hill that it has to climb every year in terms of the annual capex, or the investment in fabs and such, to sustain its low-cost advantage.
INTC cash-flow, capex, free-cash history
Qtr end

TTM

cash-flow

y/y

change

TTM

capex

y/y

chg

TTM

free-cash

y/y

change

TTM divnd

+ share repo

q3 '12
$18.0 bl
-3%
$11.2 bl
19%
$6.8
-26%
$12.9
q2 '12
$18.2
3%
$11.0
37%
$7.2
-25%
$14.1
q1 '12
$18.8
13%
$11.0
67%
$7.7
-23%
$16.3
q4 '11
$19.7
18%
$10.8
107%
$8.9
-22%
$18.5
q3 '11
$18.9
22%
$9.4
87%
$9.3
-10%
$15.2
q2 '11
$17.6
26%
$8.0
65%
$9.6
6%
$11.9
q1 '11
$16.5
32%
$6.6
41%
$9.9
26%
$8.5
q4 '10
$16.7
49%
$5.2
15%
$11.5
73%
$5.2
q3 '10
$14.3
38%
$5.0
7%
$10.3
60%
$5.1
q2 '10
$14.0
26%
$4.9
0%
$9.0
46%
$5.0
q1 '10
$12.5
14%
$4.7
-7%
$7.9
32%
$5.0
q4 '09
$11.2
2%
$4.5
-13%
$6.7
16%
$4.9
q3 '09
$11.1
-2%
$4.7
-9%
$6.4
4%
$3.6
q2 '09
$11
-6%
$4.9
-5%
$6.2
-7%
$2.4
q1 '09
$11 bl
-10%
$5.0 bl
0%
$6.0 bl
-17%
$1.2 bl
(TTM: trailing 12 months. Capex: capital expenditures -- i.e., expenditures not expensed, but capitalized, and expected to maintain the long-run economics of the business.)
As the reader can quickly see, INTC spent $14.3 billion repurchasing stock in 2011, only to find the shares now trading at prices last seen in March-April 2011. INTC has used a lot of free cash to return capital to shareholders without much to show for the effort, although it isn't likely that Intel expected PC sales to have their worst year since 2001, in 2012.
Trading at 6x cash-flow and 6x enterprise value (EV) to cash-flow, we've never seen INTC this cheap on a cash-flow basis. 7x? Yes, a few times, but 6x cash flow is a first.
2013 Expectations
Even a modest PC growth recovery in terms of year-over-year sales would be a plus.
Some progress or headway on the mobile/iPhone strategy, although I'm not a techie and rely on electronic engineers to help me navigate the scientific aspects of INTC's business.
Anytime INTC has traded into the high teens, low $20s, the stock has eventually popped into the high $20s. In 2003, 2006, and 2009 the stock traded into the teens, only to see the subsequent bounce each time (see chart).
CIick to enlarge image.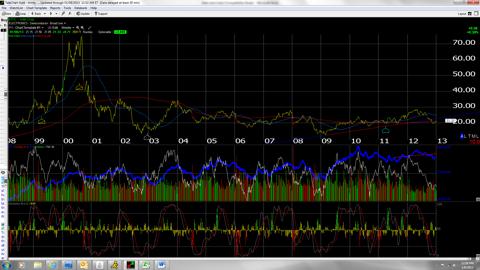 Click to enlarge
We did some tax-loss selling in INTC in Q4 2012, but still maintain the majority of our INTC position as a "value tech" holding. Given the environment around the PC space, I just don't see how the sentiment gets any worse for INTC, as the valuation and the 3.5% dividend yield look very attractive. The stock has been a value trap now for a while, and has been an underperformer in client portfolios.
Disclosure: I am long INTC. I wrote this article myself, and it expresses my own opinions. I am not receiving compensation for it (other than from Seeking Alpha). I have no business relationship with any company whose stock is mentioned in this article.