The price action of Apple may show a disconnect from its fundamentals but the technicals just may signal some signs of support.
The price action of Apple (NASDAQ:AAPL) still seems to defy logic. In December I wrote an article on TheStreet.com titled "Apple is a Bad Investment" where I explained that most investors look for long term investments in companies that are forecast to have increasing revenue and earnings. Investors look to analysts interpretations of a company's annual reports and then make forecasts and recommendations based on those projections. We would expect a stock that has positive growth forecasts to increase in price.
Apple however has had a disconnect from this general theory and as everyone is forecasting great things but the stock keeps going down. Let's use a Barchart prepared graph to look at the stock's price action over the past 6 months: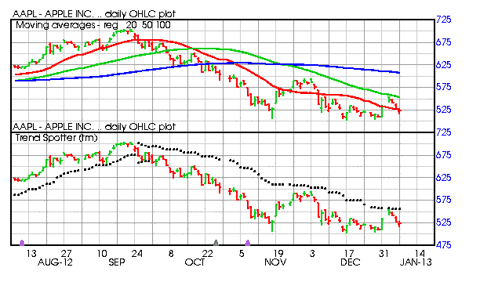 It's not hard to see that Apple is in a downward trend. Normally we look to the market and rationalize that the reasons good stocks are tanking is that the market is tanking. To see if that's true I use another Barchart prepared graph to show Apple's price action compared to my market proxy of the Value Line Arithmetic Index of 1700 stocks and note a further disconnect from the market: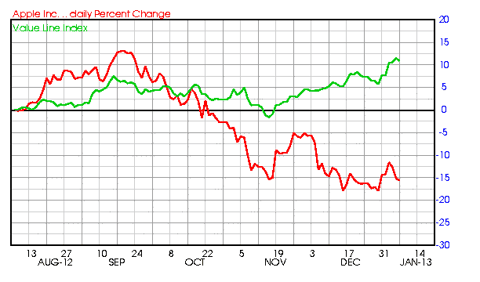 We can't blamed Apples price adjustment on the market, so next we look to see if it's over priced. Apple today is trading at a P/E ratio of 12.28% while the Value Line Index is trading at a P/E of 15.40. Apple is actually trading at a discount to the market.
Let's look at all the numbers and see how to proceed:
Barchart technical indicators:
56% Barchart technical sell signal
Trend Spotter sell signal
Trading below its 20, 50 and 100 day moving averages
19.79% down for the quarter
25.76% off it's 1 years high
Relative Strength Index 44.02% - I like above 50 %
Barchart computes a technical support level at 517.69
Recently traded at 523.42 which is below its 50 day moving average of 553.73
Fundamental factors:
Widely followed on Wall Street where 48 brokerage firms have assigned 58 analysts to monitor the numbers
Analysts project earning will increase by 15.20% next year
Earnings are estimated to grow by 17.40% next year
Earnings are predicted to increase annually by 20.67% for the next 5 years
P/E ratio at 12.28 which is below the market P/E of 15.40
Dividend is at 1.96% slightly below the market dividend rate of 2.30
The company has an A++ financial strength rating
Company can't seems to fill orders fast enough, there are no excess inventories carried and most suppliers report they have capacity to fulfill new orders
Fundamental factors look fine
Investor interest:
Wall Street firms have published 21 strong buy, 28 buy, 6 hold and only 3 sell or under perform recommendations to their clients
I use Motley Fool to gauge the individual investors sentiment and on that site 29.134 readers have given an opinion and they voted 92% that the stock will beat the market
Short interest has remained steady at about 1 days volume so that should not be a concern
Good interest by both the professional and individual investors and the short boys are not building larger positions
I always like to compare a stock's price action to it's peers and over the past 6 months AAPL is down 16%, IBM (NYSE:IBM) down 3%, Hewlett Packard (NYSE:HPQ) down 19% and Dell (NASDAQ:DELL) down 9%. Nothing really kicks out here: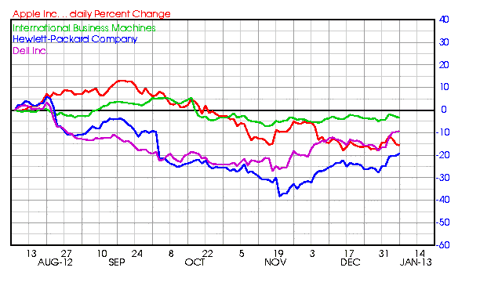 Summary: Apple at the present time has a true disconnect from accepted fundamental factors. The stock is trading is in the opposite direction of its revenue and earnings projections and its P/E show it is not over priced from a market yard stick. What to do? If you have it hold it. If you are risk adverse or waiting for a sign to jump in I think you can see that the stocks downward price momentum as measured by the 14 day turtle channel is finding a bottom support point.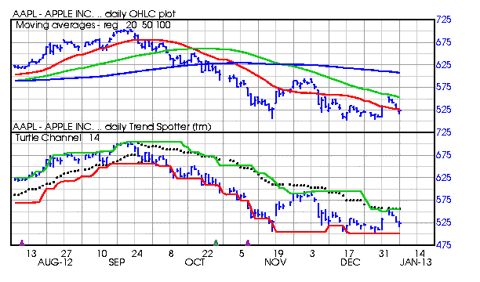 I for one do not own the stock at the present time. I previously placed sells when the stock crossed the 100 day moving average. In the long term I like the stock and will be back in when I see the upper turtle channel increase.
Disclosure: I have no positions in any stocks mentioned, but may initiate a long position in AAPL over the next 72 hours. I wrote this article myself, and it expresses my own opinions. I am not receiving compensation for it (other than from Seeking Alpha). I have no business relationship with any company whose stock is mentioned in this article.