Introduction
Merit goods and demerit goods: the demand for "goods" and "bads" is very different, and theoretically, the less that is demanded of the bads, the better. In the case of the garbage disposal industry, this law does not apply. The more garbage there is, the more raw materials there are for the garbage collection companies to dump into their landfills. In this article, I take a look at which company is outperforming its rivals in collecting trash and making a good buck from it. The contenders? Waste Management Inc. (NYSE:WM), Republic Services (NYSE:RSG), and Waste Connections Inc. (NYSE:WCN).
Tracking Financials
Here are the three companies for our analysis:
Indicator

Market Cap

$15.8 bil

$10.8 bil

$4.2 bil

Price/Earnings ttm

18.4

17.4

25.3

Price/Book

2.5

1.4

2.3

EPS Growth (3 Yr Avg)

-2.3

61.6

14.7

Dividend Yield %

4.18

3.06

1.08

Debt/Equity

1.5

0.9

0.5

ROE ttm

14.0

8.3

9.9

Current Price

$33.96

$29.72

$34.05

Estimated Fair

Value Range

$25-$39

$26-$47

$22-$37

Stock Valuation

Fairly Valued

Fairly Valued

Fairly Valued

Upside Potential (Premium) to Reach a Fair Stock Value

--

--

--
Data from Morningstar and Financial Visualizations on January 08, 2013
From the outset, it is pretty apparent that the industry has high barriers to new entries due to the heavy start-up investment required. While this secures the position of the firms already present, the competition within this group is fierce. Waste Management recently acquired Oakleaf, which has put the company in a significantly stronger position to influence the market prices. The company has had strong and consistent cash flows on both an annual and quarterly basis extending five years back. A P/E of 18.4 is a strong indicator of the stock's fair value, but the earnings for future should not be expected to grow exponentially -- unless we start producing exponential waste. WM continues to provide a very healthy dividend yield, which is essential to attracting investors at a time when earnings growth over the last 3 years has been negative. Furthermore, another cause for concern is the high Debt/Equity ratio of 1.5. The company has ventured into the energy industry, as it plans to reclaim and reuse energy from waste, which might explain the relatively larger amount of debt compared to its competitors.
Republic Services is priced more cheaply and also has a robust cash flow outlook. The company's earnings have been increasing consistently for the last four years and do not look to be halting any time soon; thus, the 61.6% growth. Republic Services has a highly attractive dividend yield and a lot more security regarding its debt situation. Compared to Waste Management, Republic Services' recent upturn in form makes it a compelling option for investors to think about. Since 2000, the total percentage of recycled municipal waste has been increasing consistently, leaving very little room for garbage disposal companies to increase revenue and improve margins from their core businesses. Like Waste Management, Republic Services is converting garbage into landfill gas for electricity generation at over 70 locations in the U.S.
The last competitor, Waste Connections, recently received a $3.5 million settlement from the Ratto Group of Companies due to a breach in contract between the two. Waste Connections has had strong margins over the past 12 months. Gross margin is 42.3%, operating margin is 19.5% and net margin is 10.1%. A trailing P/E of 25.5 either shows signs of progress or over-valuation. Looking at WCN's revenues in 2012's quarters, we see very few signs of growth -- mostly, consolidation on the current level of revenues can be found repeating quarter after quarter. The company has significantly less debt than its competitors and from an objective viewpoint, the debt is at a reasonable level, keeping in mind the highly intensive capital industry of which the company is a part. In 2012, WCN acquired the business and operating subsidiaries of R360 Business Solutions. However, analyst expectations were not met during the Q4 2012 result announcement.
The discounted earnings plus equity model, developed by EFS Investment Partners and applied to the three competitors, suggests that currently, all three stocks are fairly valued.
Stock Performance
The graph below illustrates performance of the three firms under discussion over the past five years. To put their performance into perspective, they are also compared to the S&P 500 and the Dow Jones Industrial Average. As mentioned earlier, the demand and supply nature of the industry is such that it is guarded from global financial crisis or major macroeconomic collapses -- this opinion is being mirrored by the outperformance of the market averages during years of financial pressure. For the past few years, WCN has been following the upturn on the stock market, and has witnessed a 70.67% growth in its value over the course of the last 5 years. Waste Management and Republic Services have not been able to stay in contact with the sterling growth of Waste Connection, yet their performance is well in line with the market average.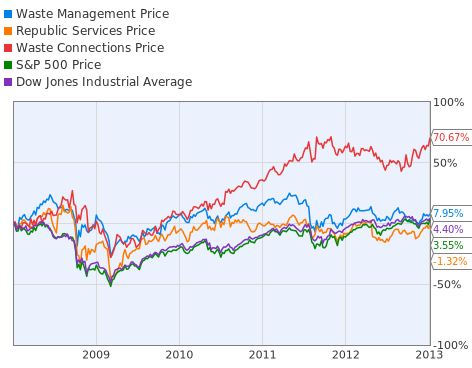 Based on performance from the last five years, Waste Connections is the clear outperformer of the companies under review. Heading into 2013, the company's growth in earning continues to support its price hike on the stock chart.
Make Or Break For Investors
The garbage industry is reaching a stage of maturity where the core business of garbage collection itself is no longer enough to fuel growth for industry leaders. The pivotal shift in operation lies in finding avenues to fund growth outside of the core business, like the energy regeneration programs initiated by WM and RSG. While these stocks continue to have strong cash flows and consistent payouts to investors, the path taken in the future will be incredibly important for long-term investors of these companies. Of the three competitors under focus, WM has sound financials, but has not been able to reflect that into growth for its stock due to lack of growth as it closes in on its saturation point for the core business. RSG and WCN, however, are a different story. Both companies have seen high growth rates over the past few years, and are thus enjoying an upturn.
Of the two companies, I prefer WCN due to its proven potential for growth and reward to its investors. More importantly, the company has fundamentally low levels of debt compared to its competitors, which puts it in a prime position for finance growth by taking loans in 2013. For WCN, Morningstar has provided 2/4 buy rating and a 2/4 hold. For RSG, the website provides 1/4 buy, 1/4 outperform and 2/4 hold rating. Lastly, WM is provided with a 3/4 hold and 1/4 sell rating.
Bottom Line
WCN's relentless move up the charts seems unstoppable as it continues to redefine the highs of its 52-week range on a regular basis. The company has potential to expand its growth by utilizing its services in the secondary and western markets of the U.S.
Disclosure: I have no positions in any stocks mentioned, and no plans to initiate any positions within the next 72 hours. I wrote this article myself, and it expresses my own opinions. I am not receiving compensation for it (other than from Seeking Alpha). I have no business relationship with any company whose stock is mentioned in this article.