As I develop the "Young and Restless" portfolio this year, I believe it is important to review each stock selection for current updates and opinions. In that way, each investor that this portfolio is offered for, can make decisions on each particular stock.
In this article, the main focus is on Apple (NASDAQ:AAPL). While the information might be basic for some, it is important to begin with some basic fundamentals as well as what could be viewed as either a positive or a negative for actually owning this stock.
The "Young and Restless" portfolio consists of Apple , Amazon (NASDAQ:AMZN), Google (NASDAQ:GOOG), Facebook (NASDAQ:FB), Netflix (NASDAQ:NFLX), and Yahoo (NASDAQ:YHOO).
| | |
| --- | --- |
| Stock | Orig.Price |
| AMZN | 230 |
| AAPL | 520 |
| GOOG | 640 |
| FB | 23 |
| NFLX | 82 |
| YHOO | 19 |
As I have done with "Team Alpha", I will be giving monthly updates as to how this portfolio is progressing and also carefully select stocks that could fit well in this type of mix. Not to mention that I will be reviewing each stock in depth, on a regular basis, so readers can see exactly what has been going on.
I would suggest reading the first two articles in this new series to get up to speed and to review who this type of portfolio might be best suited for:
1) Adding Yahoo To The Young And Restless Portfolio
2) The Young And Restless: A Portfolio Not A Soap Opera
Apple Without Emotion
I have written about Apple stock for awhile now, and this article still is one of the most highly viewed articles on Seeking Alpha. With nearly 45,000 readers and over 250 comments, at the time it was written Apple was, and still is, an emotion laden security. Ironically, if anyone followed my suggestions in that article they could have made a small fortune. That being said, this portfolio is not about trading, it is about investing. Apple is an ANCHOR stock for this portfolio, as it is the most prolific company on the planet and has changed the lives of 100's of millions of people.
I believe it will continue to do so for quite some time, and should be a solid core holding in this portfolio. Simply stated; Apple stock can still make an investor very wealthy.
An enterprise value of roughly $500 billion, Apple is the largest company on the planet, rivaling only Exxon Mobil (NYSE:XOM) for that distinction.
An approximate $100 billion in cash without any debt. (Think about THAT for a minute)
A 35% operating margin as of last quarter (industry or sector average is about 29%).
YOY revenue growth of 27% and YOY earnings growth of 24%, as of the 4th quarter results.
A current dividend yield of about 2.1% based on today's share price, with only a 6% payout ratio.
Nearly 70% of all outstanding shares are held by institutions.
An ESS Rating of "Bullish" to "Very Bullish"
A 2013 forward P/E of only 9.25, making this one of the most undervalued growth stocks ever recorded (the industry or sector average is about 12.50).
Just by looking at these basic fundamentals, any observer would question why any investor would not own the stock! Of course Apple has had speed bumps of late.
The passing of Steve Jobs and the new regime of Tim Cook has been a hurdle under a microscope since it began. Every misstep has been scrutinized and plenty of naysayer's have determined that the glory days of Apple is over.
The launch of the iPad Mini, which HAS cannibalized the regular iPad II, and taken some sales away from that launch.
The reluctance to develop the much anticipated Apple TV, which has caused some investors to think that Apple has stopped being an innovating game changer.
The global economic slowdown, especially in China, that has had an impact on sales to a certain extent.
The Android competition that has made significant inroads and has taken some market share.
Pricing pressures that have not been faced previously, which could impact future earnings.
Obviously a bearish case can be made towards Apple, but based on the fundamentals noted here, would you bet against a company with no debt, over $100 billion in cash and growing every day? An enormous company that continues to change lives and business with existing and new products that eclipse every competitor?
I think that is a fool's game.
The Near Term And The Future
In a few weeks, Apple will announce their first quarter earnings. Here are what the analysts are expecting:
A range of EPS from $11.53 to $15.50/share, with a consensus of about $13.33/share for the 1st quarter. Last year came in at $13.87/share.
A range of revenues from $51.71 billion to $59.55 billion, with a consensus of $54.54 billion for the 1st quarter. An increase of about 17.70% is being sought.
From

Thomson

/First Call, there are 21 analysts rating Apple as a "strong buy", 28 analysts rating it as a "buy", 6 as a "hold", 2 as an "underperform" and 1 as a "sell".
Current share price targets range from a low of $270/share to a high of $1,111/share with an average target price of about $740/share.
Without a crystal ball I have no idea how Apple did last quarter, nobody really knows, but based on their history, Apple has repeatedly under-promised and outperformed. My own opinion is that the 1st quarter will be a good one. I base that on the fact that the recent launches of the iPhone 5 and iPad Mini have sold very well (read this report) for the holiday season. In particular iPhone sales have been exceedingly strong: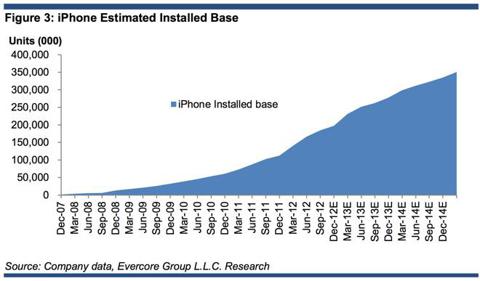 According to Rob Cihra of Evercore Group, Apple may have sold over 50 million iPhones, PLUS the iPad mini sales;
"Rob Cihra of Evercore Partners updated his projections for Apple's December quarter on Thursday in anticipation of the company's quarterly earnings report, scheduled for Jan. 23. Cihra expects Apple to report sales of 50 million iPhones, a 35 percent year over year increase and 86 percent growth from the previous quarter."
Cihra also stated that he believes that the iPad mini sold about 10 million units, on top of the 14 million units of the regular iPad. These are staggering numbers, and Evercore reiterated their target price to $750/share.

There are experts that can parse the numbers, but I would think that just by these facts alone, Apple will come in just fine. That does NOT mean that the share price will skyrocket, nor tank. What it means is that Apple is still an incredible longer term investment and nothing has really changed.
As far as the future, let's look at some charts: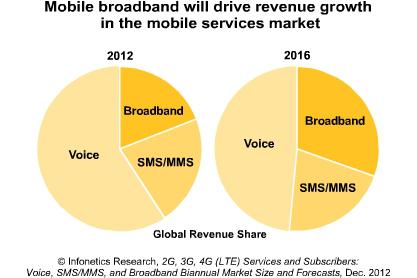 According to this chart, Mobile will continue to grow. Who is the leader in mobile devices? Apple.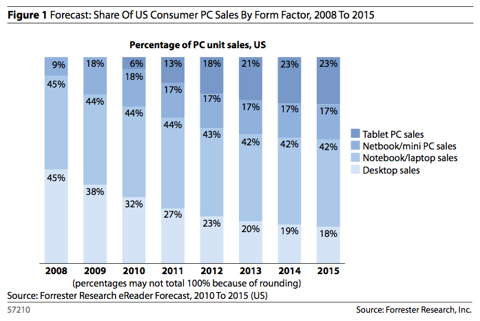 While the iPad is not the only player out there, tablets are replacing the desktop PCs and who is leading the way? Apple.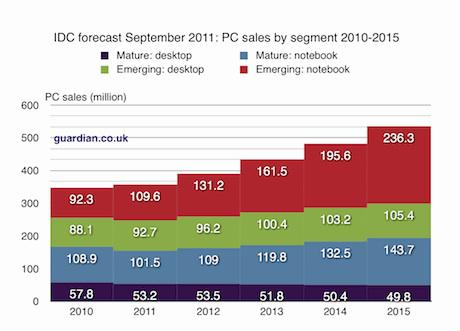 Another way to look at the growth or lack there of, in each segment of the computing business, with the leader in the growth areas being: Apple.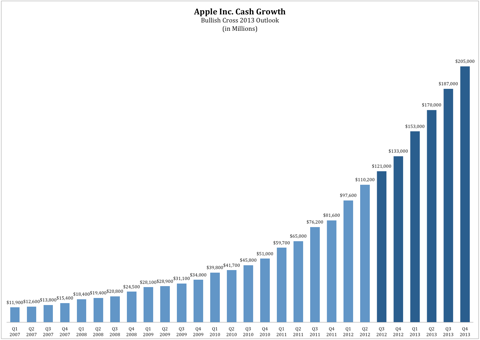 Apple already has oodles of cash but Bullish Cross' Andy Zaky believes that by the end of 2013, Apple will have over $200 billion in cash!
The PC Might Be On Life Support, But Apple Wins Regardless
PC sales worldwide have been declining as the tablet world has encroached on that market. That being said, the iMac is being revamped and could actually take a larger piece of the remaining pie.
As noted here:
"Expected struggles in the PC market will also be driven by Apple's Mac lineup, Wu believes. He said Apple's "highly differentiated" computers will continue to eat away at PC marketshare" (Shaw Wu with Sterne Agee)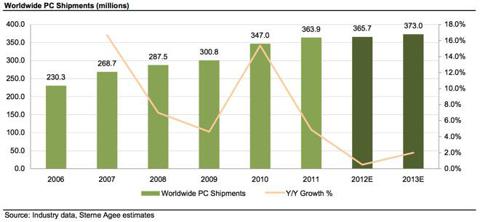 In the chart above from Sterne Agee, PC sales are slowing but not dropping off of a cliff, and even though iMac sales slowed in 2012 by about 6%, an updated iMac with the possibility of having a brand new Intel (NASDAQ:INTC) chip called "Haswell" included, should boost sales for Apple.
"The listed Haswell desktop processors are most likely to make their way into Apple's all-in-one iMac lineup, which are the only Macs to use desktop processors. The Mac Pro, which is due to receive a significant update in 2013, uses Intel's Xeon server chips, while the Mac mini currently relies on low-power mobile processors." as was noted in this article.
The chip is faster, cheaper and uses less power which in turn will enable the iMac revamp to potentially include a lower price tag. Much of the decline in the PC has had to do with the difference in prices between strong PCs and tablets.
If the price of an iMac can be cut by 15-20%, they most certainly could take market share in an already lagging business segment. This will obviously help Apple of course.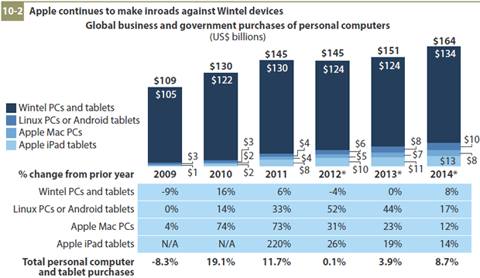 Yes, even in a declining PC market, Apple still gets the "nod", as this article clearly states:
"Unless the vendor's name is Apple or perhaps Lenovo, the computer equipment market will still struggle in 2013, with no better growth in sight until 2014,"

"The 4 percent growth in PCs in 2013 looks more promising, but that is mostly due to growth in tablets, which we count in the broader PC category. It will not be until 2014 when the economic expansion strengthens that CIOs will feel confident enough to commit funds to refreshing their aging stack of PCs, servers, storage devices, and peripherals." (From Forester Research)
The Bottom Line
Investors and analysts can quibble about a few million iPads or iPhones sold last quarter. I believe that the future as well as the present is bright enough for this stock to continue to be an anchor in the Young and Restless portfolio.
I also believe that while the stock might be in a trading range, the overwhelming fundamentals of the company will eventually show itself in the share price. A double from current levels in 24-36 months is not unrealistic in my view. Even the dividend helps the stock as well as investors.
Apple has everything. Now all we need is an Apple TV and an iCar!
Disclosure: I am long XOM. I wrote this article myself, and it expresses my own opinions. I am not receiving compensation for it (other than from Seeking Alpha). I have no business relationship with any company whose stock is mentioned in this article.