Sonic Corp. (NASDAQ:SONC) reported first-quarter earnings of 11 cents per share on January 3, up 22% from the same period a year ago. This was driven by a system-wide 3% same-store sales increase and an 80 basis point margin improvement at company owned drive-in locations. The company gave guidance for the rest of the fiscal with an estimate for same- store sales growth to continue in the low single digits, company owned stores to continue to see margin improvement between 50 and 100 basis points, and the total number of franchise openings to be slightly ahead of last year.
Sonic's drivers of EPS growth going forward are focused on better management of the company. This includes a new POS system, beginning to rollout this year, which will help improve inventory and staffing management. A smaller-store concept prototype, share repurchases, and a license conversion of 900 of the franchisees locations will also drive EPS growth.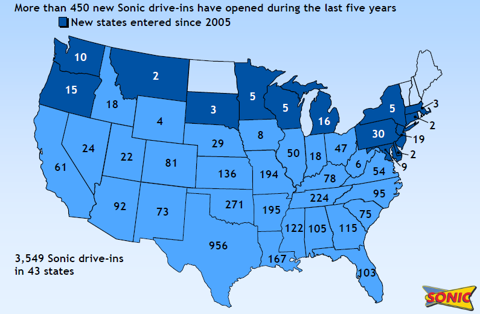 Click to enlarge
When you look at the map of the number of Sonic locations by state you can see there remains a lot of opportunity for the company. Sonic has very few locations in the north of the country, along with a small footprint in west. I believe Sonic is waiting for the new POS and the new smaller store concept before it makes a bigger push into new areas. The smaller stores will reduce the required investment for new locations by over 15%. The company is continuing to increase its spending on national ads, which will benefit brand awareness when it moves into new markets.

When you look at Sonic's valuation compared with some of its larger competitors you can see it presents a good value for investors. Sonic has the lowest EV/EBITDA ratio and PEG ratio. Its PEG ratio of 1.09 is well below market leader McDonald's Corp. (NYSE:MCD) at 1.97. The company's forward P/E is also about half that of The Wendy's Company (NYSE:WEN) and Burger King Worldwide, Inc. (BKW).
When you look at the fast-food industry and specifically the hamburger chains McDonald's has been the runaway leader; in the last five years it has increased sales 26% while Wendy's sales are up 9% and Burger King's sales are unchanged. In that time Subway and Starbucks Corporation (NASDAQ:SBUX) have moved into the number two and three spots in the ranking of America's largest fast-food chains. I believe the lack of a clear number two to McDonald's provides a boost to smaller fast-food chains like Sonic. Also Sonic has an advantage with using the drive-in format in that its stores have a lot less to maintain and restaurants don't need as much remodeling. Wendy's and Burger King have been hurt by a large push by McDonald's to upgrade its restaurants.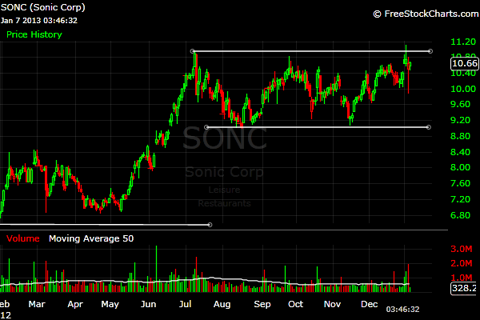 Click to enlarge
When looking at Sonic's chart you can see the stock has been range bound since summer, trading between $9 and $11. With the stock currently at the upper end of the range I see no reason to start a position here. I would look for the stock to either break out above this range or begin to pull back to the lower end of this range. In the long term I believe this stock could provide good returns and with large share buyback programs it is a shareholder friendly company.
Data sourced from: Company filings, and Yahoo!Finance. Chart from: Freestockcharts.com
Disclosure: I have no positions in any stocks mentioned, and no plans to initiate any positions within the next 72 hours. I wrote this article myself, and it expresses my own opinions. I am not receiving compensation for it (other than from Seeking Alpha). I have no business relationship with any company whose stock is mentioned in this article.