Safeway (NYSE:SWY) has bought back a massive amount of its own stock over the past couple years. Repurchases since the end of 2010 have totaled 134 million shares (currently there are 239.6 million shares outstanding) at an average price of $21.13. Most of the repurchasing activity was concentrated in late 2011 and early 2012. Share repurchases stopped almost completely this past June. Net income this year is about 15% ahead of where it was at this time last year and roughly equal to where it was in the third quarter of 2010. A lot can still happen from here because the fourth quarter is the most important in terms of revenue and profits. If Safeway has a bad fourth quarter and only manages to meet the total income of last year, then the 2012 earnings per current share outstanding will be $2.15. This compares with earnings per share of $1.60 in 2010 which is 30% higher than two years ago. The good news is that the share price back then fluctuated between 20 and 25. This is roughly 10-40% higher than the current price. During 2012 the price fell off of a cliff due to possible issues with the pension being underfunded as well as fears that Safeway will be crushed between Wal-Mart (NYSE:WMT) and Whole Foods (NASDAQ:WFM).
SWY EPS Diluted TTM data by YCharts
This plot perhaps requires some clarification. EPS data for the TTM is graphed at the end of the period it covers. So when I refer to data for fiscal year 2010 (eps $1.60), that point is plotted at 2011. This is because the trailing twelve months only cover 2010 once we've finished 2010.
In order to fund these massive buybacks Safeway borrowed money. The money borrowed in 2011 had an average interest rate of 3.8%. Some of this was used to fund the buybacks during the fourth quarter of 2011 and some was used to roll over debt that matured in 2011. Actual interest payments had gone down 10% by the end of 2011 due to the lower interest rate that they locked in. They then borrowed about a billion dollars under a commercial paper agreement to help fund further share repurchases in the first and second quarter of 2012. In June they sold bonds to repay $250 million of the commercial paper. These bonds have a floating rate, currently 1.8%, and mature in 2013. Based on a weighted average of about $20.70 for these debt-fueled repurchases and a current dividend of 70 cents per share we have a dividend yield on cost of 3.4%. Essentially Safeway has converted dividend payments into interest payments and also gets to keep the rest of the earnings yield on the repurchased stock. We can, therefore, see that Safeway has exchanged a significant proportion of its equity for debt, levering up remaining shareholders.

Click to enlarge
The large reduction in the total numbers of shares outstanding has some interesting effects. One consequence of this is that index funds, which account for a significant proportion of Safeway's ownership, have to reduce their position in the company by a proportion equivalent to the total share count reduction.
It may be difficult to immediately understand why an index fund must reduce their position. By way of explanation, let's suppose we have an index that contains two companies (A and B) which each have four shares outstanding. Suppose further that they each have an equal market cap. A market cap weighted index fund of these companies would have to own an equal amount of both and therefore have an equal ownership share of each company. Suppose this is a very large fund and it owns two shares (50%) of both companies. If company A repurchases two shares, and company B does not, our index fund will have to sell one of its shares. Otherwise it will own the entirety of company A and only half of company B, but it needs have an equal ownership share in each company since their market cap is the same!
While the repurchases theoretically should put upward pressure on the price, there are significant legal obstacles to prevent market manipulation of the price by the issuing company. For example, there are volume based limits, and the issuing company cannot only issue a bid price higher than the highest independent bid price or last transaction.
After the share purchases are reported arbitrageurs attempt to front run the index funds. The front runners are therefore net sellers preceding the index funds selling which should cause the price to fall following the announcement of large share repurchases. Since Safeway reported their very large debt-feuled repurchases short interest has grown from under 15% to 30.7% of the float.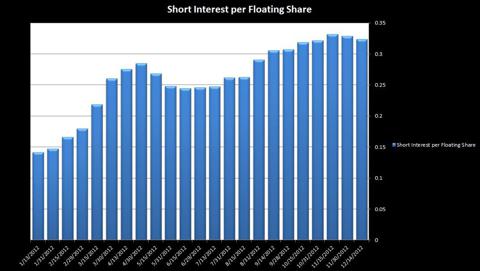 Click to enlarge
Data from NASDAQ
The bull case here is straightforward. If you buy equities that have P/E ratios lower than the general market you will outperform the market. If you buy equities that have price to book ratios lower than the general market you will outperform the market. If you simply buy a bunch of these guys at random, you beat the S&P 500. That's it. That's all you need to do to "beat the market." That being said, supporters of the efficient market hypothesis will claim that the so called "value premium" is simply compensation for the added risk in value stocks. As though buying a dollar of book value for $1.50 in a "value stock" could somehow be more risky than buying a dollar of book value for $5 in a "growth stock." Safeway's P/E is 8.7. Safeway's P/B is 1.6. This compares with a P/E of 16.7 and a P/B of 2 for the S&P 500. Of course this alone isn't a good enough reason to put your life savings into Safeway stock, or any stock for that matter, but in the past stocks with similar metrics have outperformed the market. Additionally, there is a lot more to Safeway than a low P/E, the interesting thing about Safeway is the leverage and potential volatility involved in the situation.
The exchange of equity for debt has the effect of highly leveraging the stock. The growth in short interest opens the door for a short squeeze. Furthermore, grocery stores, due to low net profit margins, have large operating leverage. Recently Safeway announced that it was moving its dividend payment up to late December. This seemingly innocuous bit of news spiked the stock up to $19.36 on December 6th; though the stock did fall back near its previous level later during the day. The message seems to be clear; Safeway is just waiting for a catalyst to reach intrinsic value.
Looking forward there are a couple possibilities to push the stock toward intrinsic value. First, the coming spinoff of Blackhawk is expected to happen sometime in the first half of 2013. Second, the current CEO, Steven Burd, is going to retire this coming May. If the market likes the new CEO it may erase some of the discount Safeway is currently getting. Third, a small revenue bump this coming year could have big consequences for earnings and the stock. Assuming that SG&A expenses are largely static with a 3% increase in revenue, this will lead to roughly a 50% increase in earnings. What happens to shorts when earnings get bumped by 50%? Of course this cuts both ways, a small drop in revenue could wipe out Safeway's profits, though its hard to see short interest growing much more from here.
This is a risky situation; there are good reasons to think that Safeway may run into trouble. Additionally, while many investors disagree I think that Burd knew what he was about, and I hope that Safeway can find someone as good as him as a replacement. However, I think most of Safeway's issues have already been priced in and is such that it won't take a lot going right for the stock to do well. If Safeway can maintain the status quo large owner earnings are going to be very kind to investors. Furthermore, the leverage situation is such that a small success is could translate into a large gain for the stock. Alternatively, if the company deleverages significantly then we're just getting in at a high earnings yield and we'll probably see those earnings reflected in the total return. I'd gladly own a portfolio of stocks in situations similar to Safeway, and in fact Safeway has been a core holding of mine since late August.
Disclosure: I am long SWY. I wrote this article myself, and it expresses my own opinions. I am not receiving compensation for it (other than from Seeking Alpha). I have no business relationship with any company whose stock is mentioned in this article.