With the flying public pulling in its horns, U.S. and European airlines face major challenges in 2009, even as energy prices offer a reprieve in the form of falling fuel costs.

CreditSights points out in "Every Picture Tells a Story: Part 1: Energy and Airlines" that U.S. passenger demand for airline travel fell off a cliff in November. It was down 14 percent year-over-year.
click to enlarge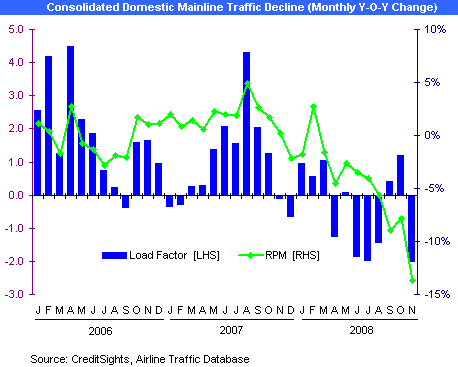 Falling energy prices should help cushion the drop in passenger traffic, as long as they fall faster than consumer demand, according to CreditSights.

On the other hand, writes Fitch Ratings in its free annual industry outlook, losses on fuel hedges have hurt U.S. airlines, with Delta Air Lines (NYSE: DAL), United Airlines (NASD: UAUA) and Southwest Airlines (NYSE: LUV) all recently indicating that margin calls have required them to cough up precious cash.
That's worrisome, says Fitch, because of debt covenants at most airlines that require them to keep a certain minimum level of unrestricted cash on hand.
A restoration of healthy cash flow will be necessary in 2009 if carriers such as United, American and Northwest (which negotiated covenant relief during this year's fuel crisis) are to comfortably meet fixed charge coverage requirements when compliance is tested again beginning next summer.
Legacy airlines in the U.S. have responded by cutting capacity between 10 and 15 percent in the current quarter.
With recessions on both sides of the Atlantic, European Airlines are beginning to experience the same pressures as U.S. airlines, according to CreditSights. Only European carriers have not yet been as aggressive about reducing capacity.
The abundant red in the table below illustrates how challenging the drop in consumer demand has become.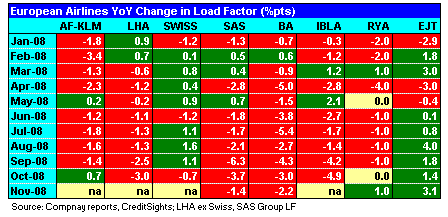 If there's a silver lining in the global airline business, it's in China, where despite a 4.6-percent drop in international traffic in October from a year ago, domestic traffic is up 3.2 percent, according to South Korea's Woori Investment and Securities.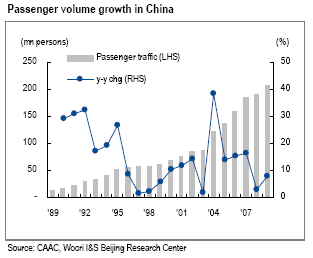 Woori is forecasting an 8 percent rise in traffic in 2009, based on continued domestic strength, but says global traffic declines will keep a lid on airlines with international routes.