Microsoft (NASDAQ:MSFT) announced a new $617 million licensing agreement that will bring its Window 8 and related devices to 75% of the U.S. Department of Defense. According to Microsoft, the deal includes Office 2013 and SharePoint 2013 Enterprise and will allow users to access the software from any location while taking advantage of advanced security measures. Microsoft's Windows 8 is showing signs of strong growth. Microsoft is trading at price multiples that are reasonable for investing. Below, I will explain how the growth stories surrounding Windows 8 will make Microsoft an even more attractive investment.
Windows 8 Enterprise Adoption
According to Fiberlink, a software maker for managing mobile devices, IT departments are more likely to bring Windows 8 into the company as a tablet instead of upgrading all the company's PC's to the new operating system. In a similar survey of 175 small businesses conducted by iYogi Insights, 29% of these small businesses that do not currently use tablets were considering Windows 8 and Windows RT tablets over the iPad. Of those already using the iPad, 38% said they are considering changing to Windows 8. The chart below shows how 700 IT pros plans for adopting Windows 8, according to Fiberlink.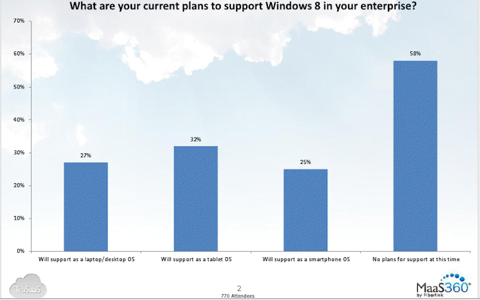 Windows 8 - Global Growth
According data released by Net Applications in December 2012, Windows 8 saw market share growth of .63%, from 1.09% in early December to 1.72% by the end of the month. Comparatively, Windows 7 captured a 10% market share after its first five months of being on the market.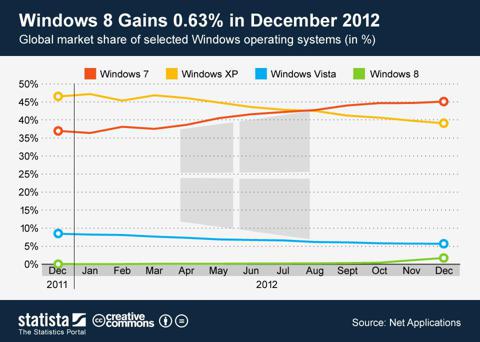 How will Window 8 increase Microsoft's revenues?
Windows 8 can be used for a wide range of priorities, ranging from cyber-security to mobility, with tremendous opportunity given to customers, developers, and partners. Multi-year licensing revenue from Window 8 has grown by double-digits as businesses the world over commit themselves to the technology. Also, the software features a new look that shows applications in a mosaic of tiles and boost new technology enabling the system to work on touch-controlled tablets, as well as its traditional stronghold on desktop and laptop computers.
"Focusing on devices and services will impact how we run the company, how we develop new experiences and how we take products to market for both consumers and businesses. The work we have accomplished in the past year and the road map in front of us brings this to life," said Steve Ballmer, Microsoft's CEO.
"We're incredibly excited to be approaching general availability of Window 8 and Window RT," said Kevin Turner, Microsoft's chief operating officer. "We already certified more than 1,000 systems for Window 8 for our hardware partners, ranging from the smallest tablets and convertibles to touch-enabled ultra-books and all-in-ones to the most powerful desktop computer."
To ensure Window 8 becomes successful, Microsoft has made a number of innovations. It completely overhauled the license agreements it presented to customers. Historically, they had been lengthy documents written in dense legalese. The new agreements are written in simple, easy-to-understand language. Consequently, one full month since Windows 8 became generally available, and to date Microsoft has sold 40 million Windows 8 licenses. Companies worldwide are already adopting Windows 8, including Johnson & Johnson (NYSE:JNJ), British Telecom, 20th Century Fox Television Distribution, Bank of America (NYSE:BAC) and Seton Hall University.
The Department of Defense licensing agreement is the most comprehensive deal that Microsoft has ever signed with the sprawling government arm. And the software giant is working to achieve a coveted desktop configuration compliance for Window 8. "Microsoft has longstanding relationships with the U.S. Army, the U.S. Air Force and DISA, and we are honored to expand our support of ongoing technology modernization efforts across all three organizations," said Tim Solms, general manager, Microsoft Department of Defense Business. It is noticeable that the deal is big news to Microsoft. It is also understandable that the Department of Defense is an important market, and making it a customer gives Microsoft a head start.
Financials
For fiscal 2012, Microsoft reported $74.26 billion in adjusted revenue, an increase of 6% (GAAP revenue of $73.72 billion) . It also recorded $28.5 billion in adjusted operating income as adjusted, an increase of 5% (GAAP operating income of $21.76 billion). Cash flow from operations of $31.6 billion, an increase of 17%, reflecting continued discipline in controlling costs.
Microsoft announced 2013 first quarter earnings of $16.01 billion. Its operating income, net income, and diluted earnings per share for the quarter were $5.31 billion, $4.47 billion, and $0.53 per share, respectively. However, the figures reflected a deferral of $1.36 billion of revenue and $0.13 of diluted earnings per share due to pre-sales of Window 8 prior to general availability.
Looking at the 2013 first quarter financial statement of Microsoft in relation to Window 8, it is clear that with the software, the company has the potential to increase revenue. In addition, the licensing deal has the potential to generate significant revenue.
Competitors
How is Microsoft performing compared to its competitors? With an operating margin of 36%, compared to 35% for Apple (NASDAQ:AAPL), 6% for Dell (DELL) and 28% for Google (NASDAQ:GOOG), Microsoft appears to be ahead of its competitors. With a price-to-earnings ratio of 14.71, compared to 21.24 for Google and 15.66 for Oracle (NASDAQ:ORCL), and a price-to-sales ratio of 3.15, compared to 3.51 for Apple, 4.64 for Google, and 4.07 for Oracle, Microsoft is currently more attractive than its rivals.
Conclusion
Looking at the large number of licensing agreements and the prospect for improving margins, we can say Microsoft is a good buy at the moment.
Disclosure: I have no positions in any stocks mentioned, and no plans to initiate any positions within the next 72 hours. I wrote this article myself, and it expresses my own opinions. I am not receiving compensation for it (other than from Seeking Alpha). I have no business relationship with any company whose stock is mentioned in this article.