Kohl's operates over 1,100 discount department stores in 49 states. The company operates in a highly competitive sector, it competes with names such as Wal-Mart (NYSE:WMT), Target (NYSE:TGT), Macy's (NYSE:M), J.C. Penney (NYSE:JCP) and online retailers like Amazon (NASDAQ:AMZN). I believe Kohl's is a safe investment in the retail sector that offers significant upside and a great dividend.
Price

Kohl's (NYSE:KSS) disappointing 4-week same-store sales hurt shares which have since dropped $8.43 or 16.1%. Looking at the graph, these extreme yet short-lived drops in price have supplied great entry points.

At its lowest point in 2008, Kohl's was trading at $26.15 per share while earning $2.80 per share. Today Kohl's is trading at $42.23 while earning $4.31. On a P/E basis Kohl's is cheaper today than it was during the 2008 crisis bottom, yet average analyst estimates show slow yet consistent growth into 2013 and 2014. The company is currently trading at a thirty percent discount to its 2009 price when it earned only $3.17 per share.
The degradation in Kohl's stock price has been completely due to sentiment and not based on the company's performance.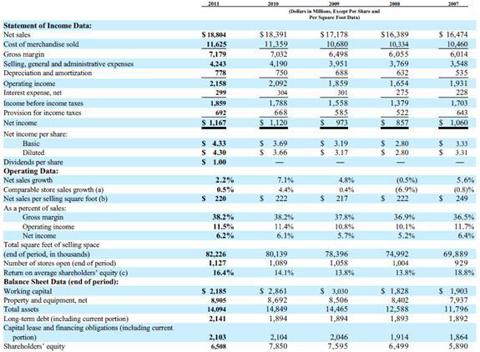 Consistent Performance
Looking at the above graph we can see the consistency with which Kohl's performs. Even during the economic collapse, Kohl's generated strong revenue and since 2007 has experienced a 2% increase in sales per year. This was during a time when retail competitors like The Bon-Ton stores (NASDAQ:BONT) and Saks (NYSE:SKS) were in the red. Kohl's has great operating margins and has managed to improve them from 36.5% in 2007 to 38.2% in 2011. Out of the low cost retailers, Kohl's has the best margins even rivaling those of the luxury retailers.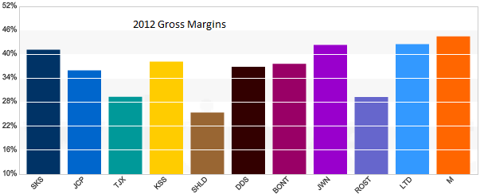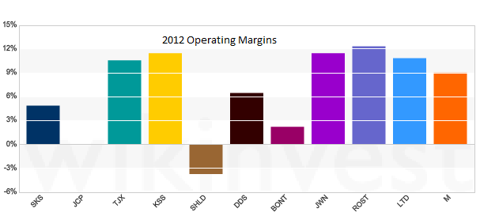 We can also see Kohl's suffered a slight decline in sales per square foot since 2007. The decline has been consistent throughout the entire retail industry and is related to increased online buying and a weaker consumer. Offsetting the decline in sales per square foot is the companies growing online sales. In the third quarter, online sales increased 50% to $295 million compared to third quarter 2011.
Shareholder Friendly
Kohl's has been very friendly to shareholders. In 2011, the company began paying a quarterly dividend of $0.25 a share. In 2012, Kohl's increased the dividend to $0.32 a share. After a year-over-year increase of 28%, the dividend payout ratio for 2012 is only around 25%. Today's 3% dividend yield is the best in the sector, Nordstrom (NYSE:JWN) offers 2%, Macy's pays 2.1%, and J.C. Penney cut its dividend to zero. If Kohl's dividend growth is consistent into 2013, Kohl's will yield 3.7% at current prices. Kohl's has also been very friendly to shareholders in terms of share repurchases. They have reduced outstanding shares from 301 (million) in 2008 to 231 today, a reduction of 23%, while all of the competitors mentioned have increased or kept them constant.
Advantages and Initiatives
Kohl's management is undertaking many initiatives to improve the company. The company is slowly expanding into new markets with 12 new stores finished this quarter and another 12 planned for 2013. The company plans to remodel approximately 50 stores in 2012. Store remodels have increased customer traffic, improved customer experience and increased operating margins. Management has also fine-tuned the remodeling procedure with a remodel in 2013 estimated to take half the time of one completed in 2007. At year end, just over one-half of stores will be new or remodeled in the past five years. Management is also testing a service in which customers order merchandise online and the products are shipped from a local store instead of the distribution centers. This service could reduce shipping times as well as prices, improving customer experience and satisfaction.
A key point of differentiation from its competitors is Kohl's smaller store sizes and off-the-mall locations. These factors have played key roles in Kohl's ability to cope with the current economic conditions as its competitors have lost more sales than Kohl's, as shoppers' trade down and visit malls less frequently.
From a brand perspective, 53% of third quarter sales were private and exclusive Only-at-Kohl's Brands. This is an increase of approximately 1.5% over the third quarter of 2011. This is a direct result of new exclusive brands; Jennifer Lopez, Marc Anthony, Rock and Republic and Princess Vera Wang. Focus on private brands is allowing Kohl's to offer customers exclusive products they cannot find at competing stores.
Real Estate
Kohl's owns around 35% of their stores which comes out to be about 400 stores and eleven distribution centers. This comes out to a total of about 32 million square feet of retail space. Using a reasonable estimate of $200 per square foot, I value Kohl's real estate assets at 6.4 billion excluding the distribution centers. While I do not believe management would consider a sale leaseback strategy on their owned stores, over $6 billion in real estate provides a significant cushion for stockholders.
Conclusion
Management is continually improving the company without taking on undue risks. It is one of the only companies in the retail sector that is earning substantially more than it was in 2007. It is under no danger of following companies like J.C. Penney and Sears (NASDAQ:SHLD) into grandiose unfruitful transformations and at current prices presents a compelling risk-reward opportunity. My price target for Kohl's is $57 dollars per share, a 35% upside from yesterday's close.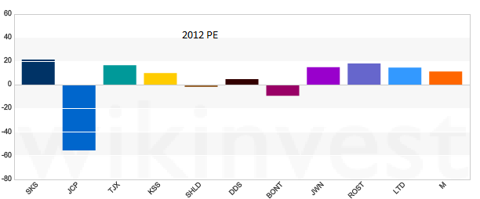 I believe it is possible that in 2014 management may decide to refocus on store count expansion. This would be a catalyst for Kohl's to be valued as a growth stock. P/E expansion to 15 (lower than that of Ross Stores (NASDAQ:ROST)) from 10 today could value Kohl's in the low-70's, an over 50% increase from yesterday's close.
Disclosure: I am long KSS. I wrote this article myself, and it expresses my own opinions. I am not receiving compensation for it (other than from Seeking Alpha). I have no business relationship with any company whose stock is mentioned in this article.