SodaStream International Ltd. (NASDAQ:SODA) is a small cap company based in Israel. It develops, manufactures and distributes home beverage carbonation systems, which enable customers to transform tap water into a soft drink or sparkling water at home without using electricity. The company is exposed to the international markets, selling in more than 55,000 retail stores in 43 countries in North and South America, Europe, Middle East, Africa and Asia-Pacific. While its products are differentiated from standard beverages, some of its most close competitors are Coca-Cola (NYSE:KO), Pepsi (NYSE:PEP) and Dr. Pepper (NYSE:DPS).
I recently added this stock to my portfolio for two main reasons. First, it proved itself as a company gaining momentum in the soft drinks industry and second, there are a few important catalysts coming in 2013 that should help the stock appreciate.
The industry and SodaStream's role in it
According to Euromonitor (Annual Report, page 25), in 2010, the soft drink and sparkling water industries generated respectively $225 billion and $39 billion globally. SodaStream is positioned for success within the industry for several reasons. First, it is environmentally friendly, addressing the current consumer trends of choosing "green" products. According to data compiled by McMillan Doolittle Retail Consultants (Annual Report, page 25), 68% of the US consumers purchase friendly to the environment products - a considerable increase from 59% in 2007. Second, it is very convenient, enabling customers to transform tap water into a ready-to-use beverage without the help of electricity. They do not have to carry bottles, store and dispose of them after use. Third, it is considered a healthier alternative to ordinary carbonated beverages, offering two thirds less sugar and carbohydrates and calories (Annual Report, page 26). Lastly, the drinks are customizable, offering 100% control over the level of carbonation and syrup. The long term goal of SodaStream is to market their product and inform more potential customers of the benefits it offers.
Recent developments and their effect on the revenue streams
In late 2011, SodaStream purchased CEM Industries, a leading international designer and manufacturer of products in the industry with technologies to broaden the range of both personal and commercial use, including single-serve dispensing. This change should enable the company to sell products in restaurants, offices, etc. In the beginning of 2012 SodaStream acquired Empire AB and was given the opportunity to directly distribute home makers in Sweden, Finland, Norway, Denmark, Iceland, Estonia, Latvia and Lithuania.
As a result of these strategic advancements, SODA managed to beat the EPS estimates in the last 4 quarters. Moreover, in the last quarter alone, 941,000 maker units, 4.3 million refill units and 7.7 million flavor units were sold - all at record highs for the company. As a matter of fact, the total revenue from flavor units sold has increased 76% in the last quarter, suggesting that customers do use their systems regularly. If we take a closer look at the quarter sales of products, it is not hard to notice the consistent trend of gradual increase in demand for the product and gain of market share (below):
Units (maker, refill and flavor) sold (in millions):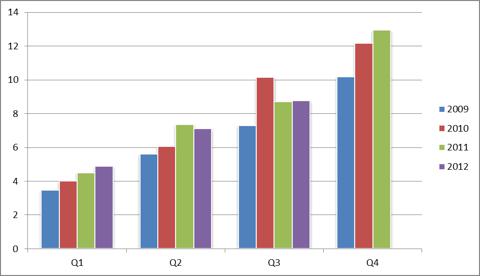 It looks like the company would be able to get into the holiday season with strong momentum and I expect this to be reflected when the next period's earnings come out in late February.
Financial review
SodaStream's process of both strengthening their position in the existing markets and expanding to new markets resulted in steady growth of sales and revenues. The revenues grew from $136.2 million in 2009 to $208.5 million in 2010 by 53% and by 38.6% to $288.9 million in 2011 (numbers in Euros from Annual Report, page 50 and exchange rate from page 1). The growth in 2011 is mostly led by an increase in sales in the Americas and mostly the United States, where the revenues grew by 104.9% in 2011 compared to 2010, despite the fact that the company is in its early stages of penetrating the US markets (Annual Report, page 42). Gross profit, the measure of how effectively the management of the company uses labor and supplies to minimize the costs, also increased in 2010 by 48% to $112.3 million (numbers in Euros from Annual Report, page 50 and exchange rate from page 1). Because of the active marketing initiatives, mostly in the United States, Sales and Marketing Expenses increased from $45 million in 2009 to $74 million in 2010 (numbers in Euros from Annual Report, page 50 and exchange rate from page 1).
Catalysts
For SodaStream, the year 2013 means offering their products in new markets, while increasing their presence in the existing ones; launching new products and spending more on advertising. The company has initiated global ad campaigns, most significant of which, SuperBowl commercials in the United States. These ads will show the benefits of using SodaStream's products and should increase earnings in the next quarters. Also, the company is looking to enter in 2013 China and India - two countries with the potential to significantly boost sales. Lastly, the company is currently developing, and will soon start using, a new production facility that will increase the capabilities, while maintaining lower costs.
The stock
As of Jan 4 the stock is trading at $48.69, or at 61% of the all-time high established more than a year ago and is very close to the 52-week high at $49.03 a share. It is also trading considerably above the 50-day simple moving average on slightly increased volume, which is a bullish sign. A long-term resistance level at $43 - $45 has been cleared in the last day of 2012 and is now acting as support. I consider all those factors as vital signs for the future appreciation of the stock.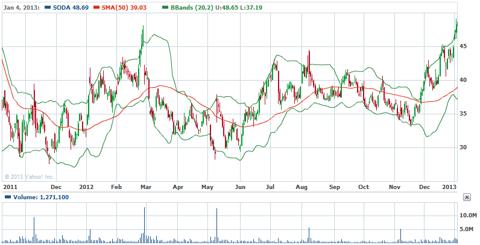 SodaStream has showed me it is a solid company with strong and consistent earnings and a great year ahead. It is trading with a forward P/E ratio of about 16 and in this sense I consider this a cheap price to pay for a growing company with smart ideas for the future. I do not see any considerable risks for the company during 2013 and expect it to beat expectations in at least 3 of the next 4 quarters, following the strong bullish trend.
Disclosure: I am long SODA. I wrote this article myself, and it expresses my own opinions. I am not receiving compensation for it. I have no business relationship with any company whose stock is mentioned in this article.