Verizon Communications Inc. (NYSE:VZ) is the second largest telecommunications company is the US. Verizon operations lie in two primary segments: Verizon Wireless and wireline. The Verizon Wireless segment is a joint venture between Verizon and Vodafone Group Plc (NASDAQ:VOD). Verizon owns a controlling 55% interest in Verizon Wireless, and Vodafone owns the remaining 45%. Verizon Wireless has one of the most extensive wireless networks in the United States, with a rapidly expanding 4G LTE network. As of September 30, 2012, Verizon Wireless had 95.9 million retail customers and had deployed 4G LTE in 419 markets covering more than 250 million people throughout the US. The wireline segment, which has been in secular decline, provides voice, internet access, broadband video and data, internet protocol network services, network access, and long distance services.
The key to Verizon's current and future success lies with its Verizon Wireless segment. This segment posted impressive gains for Q3 2012, such as: year-over-year total revenues increasing 7.3%, an increase of 1.8 million retail connections to 95.9 million, EBITDA margin of 50.0, and retail postpaid ARPA (average revenue per account) increasing 6.5%. Verizon announced it had 2.1M net wireless subscriber adds in Q4 2012.
Verizon CEO Lowell McAdam says his company is capable of pulling off the acquisition Vodafone's 45% stake in Verizon Wireless. The CEO said "We have always said we would love to own all of that asset,". Verizon tried to buy Vodafone's stake in 2006 but failed. One hurdle to such a deal has always been the high value of Verizon Wireless, estimated at $200 billion and up, as well as a potential tax hit for Vodafone if it sells or reduces its stake in stages. The UK-based Vodafone spent many years under pressure to rid itself of its stake in Verizon Wireless. Verizon Wireless company made $18.5 billion in dividend payouts to the partners in 2012 after not making any distributions for years. The first payment was for $10 billion, with the second of $8.5 billion coming close to year end. Vodafone's shares have been sliding amid slowing growth in Europe. In November, Vodafone took a $9.4 billion write-down on the value of its networks in Spain and Italy.
The stock for Verizon is currently trading for $43.10. After rising about 20% earlier in the year, Verizon has been range bound since July.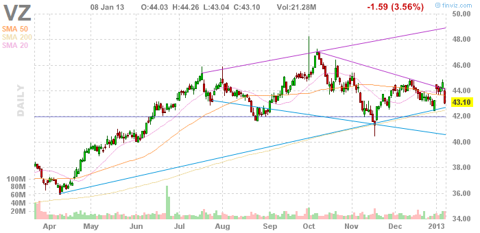 Verizon increased its quarterly dividend 3%, to $0.515 per share in September. At current prices, the yield for Verizon is 4.8%. Verizon has been consistent in gradually raising its dividend, increasing it by 19% since 2008.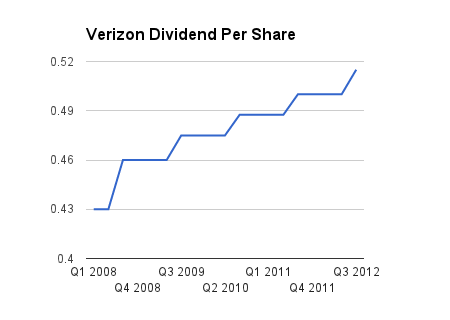 Verizon has been performing well over the last five years. While the stock price is only up 13%, this does not include dividends of $7.80 per share over that time frame. TTM free cash flow per share has increased 81% to $6.32. TTM revenue per share has increased 22.3%, to $40.04.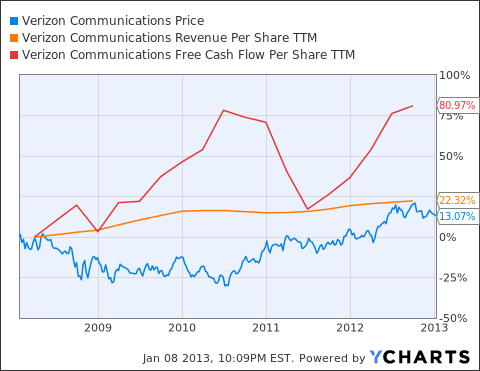 I believe that any deal that gives Verizon full control of Verizon Wireless would be a bullish move for shares of Verizon, as it would give it full access to the total dividends paid by that segment. However, a deal is unlikely due to Verizon's current heavy debt load of $53 billion. The 4.8% yield and growth in revenues are already compelling reasons to own this stock. I would be a buyer of Verizon if it were to go to the 5% yield mark at $41.20.
Disclosure: I have no positions in any stocks mentioned, but may initiate a long position in VZ over the next 72 hours. I wrote this article myself, and it expresses my own opinions. I am not receiving compensation for it (other than from Seeking Alpha). I have no business relationship with any company whose stock is mentioned in this article.