My first article on Seeking Alpha was just under a year ago. Eighty-five articles later, we return again to the same topic. At that time, I had just read a piece by Goldman Sachs Asset Management (NYSE:GS) chairman Jim O'Neill on his outlook for 2012. The economist, who coined the term BRIC, mentioned that he would firm up his forecast after seeing that first week's equity market return. His reasoning drew on the Stock Market Almanac. Since 1950, when the S&P 500 (NYSEARCA:SPY) had been up cumulatively over the first five days of the year, positive annual returns were witnessed 87% of the time.
In my article in early January 2012, I used a broader dataset, pulling in data from the predecessor indices of the S&P 500 and going all the way back to the beginning of 1928. In the broader sample, the benchmark equity index had been up 56 times in the first week and finished up for the year 41 times in those instances. After 2012's stock market performance, make it 42 for 57 (74%).
While this "5 Day Rule" may still be statistical noise, annual equity market performance has been 7.6% better on average in year's that have started out on a positive foot than year's that started negatively in the first five trading days. This is good news for equity bulls after the equity market opened 2013 with a 2.17% percent return in its first five trading days, driven by the opening day fiscal cliff reprieve rally. Better news? In the twenty years that have started out better than 2013 historically - 15 out of 20 (75%) have produced positive double digits returns, and only two Depression-era years produced negative returns.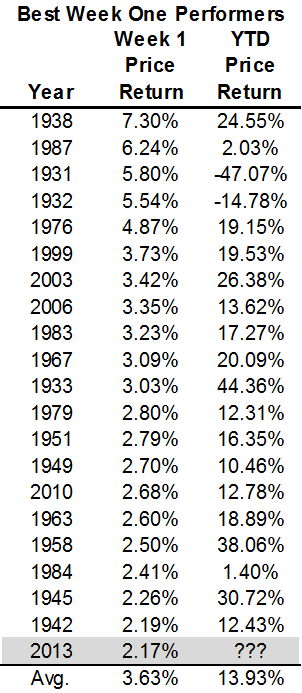 Trading rules are made to be broken. However, I do believe that the first trading day, week, or month of the year has more bearing on annual outcomes than say the third week of April. Investors have set expectations for the year, and are adjusting their asset allocation accordingly early in the calendar. Behaviorists will note that investors tend to anchor these expectations and have difficulty adjusting for new information, perhaps leading to the persistence of early year performance. Whatever the rationale, Seeking Alpha readers should understand this phenomenon, and make their own call on this rule's efficacy.
Here's to hoping the "Five Day Rule" holds again in 2013.
Disclosure: I am long SPY. I wrote this article myself, and it expresses my own opinions. I am not receiving compensation for it (other than from Seeking Alpha). I have no business relationship with any company whose stock is mentioned in this article.