Alcoa (NYSE:AA) started off earnings season with a decent quarterly report. The company beat revenue estimates by some $300mm and said it expected aluminum sales to increase 7% in 2013 from 6% in 2012. I think this report bodes well for the overall mining & materials sectors. I think these sectors are worth a speculative play here as the companies that supply the industries have underperformed the overall market significantly since late spring.
Concerns about a slowdown of worldwide growth, poor pricing, overcapacity and a rough patch in the Chinese economy all contributed to the decline in these spaces. However, Iron ore & copper are seeing rising prices as well as more certainty around demand from the Middle Kingdom and these sectors has started to bounce back. Here are two cheap stocks within the sectors that could perform well if they continue to rebound.
Ternium S.A. (NYSE:TX) engages in manufacturing and processing a range of flat and long steel products for construction, home appliances, capital goods, container, food, energy, and automotive industries.
4 reasons TX is a good value pick at $23 a share:
The stock is extremely cheap at just 80% of book value and less than 4x operating cash flow.
TX pays a dividend of 3.2% on a relatively low 30% payout ratio.
The stock sells for less than 8x forward earnings, and TX has a five year projected PEG under 1 (.71).
Ternium went through a long bottoming process that completed in late October, has shown good recent momentum and is solidly above its 200 day moving average (See Chart).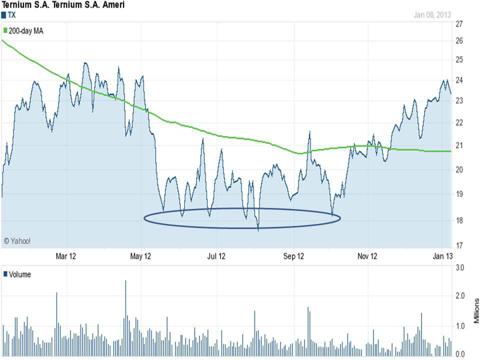 Rio Tinto (NYSE:RIO) is one of the largest miners in the world and engages in finding, mining, and processing mineral resources globally.
4 reasons RIO is a long term bargain at $57 a share:
The stock is selling near the bottom of its five year valuation range based on P/B, P/E and P/S.
The mean price target on the shares is currently north of $75 a share. S&P has its highest rating "Strong Buy" on RIO.
The stock is selling for less 8x forward earnings and has a five year projected PEG of near 1 (1.07).
Consensus earnings estimates for FY2013 have gone up over the last two months, revenue growth is expected to be over 15% this year and the stock pays a 2.5% as well.
Disclosure: I have no positions in any stocks mentioned, but may initiate a long position in RIO over the next 72 hours. I wrote this article myself, and it expresses my own opinions. I am not receiving compensation for it (other than from Seeking Alpha). I have no business relationship with any company whose stock is mentioned in this article.