Recent strength in Research In Motion (RIMM) shares seem to be based on a hidden truth that most software developers understand and recent short sellers don't: the lack of apps in RIMM's APP World could be over thanks to emulators and an aggressive campaign by RIMM to port apps to its platform. The naysayers in RIMM's future believe it's too late for it to catch up with the changing needs of smartphone users' habits.
Many analysts say that RIMM has no ecosystem for developing apps that are needed in order for its survival. RIMM was lax in the app arena, but it now seems to be courting app developers with events like the Blackberry Jam Community and hiring Shelby Hanson, an app developer liaison, who communicates with developers over Twitter. Her profile says, "Working for RIM, showing appreciation to our existing devs and converting non believers. Tweets are my own, though I hear my employer loves devs & apps too." Even blogger Matt-Baxter Reynolds, who last month wrote a relatively negative piece on BB10 and RIMM, seems to be turning bullish according to a recent Tweet saying, "Yeah, I'm bullish on BB10. Mostly."
With Android apps catching iOS apps in October 2012 with 700,000 available and RIMM's CEO predicting a paltry 100,000 RIMM apps at the BB10 launch, it is easy to understand why there is such vast skepticism. But what seems to be happening is a groundswell of emulation and porting of the Android and iOS apps to the QNX BB10 platform. RIMM has given 5,000 Dev Alpha BB10 devices for them to critique and develop on. And the effort seems to be gaining traction. In fact, there is a real demo of a Dev Alpha BB10 as early as June 2012 showing a Google maps emulation on YouTube. There certainly seems to be a real effort by RIMM to build and nurture a developer-based ecosystem; something non-existent just one year ago. It seems the focus on mobile apps, which this must-read recent article on Flurry.com highlights as the "Mecca" of future communications, has finally arrived at RIMM. There are a couple of must-read quotes from the article, which we would like to share:
In its most recent report, Flurry estimated that a record-breaking 17.4 million iOS and Android devices were activated on Christmas Day, along with an equally record-breaking 328 million application downloads. Studying the data from December 25 - December 31, additional records were set, now for the highest number of device activations and app downloads of any week in history. Over the holiday week, Flurry estimates that over 50 million iOS and Android devices were activated, and 1.76 billion applications were downloaded. Let's take a closer look at downloads.

Mobile App Growth: Measured by Flurry

In the month of November, we measured over a trillion events from over 250,000 applications created by more than 85,000 developers. Events are actions completed by consumers inside apps such as completing a game level, making a restaurant reservation or tagging a song. In November, we also measured over 60 billion sessions, which is the start and a stop of an application on a mobile smart device. The chart below shows the growth in events tracked since May of 2008, when we first made our analytics service available to developers. This growth reflects the growth of the app economy.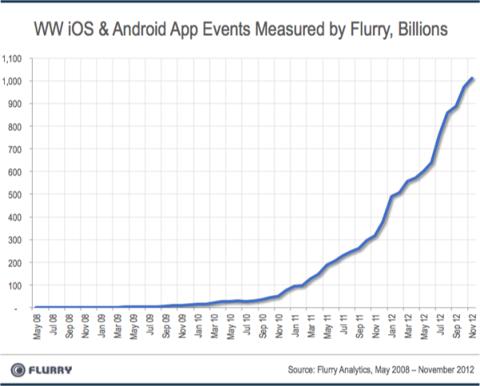 Mobile Apps: Dominating the Web and Challenging Television

The chart below updates Flurry's analysis comparing time spent in mobile apps on smartphones and tablets to time spent on the web using a browser. For web usage on desktops, laptops and smart devices, we build a model using publicly available data from comScore and Alexa. For mobile applications, we use Flurry Analytics data, now gathering data from over 250,000 applications. This time around, we add time spent on television using data released by the United States Bureau of Labor Statistics for 2010 and 2011. Note that the bureau hasn't yet released their 2012 numbers, but given the maturity of the TV market, we assume that time spent on TV is flat year-over-year.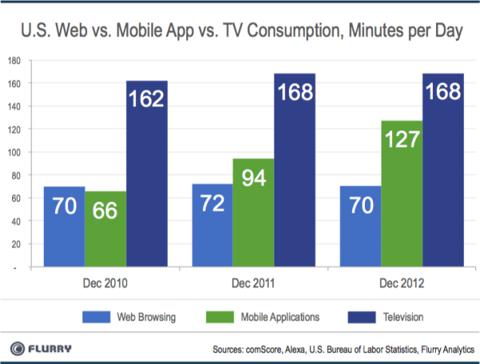 Between December 2011 and December 2012, the average time spent inside mobile apps by a U.S consumer grew 35%, from 94 minutes to 127 minutes. By comparison, the average time spent on the web declined 2.4%, from 72 minutes to 70 minutes. By our measurement, U.S. consumers are spending 1.8 times more time in apps than on the web.
Through the use of emulation and porting, RIMM can bridge the gap of its lack of numerous native apps by using the Android and iOS apps until the developers rebuild them into native QNX/BB10 apps. Technically, we think emulation works better with a flash-based RAM and memory, which smartphones use, because the read/write I/O latency is drastically minimized. This performance enhances the simultaneous processing required for emulation. This technical capability is what gives the emulation strategy this "leapfrog" capability until BB10/QNX native apps become available through the ramp-up of the RIMM developer community.
Of course, there is great risk in the rollout of BB10/QNX given the dominant forces of Apple (NASDAQ:AAPL) and Google (NASDAQ:GOOG). A very thorough review of Alpha Dev BB10 together with pictures from last month highlights some of the advantages and disadvantages of the new device from TechRadar. Here are our top five highlighted key features:
Removable back cover for ease of battery replacement.
Dual mode capability work and play. Great for times when you "loan" your phone to the kids to play their games.
Full-day battery life claim by RIMM. Needs verification on final release unit.
Larger screen than iPhone 5 with room for future QWERTY keyboard.
Multitasking with four quadrants on screen showing open apps.
Yesterday's report from CES that Samsung (OTC:SSNLF) was aggressively pursuing the enterprise market with its smartphone offering certainly highlights the coveted position RIMM has as the most trusted name in this sector. Does this make the stakes higher? Yes. However, no CIO is going to get fired by staying with the trusted leader in enterprise, especially in times of heightened security risks tha the banks are experiencing today on their platforms.
Our takeaway is very bullish. RIMM can certainly reach the Goldman Sach's target of $17 per share before the BB10 launch later this month, assuming no external market breakdowns. The early reviewers are impressed with the hardware. CIOs appear supportive and receptive to the new device and platform because they are more concerned with security than ever before. Our earlier articles of a strategic buyout by Microsoft, Facebook, or even Carl Icahn could have worked if they acted faster. We think they missed their chance as the BB10 product seems to be catching interest and support from experts around the globe. And BB10 to be followed by a tablet product, which will only enhance the RIMM consumer offering. With the numbers of apps being downloaded and the prediction that television itself is at risk of quickly becoming obsolete by mobile devices, is there room for another player? We say absolutely, just like there was room for Mercedes and BMW in the U.S. after dominant GM and Ford.
Disclosure: I am long RIMM. I wrote this article myself, and it expresses my own opinions. I am not receiving compensation for it. I have no business relationship with any company whose stock is mentioned in this article.