Renowned American industrialist John D. Rockefeller once quipped that the only thing that gave him pleasure was to see his dividends come in. Modern investors can sympathize with Rockefeller's sentiment: With the yields on most income-oriented investments hovering near multi-decade lows, stocks that generate significant, relatively dependable yields are more popular than ever.
With a quarterly payout that has consistently exceeded management's targets and a distribution yield that's likely to top 16 percent in 2013, SandRidge Permian Trust (NYSE:PER) holds a particular allure for today's yield-starved investors.
Nevertheless, units of SandRidge Permian Trust have lagged in recent months, giving up about 7.6 percent since early October. Over the same period, the S&P 500 eked out a slight gain, while the S&P 500 Energy Index generated a total return of about 1 percent.
For readers who are unfamiliar with US royalty trusts, we explained the basics of these securities and their tax treatment in the Oct. 26, 2012, issue of Energy & Income Advisor, Trusts and Hedges.
This article will update our valuation model for SandRidge Permian Trust to reflect the current outlook for commodity prices, drilling activity and production attributable to the trust. We'll also explore other risk factors that will drive the stock price in the near term.
Structure
Exploration and production outfit SandRidge Energy (NYSE:SD) formed SandRidge Permian Trust in 2011. The trust and its sponsor share royalties based on oil and gas production from an area of mutual interest (AMI) that encompasses 15,900 net acres in Andrews County, Texas, an area of the Permian Basin that primarily produces crude oil. In recent quarters, oil has accounted for about 87 percent of the output attributable to the trust, with natural gas liquids (NGL) making up 9 percent of production and natural gas the remaining 4 percent.
SandRidge Permian Trust is entitled to receive 80 percent of the net proceeds from 517 vertical wells already located in the AMI. Net proceeds are defined as the value of oil and gas sold minus post-production expenses such as taxes and costs associated with gathering and transporting the hydrocarbons.
In addition, SandRidge Energy agreed to sink another 888 wells in the AMI. These developmental wells must conform to certain minimum standards in terms of length and depth, with the parent bearing 100 percent of the drilling costs. The trust is entitled to receive 70 percent of the net proceeds from the sale of oil and gas lifted from these developmental wells over the duration of its life span.
SandRidge Permian Trust will cease to exist on May 31, 2031, at which point the proceeds from the sale of the underlying assets will be distributed to unitholders.
Every three months, the trust distributes virtually all net proceeds to its unitholders. These disbursements usually occur 60 days after the end of each quarter. For example, SandRidge Permian Trust paid a quarterly distribution of $0.625203 per unit on Nov. 29, 2012, that reflected oil, gas and NGL sales in June, July and August. Unitholders will receive their next distribution, which will cover the three months ended Nov. 30, 2012, toward the end of February 2013.
These payouts can vary significantly from quarter to quarter and depend on commodity prices, production volumes and the speed at which SandRidge Energy drills the obligated 888 developmental wells.
In a prospectus filed with the Securities and Exchange Commission (SEC) on Aug. 11, 2011, SandRidge Permian Trust published target distributions for each quarter of its roughly 20-year life span. These estimates reflect the results of a reserve report prepared by independent consulting firm Netherland, Sewell and Associates, SandRidge Energy's prior experience drilling in the region and assumptions about future commodity prices.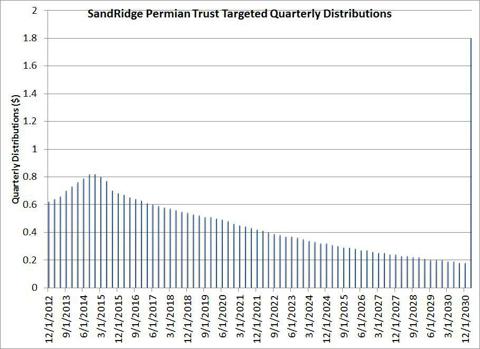 Source: SandRidge Permian Trust, Prospectus
Management expects SandRidge Permian Trust's quarterly payout to rise through Sept. 30, 2014, as production from new wells, which tend to flow hydrocarbons at a faster rate, should more than offset declining output from existing sites. But this forecast calls for the trust's payout to start shrinking after Sept. 30, 2014, when output from new drilling is insufficient to offset the older wells' natural decline rate.
This contraction will accelerate after SandRidge Energy completes its drilling program, putatively at the end of the first quarter in 2015, before settling in to an average annual decline rate of about 9 percent through the trust's termination in 2031. The final distribution payment of $1.80 per unit represents the expected net proceeds from the liquidation of the trust's assets.
If you put money into SandRidge Permian Trust today and the pass-through entity meets its targeted quarterly distributions through 2031, you'd collect a total of $34.26 per unit - roughly double the stock's current price.
Of course, time is money: Inflation and opportunity costs mean that $1 received today is worth more than $1 received in the future.
To calculate the trust's net present value (NPV), we discount each targeted distribution at a predetermined rate that reflects our desired annualized return. Summing the present value of these discounted future cash flows yields gives us an estimate of the trust's fair value. Using a discount rate of 7.5 percent, the trust is worth about $21.50 per unit today.
Moving Targets: Forecasts vs. Reality
Our NPV calculation is only as valid as the distribution targets laid out in SandRidge Permian Trust's prospectus. Unfortunately, recent trends in commodity prices and the parent's accelerated drilling program have conspired to undermine these initial estimates.
Consider the trust's forecasted and actual production and cash flow for its first five months of existence.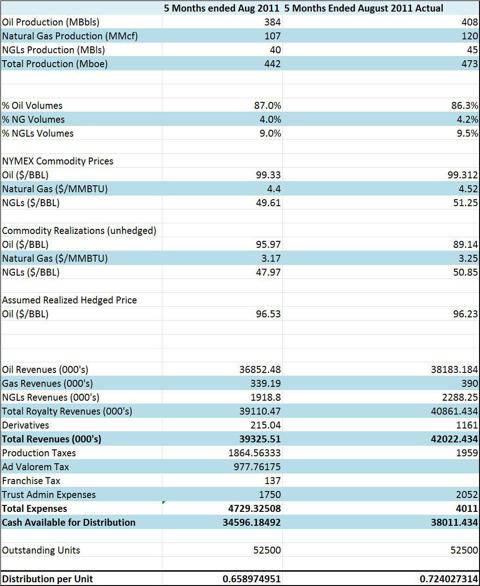 Source: Company Filings, Energy & Income Advisor
The left-hand column contains projections from SandRidge Permian Trust's prospectus, while the right-hand column displays the actual results. Over this period, the trust paid a distribution of $0.722746 per unit - almost 10 percent higher than the $0.66 per unit forecast in the prospectus.
Understanding the factors that contributed to SandRidge Permian Trust's higher-than-expected payout covering the five months ended Aug. 31, 2011, is critical to formulating an updated forecast for future distributions to unitholders.
1. Oil Prices
Over this five-month period, crude oil accounted for almost 86 percent of production and 93.6 percent of revenue attributable to SandRidge Permian Trust; movements in this commodity price have significant implications for the pass-through entity's cash flow and distributions, especially once the trust's hedges expire.
Oil produced in the Permian Basin tends to fetch a slightly lower price than West Texas Intermediate (WTI) crude oil delivered to the hub in Cushing, Okla. To calculate SandRidge Permian Trust's targeted distributions, management subtracted $4.27 per barrel from the price of WTI futures contracts that trade on the New York Mercantile Exchange (NYMEX) for each quarter through March 31, 2014. Estimates for subsequent quarters applied the same haircut of $4.27 per barrel and assumed that the price of WTI increased 2.5 percent annually until it hits $120 per barrel.
The trust's unhedged price realizations on its oil output came in at $89.14 per barrel over this period, falling shy of the $95.97 per barrel that was forecast in the prospectus. Fortunately, for the five months in question, SandRidge Permian Trust had hedges that covered 98 percent of projected oil output; including gains from these derivatives, the pass-through entity realized average oil prices of $96.23 per barrel-roughly in line with the estimate of $96.53 per barrel.
Although trends in oil prices don't explain the trust's above-target distributions through the five months ended Aug. 31, 2011, this commodity price will drive results once the hedge book expires on April 1, 2015. Until then, hedges cover about 84 percent of oil production attributable to the trust. Because SandRidge Permian Trust isn't an operating company, the entity can't assume additional hedges.
2. Basis Differentials
Widening basis differentials pose a potential risk to SandRidge Permian Trust's distributable cash flow.
The prospectus that SandRidge Permian Trust filed with the SEC on Aug. 12, 2011, explains that the fixed $4.27 discount to WTI had been "…chosen because the realized oil differential has been stable in recent years for oil produced in the Permian Basin." But recent developments have vitiated this assumption, at least for the near term.
This graph tracks the price history of three crude-oil benchmarks: WTI for delivery to Cushing; WTI for delivery to Midland, Texas (the closest hub to the Permian basin); and West Texas Sour (WTS) crude oil, a high-sulfur varietal that's also delivered to Midland.
For most of the period covered in this graph, the blue line that depicts the WTI-Midland price is obscured by the red line that represents the price of WTI-Cushing; for years, these two benchmarks moved in lockstep, with a difference of no more than a few cents per barrel. WTS, on the other hand, traded at a relatively modest discount to WTI that averaged $3.20 per barrel between the end of 1999 and the end of 2010.
However, these basis differentials have deviated significantly from historical norms. At the end of 2012, WTI-Midland traded at a discount of $14.65 per barrel to WTI-Cushing even though the oils themselves are identical. Meanwhile, WTS exited 2012 at a discount of about $16 per barrel to WTI-Cushing.
SandRidge Permian Trust's realizations on oil prices track the prices of WTS and WTI-Midland, but the pass-through entity's hedge book consists of futures contracts that reflect WTI-Cushing prices. In the current environment, hedges based on WTI-Cushing will only provide protection against a general decline in oil prices - not a pullback that's specific to the Midland delivery point.
Management addressed this development during the Q-and-A portion of a conference call to address SandRidge Permian Trust's results from the first quarter of 2012, though the basis differential had widened only slightly at the time:
Analyst: I know that during the period [the three months ended February 2012] it looks like Permian prices had kind of traded wider to Cushing for a little while. Were you guys affected by that at all, and I know that's kind of largely gone away, does that affect your pricing over there at all or how are you guys priced over there?

Matthew K. Grubb, SandRidge Chief Operating Officer (COO): Well, you know just in general in the Permian, there was a widening of the differential between Cushing, mainly there was a couple of refineries that were out for a short period of time for some unscheduled maintenance and that caused a wider differential. They are starting to narrow again now.

Tom L. Ward, SandRidge CEO: I think we saw about a $1 widening in differentials. Very little impact [on results].
With the price gap between WTI-Midland and WTI-Cushing increasing to more than $14 per barrel from about $6 per barrel in early 2012, the effect on SandRidge Permian Trust's realizations will be more severe than the $1 per barrel suffered in the first quarter of last year.
Takeaway constraints at the Midland delivery point have oil prices for producers in the Permian Basin, as the upsurge in output has overwhelmed available capacity to transport crude oil to other trading hubs and glutted storage facilities.
In the first few days of 2013, the price differential between WTI-Midland and WTI-Cushing has narrowed to about $10.50 per barrel from a high of about $15 per barrel toward the end of 2012.
Relief is on the way.
Magellan Midstream Partners LP (NYSE:MMP) expects to complete its Longhorn Pipeline, which stretches from the southern end of the Permian Basin to Houston, in early 2013. This project will add 135,000 barrels per day of takeaway capacity.
Meanwhile, Sunoco Logistics Partners LP's (NYSE:SXL) West Texas-Nederland pipeline will commence operations in the first quarter of 2013. This system can transport up to 40,000 barrels per day of WTS from the Permian Basin to the MLP's terminal in the Houston area. The partnership's Permian Express pipeline, a reversal of a system that originally carried crude oil from the Gulf Coast to Wichita Falls in northeast Texas, will also come onstream in the first quarter and flow about 90,000 barrels per day. Capacity on this pipeline can be expanded to about 350,000 barrels per day.
And on Nov. 19, 2012, Occidental Petroleum Corp (NYSE:OXY) and Magellan Midstream Partners announced plans to proceed with the BridgeTex project, a pipeline that extends from Colorado City, Texas, to the Houston area.
The pipeline will handle two types of West Texas crude-WTS and WTI-and boast a nameplate capacity of about 300,000 barrels per day. Now that Occidental Petroleum and Magellan Midstream Partners have achieved enough capacity reservations from producers, the partners will begin construction on the pipeline to bring the system onstream in mid-2014.
Although these capacity additions won't fully resolve the supply overhang in the Permian Basin, the region's infrastructure crunch will moderate, narrowing the price gap between WTI-Midland and WTI-Cushing.
On the plus side, much of the new takeaway capacity in the region will transport output directly to the Gulf Coast, bypassing Cushing. As we explained in Refiners: Profiting from America's Oil Boom, coastal crude oils such as Brent and Louisiana Light Sweet (LLS) command a significant premium to WTI-Cushing and other inland varietals. As new pipeline capacity comes onstream to transport crude from inland locations to the Gulf Coast, the price differentials should shrink.
That being said, we need to adjust our cash-flow and distribution projections for SandRidge Permian Trust to reflect wider basis differentials.
3. Production Mix and the Price of NGLs and Natural Gas
SandRidge Permian Trust's targeted distributions assume that production from the underlying wells comprises 87 percent crude oil, 4 percent natural gas and 9 percent NGLs.
With the price of natural gas and NGLs trading at depressed levels, production mix is an important consideration. That is, if the trust were to produce more gas or NGLs than expected, the resulting diminution of cash flow would affect the quarterly distribution.
Fortunately, SandRidge Permian Trust's production mix has lived up to projections thus far, limiting the impact of weak NGL and natural-gas prices. For example, in the first five months after the trust went public, a 50 percent decline in the price of natural gas and a one-third reduction in NGL price realizations would have reduced distributable cash flow by only $0.013 per unit.
The trust demonstrated this resilience in its fiscal second quarter ended August 31, 2012; despite natural-gas prices that were 57 percent lower and NGL prices that were 17 percent lower than the levels projected in the prospectus, cash available for distribution declined by only $0.007 per unit, or 1.3 percent.
4. Wells and Production
Some investors have asserted that commodity prices have driven SandRidge Permian Trust's cash flow since its IPO. However, the pass-through entity's hedges and production mix thus far have shielded the trust's distributions from fluctuations in commodity prices. Rather, higher-than-expected production from the AMI has enabled the trust to exceed the quarterly distribution targets published in its prospectus.
In the five months ended Aug. 31, 2011, the trust exceeded its targeted distribution by about $0.064 per unit, with elevated production accounting for all but $0.002 per unit of this outperformance. During this period, oil output attributable to the trust exceeded targeted levels by about 6 percent, while volumes of natural gas surpassed expectations by 12 percent and NGL prices surprised to the upside by 13 percent.
In fact, hydrocarbon production from SandRidge Permian Basin Trust's AMI has topped management's initial projections in every quarter, though the wells have behaved according to expectations thus far. The management team addressed this issue in a conference call to discuss results from the first quarter of 2012:
Analyst: In terms of well results, are they still coming in line with your initial expectations?

Matthew K Grubb: Yes, they are. The well results are right in line with our initial expectations. In fact, in the third distribution period they probably did a little bit better than expected. If you think about the second distribution period, we brought on 71 wells and we averaged about 3,922 barrels of oil equivalent per day. In the third distribution we brought on 57 wells, that's 14 less gross wells and we averaged 3,974 barrels of oil equivalent per day. So the wells are performing as-expected or better.

Tom L. Ward: Yeah, and keep in mind that this is drilling in an area where there've been thousands of vertical wells drilled over the last 80 years. So, it would be unusual for there to be too much of a difference than what we project and it's part of the reason the company loves to drill carbonate reservoirs because there's so much history of production.

Although well performance has matched management's expectations, SandRidge Energy has accelerated its drilling program, running as many as three additional rigs in its first quarter of operation and one additional rig from there on out. The targeted distributions outlined in the prospectus assume that the sponsor would have three rigs operating the AMI, sinking about 225 wells per year. At this rate, SandRidge Energy was expected to complete the 888 wells required in the trust agreement in about four years.
But in the trust's first reporting period ended August 31, 2011, SandRidge Energy had as many as six rigs drilling in the AMI, resulting in 27 net wells. In the following quarter, the operator sank 71 wells; initial projections had called for about 56 wells. The sponsor continued this expanded rig program into the first and second quarters of 2012. Although switching service providers limited well completions to 57 in the first three months of last year, 82 developmental wells came onstream in the second quarter, enabling the quarterly distribution to beat initial expectations by 10 percent.
We expect SandRidge Energy to take its foot off the accelerator in coming quarters. The upstream operator has reduced the rig count to three and plans to drill between 220 and 225 wells in the AMI this year - in line with the targets outlined in the trust's prospectus.
Assuming that SandRidge Energy doesn't deviate from this three-rig program, we expect the company to drill the remaining 488 wells by the end of 2014, or six months ahead of schedule.
Valuation Model
We've revised our valuation model for SandRidge Permian Trust to reflect our updated outlook for commodity prices and SandRidge Energy's drilling program.
1. Oil Prices
We used the current NYMEX futures curve for WTI to update our projections for oil prices through the end of 2016, a revision that would reduce the trust's projected cash flows. As you can see, NYMEX futures prices have declined significantly since SandRidge Permian Trust modeled its outlook for oil prices on July 15, 2011.
The original haircut of $4.27 that underpinned the trust's forecast for price realizations also appears overly aggressive given the widening price differential between Midland and Cushing. We've factored in a discount of $7 per barrel through the end of 2014, after which the haircut reverts to $4.27 per barrel. This revision assumes that new takeaway capacity in the Permian Basin will alleviate this headwind over the next two years.
We also assume that the price of crude oil increases at an annualized pace of 2 percent through 2031, with upside capped at $120 per barrel - far more conservative than the 2.5 percent annualized increase factored in to SandRidge Permian Trust's original model.
2. Other Commodity Prices
The prices of NGLs and natural gas exert only a limited influence on SandRidge Permian Trust's distributable cash flow because they account for less than 10 percent of overall production. Using the current futures curve for volumes delivered to the Henry Hub, we updated our outlook for natural-gas prices through 2016. Thereafter, we assume that the price of natural gas grows at an annualized rate of 2 percent until it tops out at $7 per million British thermal units.
We assume a mixed barrel of NGLs fetches 57 percent discount to WTI-Cushing through 2015 and 51.65 percent haircut through the remainder of the trust's life span.
3. Production
Predicting future production levels involves making assumptions about the complex interplay between the decline rate of existing wells and the number of development wells drilled in a particular quarter.
To generate our updated forecast for SandRidge Permian Trust's future hydrocarbon output, we first had to reverse engineer the trust's original production estimates based on its stated assumptions about commodity prices, target distributions, hedges, taxes and expenses that were outlined in the prospectus.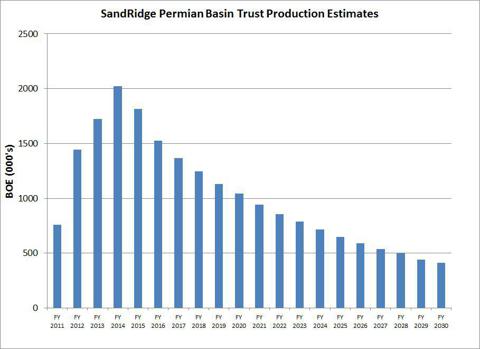 Source: SandRidge Permian Trust, Prospectus
We then updated these figures to reflect actual production from the AMI thus far and revised future output to reflect a three-rig drilling program and a modified decline rate.
Through Aug. 31, 2012, SandRidge Energy had brought 381.5 net developmental wells onstream and had another 20.2 net wells awaiting completion. At this point, the trust's sponsor is about six months ahead of schedule on its drilling plan. With SandRidge Energy reducing the rig count to the three units originally outlined in the prospectus, we can extrapolate future production based on the growth rate modeled in SandRidge Permian Trust's prospectus.
The original production curve called for output to increase by roughly 4 percent sequentially in the second quarter of 2013. As the trust had drilled the same number of total wells at the end of the fiscal third quarter of 2012, we assume that production grew by 4 percent sequentially in the fourth quarter of last year.
This graph depicts the production forecast by applying this adjustment to each remaining year through the trust's termination date. Although this approach has its drawbacks, this back-of-the-envelope calculation should be sufficient for our purposes.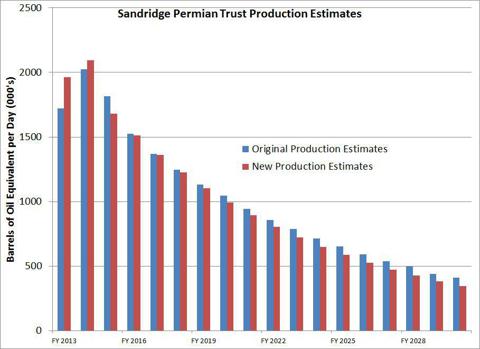 Source: Energy & Income Advisor estimates
In our update model, the trust's annual production achieves a higher peak than outlined in the prospectus. However, this inflection point also occurs in the first quarter of 2014, as opposed to the third quarter of that year.
The Bottom Line: Valuation and Outlook
Based on our update outlook for commodity prices and production, we expect SandRidge Permian Trust to disburse $28.71 per unit between now and its termination on March 31, 2031.
At the current quote of about $17 per unit, an investment translates into an internal rate of return of about 8.25 percent per year. When you consider the conservative bias of our commodity price assumptions, SandRidge Permian Trust appears to offer a compelling value.
We then apply a 5 percent discount rate used in our model, which yields a fair value of $20.50 per unit. Although some might question whether our 5 percent discount rate is sufficient, investors should remember that if inflation were to pick up in coming years, oil prices would likely climb, making our estimated price realizations much too low.
That being said, this esoteric exercise hasn't taken into account other fundamental and technical factors that will continue to influence SandRidge Permian Trust's unit price in the near term. The financial health and motivations of the trust's sponsor, SandRidge Energy, and its controversial CEO, Tom Ward, remain a point of concern.
SandRidge Energy is an aggressive exploration and production that has divested noncore assets, acquired liquids-rich acreage and amended its drilling strategy to shift its production mix to emphasize natural gas over oil and NGLs.
Although we applaud SandRidge Energy's efforts to grow its liquids output, this transition has proved expensive. To fund acquisitions and accelerate drilling activity, the company has assumed a mountain of debt that totaled about $4.3 billion at the end of the third quarter.
Issuing additional stock also swelled the company's float to almost 500 million shares from 138 million shares in 2007; although the firm has grown its oil output, production per share has actually declined over the past five years. Not surprisingly, the stock has floundered and in early November approached the low hit during the financial crisis.
News related to SandRidge Energy's struggles and the strategies pursued by its controversial CEO occasionally drive price fluctuations in the unit price of its three royalty trusts.
For example, units of SandRidge Permian Trust took a hit in early November 2012, after SandRidge Energy announced that it would explore the sale of its assets in the Permian Basin to reduce its debt and fund an expensive horizontal drilling on its Mississippian acreage in Kansas and Oklahoma.
Although SandRidge Energy issued statements emphasizing that this divestment wouldn't include assets associated with SandRidge Permian Trust and wouldn't alter the sponsor's drilling program, the trust's units still sold off precipitously.
But fears that SandRidge Energy wouldn't achieve a fair price for its assets in the Permian Basin have proved overblown. In December 2012, the company announced an agreement to sell this operation for $2.6 billion, or $106,000 per flowing barrel of oil equivalent production, to private-equity fund Sheridan Production Partners II. The company plans to use the proceeds to reduce debt, freeing up enough capital to fund its drilling program through 2014.
The company has other opportunities to monetize assets, including a potential joint venture to develop its Mississippian assets in Kansas. There's also speculation that a larger firm might acquire SandRidge Energy outright, in which case the former's drilling obligations would pass to the acquirer.
As the sale of SandRidge Energy's assets in the Permian Basin improved the firm's creditworthiness, this development should alleviate concerns about whether the sponsor can fund its drilling program.
However, investors have legitimate concerns that SandRidge Energy could raise capital by divesting part of its equity interest in SandRidge Permian Trust. As of its most recent filing, SandRidge Energy owned 2.875 million of the trust's common units and 13.125 million subordinated units, which will convert to standard units once the sponsor fulfills its drilling obligations. Until the subordination period ends, these units only forego their quarterly distribution if the payout on the common stock would fall more than 20 percent short of the quarterly target.
Although we expect SandRidge Energy to ultimately divest some of its equity stake in the trust, the company wouldn't be able to do so until the subordination period ends.
The case of SandRidge Missippian Trust I (NYSE:SDT) provides insight into how such a sale would affect the stock: When SandRidge sold part of its stake in this trust, the units sold off sharply but recovered once the market absorbed these additional shares. In other words, the sale would give investors an opportunity to buy SandRidge Permian Trust at a nice discount.
Moreover, such a decision wouldn't vitiate the trust's ability to pay its distribution; at that point, the sponsor would have completed the 888 developmental wells.
Disclosure: I am long PER. I wrote this article myself, and it expresses my own opinions. I am not receiving compensation for it (other than from Seeking Alpha). I have no business relationship with any company whose stock is mentioned in this article.