In the spirit of trying to find the "best-in-breed" stocks to invest in, one of the most interesting comparisons I could think of involves two companies that most investors (and analysts) already think of as top-tier stocks. I'm talking about the two "package" giants, FedEx Corp. (NYSE:FDX) and UPS (NYSE:UPS). First, I'll start with a brief introduction on each company, and then we'll compare valuations and growth prospects of each.
FedEx Corp provides delivery services for packages, documents, and freight in over 220 countries, as well as their ground service all over North America. FedEx also has a substantial office services business, which it acquired through its purchase of Kinko's in 2004. FedEx's general growth strategy these days involve maximizing the efficiency of its transportation networks, as well as a major expansion of FedEx Ground, already an enormous network of over 30,000 owner-operated vehicles and 35,000 company-owned trailers.
Most interestingly, FedEx recently announced a profit improvement program, which the company anticipates will deliver $1.7 billion in enhanced profitability by 2016. They plan to achieve this through cost reductions, efficiency improvements, and service repositioning. FedEx has done very well for its shareholders over the past several years, rebounding from its 2009 lows of $34 to its current $95-ish level. FedEx also pays a small dividend (around 0.5%); however it is worth noting that this modest dividend has been raised consistently, more than doubling over the past decade.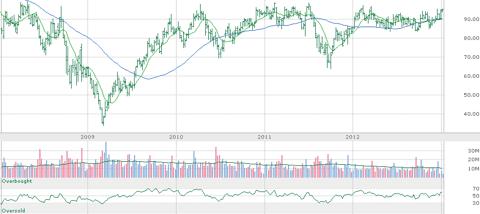 United Parcel Service is the world's largest express delivery company, almost twice the size of FedEx in terms of market capitalization. Unlike FedEx, UPS is much more ground-oriented, and in fact moves 85% of its shipments on the ground. However, UPS has not taken as much advantage of international potential and this is likely to be UPS's major growth area going forward. To further make this point, UPS has agreed to acquire TNT Express, one of the largest package delivery companies in Europe, for $6.8 billion in cash, which is expected to close in early 2013.
UPS has also done very well for its shareholders (see below), however its gains seem to be more "slow and steady" than FedEx. Also worth taking into consideration is the significantly higher dividend offered by UPS, currently a 3% yield. This dividend has been raised very nicely over the past decade, from $0.76 per share in 2002 to $2.28 today, almost a 200% increase in 10 years.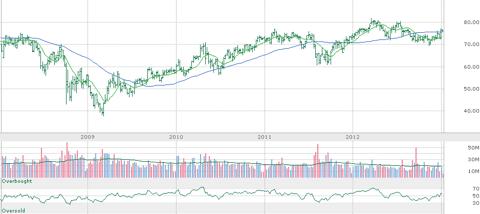 Now for some valuation: UPS trades at 16.6 times 2012's earnings, which are expected to rise from $4.58 to $5.12 and $5.79 in 2013 and 2014. Taking 2011's earnings into account, this translates to a 3-year average earnings growth rate of 11.1%. FedEx trades at 15.2 times current earnings, expected to grow nicely from $6.36 in FY 2012 to $7.84 and $9.23 in 2013 and 2014, so they have a 3-year projected earnings growth rate of 12.5%, slightly ahead of their more expensively valued competitor.
Also worth noting is the companies' cash positions. FedEx wins in this category, with $2.84 billion in cash on hand and only $1.25 billion in long-term debt, for a positive net cash position of $1.59 billion. To illustrate the significance, when you back this out of FDX's market cap, the P/E ratio drops to 14.5 times earnings, making the stock look even more attractive. UPS, on the other hand, has $4.28 billion in cash and $10.68 billion in debt, for a net debt of $6.4 billion. This increases the effective P/E of the company to 18.1.
While these are two examples of absolutely great companies, it is incredibly clear that FedEx is the cheaper of the two, and has the more attractive anticipated growth. While UPS is certainly the choice for a dividend portfolio, for any other intent, FedEx wins this comparison handily.
Disclosure: I have no positions in any stocks mentioned, and no plans to initiate any positions within the next 72 hours. I wrote this article myself, and it expresses my own opinions. I am not receiving compensation for it (other than from Seeking Alpha). I have no business relationship with any company whose stock is mentioned in this article.