The U.S. oil refiner stocks have finished an almost 10% correction they experienced since the end of December.
Forget about the Canadian oil producers which are facing deep discounts for WCS vs. WTI and even light oil producers facing rationing of pipeline supply to the south. This situation should keep up for at least another year before Enbridge can finish multiple expansion projects.
It's a buyer's market for refineries, especially those located in the mid-continent, to buy U.S. lower 48 and Canadian oil. Soon Gulf Coast refiners will also have more supply.
The Seaway Pipeline from Cushing to the Texas Gulf Coast is owned jointly by Enbridge (NYSE:ENB) and Enterprise Products Partners (NYSE:EPD), and will start flowing additional oil (400,000 barrels/day capacity) to the GC in a few days. The pipeline was reversed from a south/north to north/south flow direction in 2012 with 150,000 capacity, so the expansion represents an additional potential 250,000 bbl/day.
According to the EIA STEO report issued yesterday, the US is expected to produce 2.3 million bbl/day more crude oil in 2014 versus 2011. This means U.S. refiners will depend less on ships and international pipelines for their feedstocks, and more on local domestic production.
For these reasons, I like Marathon Petroleum (NYSE:MPC) at $62.20, HollyFrontier (NYSE:HFC) at $43.68 and Northern Tier Energy LP (NYSE:NTI) at $25.30 (all USD).
A Goldman Sachs Global Energy Conference (being held today but not webcast) will give refiners more exposure to tell their stories to institutions.
Goldman has identified HollyFrontier as one of its 25 best dividend income stock picks, and Marathon as its next best oil stock pick. Note: I came to my conclusions independently (and a lot less expensively, than Goldman).
Tomorrow, Deutsche Bank holds a refineries "one-on-one" day. And next week UBS Securities holds an MLP conference, which could benefit Northern Tier Energy.
The three refinery stocks/units above (NTI is a Master Limited Partnership) have short-term upside and should get to and exceed their highs of $64.20, 47.90 and 27.27 by my reckoning.
Their 2013 P/Es are single digit and the dividend yields are reasonable (MPC 2.2%, HFC 1.8%, NTI variable).
Plus, there is potential for share buybacks and special dividends. Marathon and HollyFrontier have a share buyback in place, and HollyFrontier paid multiple special dividends in 2012.
The sector sold off because of a slight weakening of various mid-con refinery crack spreads from very high levels, and the impending restart of Seaway Pipeline which some feel will reduce the oil trapped in the area and the advantage of the Cushing barrel crack spread. This would hurt people such as HollyFrontier and CVR Energy (NYSE:CVI) the most.
But I think the Seaway restart is already factored into these stocks. It will take awhile to drain Cushing which has 50 million barrels in storage as of the last EIA report.
At 250,000 per day, that would take 200 days at full capacity.
In the medium-term, Cushing will continue to be oversupplied as Enbridge has plans to twin the Spearhead pipeline (called the Flanagan South Pipeline) from southwest of Chicago, and of course, the TransCanada Pipeline (NYSE:TRP) Keystone XL pipeline would also target Cushing for additional Canadian supply.
The added 250,000 bbls/day supply of oil will play right into Marathon's recent decision to purchase BP (NYSE:BP) plc's huge Texas City, TX refinery which is proximal to the pipeline terminus. Marathon now owns 7 refineries (capacity of 1.644 million bbls/day) and is now the fourth largest refiner in the country, as well as an extensive retail gasoline and convenience operation, and the interest in the recently floated MPLX pipeline and storage MLP.
Analysts expect $9.06 earnings per share from MPC in 2013, with a range of $6.94 to $11.62.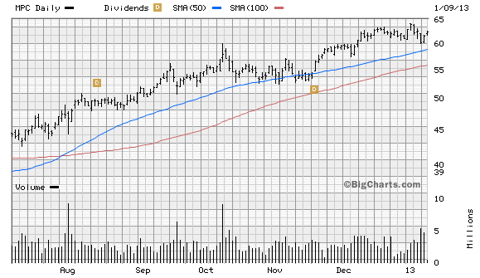 Although mid-con refiner HFC may see some slight increase in their RAC (Refinery Acquisition Cost) due to a diminishing of the oversupply at Cushing, they obtain very high crack spreads in the Rockies. In October, the gasoline crack was $38/bbl and the diesel crack was $57 per bbl.
In early November during the Q3 earnings call, HollyFrontier said the gasoline crack was $40 and the distillate crack was $54 at that time. These results will provide an excellent Q4 earnings result. Analysts expect $6.20 EPS from HFC in 2013 with a range of $4.09 to $8.25.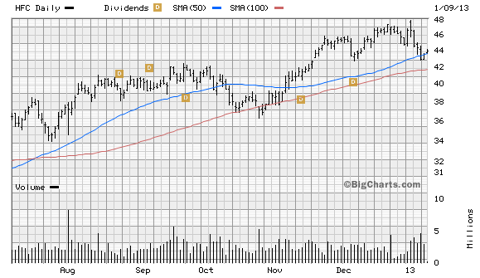 Northern Tier is a newly issued variable-rate MLP which was floated 18.7 million units at $14.00 in July and has been very profitable, exceeding the projected first $1.01 distribution for the two month period ending September 30. They paid out $1.48.
Northern Tier has the overhang of more units that could be sold by the owners (about 92 million are outstanding).
NTI has one refinery of 80,000 bbl/day capacity in St. Paul's Park, Minnesota, and also owns an interest in a retail gas system as well as a pipeline interest. The MLP is also enjoying excellent crack spreads. The gross margin per barrel was $34.11 in Q3, with direct operating expenses of only $4.22/bbl. The LP is guiding for $4.75 costs and 80-85K throughput, in Q4 2013. Analysts' average EPS estimate for NTI in 2013 is $2.89, although with a wide range of $1.74 to $4.18.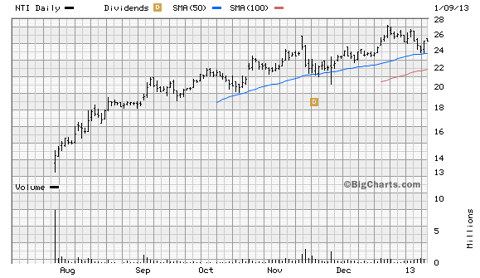 The US refinery stocks had a great run in 2012, but there is room for more profits, as we saw with the US nitrogen fertilizer stocks (an area which is now overbought in my view).
There is an inexorable wall of supply of crude oil coming, both from Canada and from the US shale plays, which means more and steadier profits to come for refiners. I see an expansion of their P/E multiples coming for the whole year.
The US is exporting the additional distillate and gasoline in every increasing amounts from the US Gulf Coast, selling to LATAM countries and potentially, to Asia and Europe.
There are no more Greenfield refineries being constructed in the U.S., only expansions. These expansions come with glitches. In the meantime, East Coast refineries have been closing down. There is also regular downtime for maintenance and Gulf storms which close down refineries.
These disruptions keep prices for refined products elevated and crack spreads healthy.
HollyFrontier is taking down two of its five refineries in Q1, but that is only going to be a short-term interruption in their huge cash flow.
Short-term, another glitch at the expansion of the largest refinery in the country has forced its partial shut down.
This is owned by Motiva Enterprises (a Shell/Saudi Aramco joint venture) at Port Arthur, and is supporting refined product prices in spite of modestly bearish numbers coming out of the API yesterday and potentially from the EIA this morning.
It will interesting to see if Motiva will replace the sour crude from Saudi Arabia arriving by ship for several decades, with additional Canadian production via Cushing Oklahoma.
Disclosure: I am long MPC, HFC, NTI. I wrote this article myself, and it expresses my own opinions. I am not receiving compensation for it (other than from Seeking Alpha). I have no business relationship with any company whose stock is mentioned in this article.