If any company needed TARP funds, it is Resource America (NASDAQ:REXI), who perhaps should have become a commercial bank, too.
Resource America continues on its downward trend, despite cutting expenses, overhead, re-adjusting, but it hasn't been enough as the company still reported a net loss of $9.3 million for their fourth quarter resulting in a year-end net loss of $26.2 million, compared with almost a $11 million net loss the fourth quarter of 2007 and year end profit for 2007 of $3.7 million.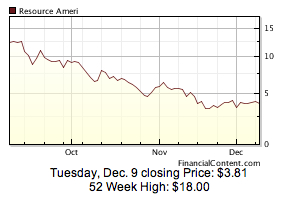 Their real "asset managements" are also located in the most troubled areas, including Southern California, where several banks have folded, been sold or purchased, primarily due to residential and commercial real estate loans.
Jonathan Cohen, President and CEO, explained:
"Our results reflect the unprecedented challenges in the world-wide financial system. These have been difficult months, but we are pleased to have been able to: reduce our general and administrative costs and our balance sheet exposure; continue to raise funds through our retail channel and increase our assets under management; and to obtain financing for our leasing partnerships where lenders have provided our limited partnerships with new and extended non-recourse facilities of approximately $350.0 million in just the last month.

We believe that we have positioned the Company for profitability from continuing operations. We believe that the success of our approach will become evident in calendar 2009 when our cost structure will be much leaner, our new fundraising should add to our profitability and our new distressed funds obtain economies of scale. Our fundraising ability through our retail channel and our formidable platform will set the stage for great things in the future. LEAF, our commercial finance asset manager, is already the third largest non-bank leasing company in the United States and it continues to raise capital and sign new financings. We are hopeful that when the smoke clears we will find ourselves with the preeminent commercial finance platform."
The statement about "non-bank" leasing may be truer than Cohen guesses as CIT and GE are now a bank and competitors such as US Bank (NYSE:USB) and KEY also are "bank financed." If CIT and GE are the number one and two non-bank lessors that Cohen was referring to, maybe he overlooked International Lease Finance Corporation, part of AIG. The talk is AIG's major airline leasing operation will be sold to an investor group, if one of the original founders Steven Ferencz Udvar-Hazy, also the world's richest leasing person according to Forbes, has his way.
Whether number three or four of the group of the non-bank leasing companies, LEAF depends on bank financing, as Cohen recapped about the $350 million borrowed from banks. In his proclamation, he evidently forgot to mention that Resource America's Commercial Business Finance has also fallen off, nothing to brag about. It is important to note that LEAF Corporation acquired the leasing companies Alco, Dolphin, NetBank and Pacific Capital. These purchases make the year-end revenue numbers look good when compared to 2007, $96.9 million vs. $40.7 million, rounded-off.
Comparing the third quarter to the fourth quarter gives a more accurate heading of Commercial Finance where revenue income for the fourth quarter was $14.4 million compared to $21.8 the third quarter. The numbers for the quarter show a slow down in revenue growth, plus the delinquency rates were disclosed at this time.
From Resource America's financial statements: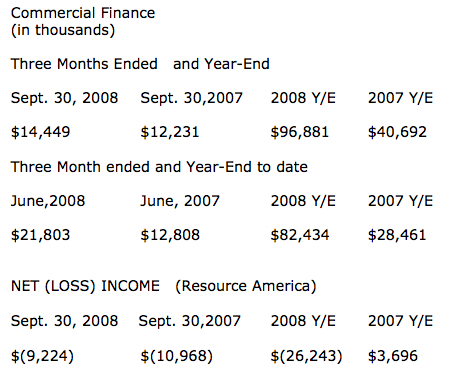 Cohen's announced cutbacks also included employees from the leasing division, which saw the closing down of two units, Alco and Pacific Capital, plus the indirect consolidation of operations in Columbia, South Carolina. Brokers and other discounters were also cut back. In other words, there were cutbacks everywhere.
Leasing News had requested LEAF to go over the numbers from the announcement of two funds but never received an answer. In the current press release, there appears to be a partial answer, but it does not break out specifically what is the unencumbered amount really available for new business (the original sale price from the OTS and what was funded is an important part of the equation). It does state:
"Approximately $100 million of the facility will be used to refinance a maturing credit facility with Merrill Lynch, and the remainder will be used to fund the ongoing originations of LEAF III.

LEAF Fund Financing Activities. During November 2008, the Company through LEAF Equipment Leasing Income Fund III, L.P. ("Fund III"), an unconsolidated leasing partnership managed by LEAF, entered into two financing facilities totaling $355.0 million including: i) a $205.0 million credit facility led by Morgan Stanley Bank that was used to acquire the assets of NetBank Business Finance and ii) a five-year revolving $150.0 million credit facility that refinanced a maturing credit facility and will also fund future originations."

- Resource America Press Release
The full purchase price of NetBank Business Finance appears to be "financed," which came out to more than $205 million. How the money is juggled between funds and assets has always been Resource America's best magical performances for its survival.
Resources
Fourth Quarter Year-end
Third Quarter--June, 2008
Full Press Release