Politicians in Washington were able to avoid going off the fiscal cliff at the last moment, but in 2013, farmers are staring at a new cliff of their own. Expectations for record corn production in South American and the U.S. in 2013 may send grain prices, and farmers, off a cliff. The fiscal cliff had negative long-term implications, but the good news is that the corn cliff may be temporary and result in a race back to the top for prices.
Corn (NYSEARCA:CORN) prices are near record highs and U.S. corn supplies are at their lowest since 1995. If the U.S. stopped producing corn, we would run out in a quick 21 days. In order to capitalize on the high corn prices, U.S. farmers are expected to plant 99 million acres of corn in 2013, according to Informa Economics. This is the highest acreage since the 1930s and a 12% increase over 2010.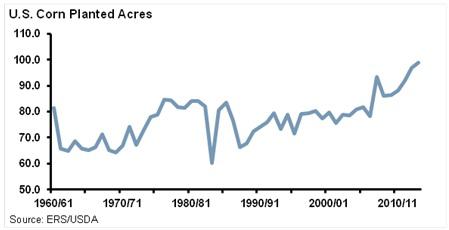 Farmers are removing soybeans (NYSEARCA:SOYB) and cotton (NYSEARCA:BAL) from their planting rotations in order to plant as much corn as possible. The Corn Belt is also moving farther west and north into areas that may have never planted corn. North Dakota is expected to plant 4.3 million corn acres in 2013, nearly double the 2011 total, according to Informa Economics.
Despite the worst drought in over 50 years in the U.S. last year and disappointing yields the prior two years, most analysts expect 2013 corn yields to return to trendline averages of 160 plus bushels per acre. Trendline corn yields and 99 million acres could translate to production of over 15 billion bushels and ending stocks above 2 million bushels in 2013.
High corn prices are encouraging South American farmers to increase corn acreage by 5.6% in 2013, which may lead the continent to produce over 100 million tons of corn for the first time ever. The Ukraine is also expanding corn production to 25 million tons in 2013 and will position itself as a competitor in the global export market.
As planting expectations continue to mature this spring and the South American crop continues to develop, corn prices may react negatively to the expectations of an increase in supplies. At the end of 2013, the U.S. could potentially have the highest supplies since the mid-1980s. Combined with the largest corn crop ever in South America, corn prices may fall off a cliff to the $4.00 range in the spring of 2013.
2013 Bumper Crop Unlikely
Expectations are for 2013 to be on pace for a global bumper crop, but a good farmer knows that things don't always happen as expected. Analysts and the market always price in the optimal expectations, which almost never happen in reality.
At the end of 2012, 61% of the U.S. is in moderate or worse drought. Most farmers are not expecting a significant increase in corn yields for 2013 and expect moisture levels to continue to be sub-optimal. Aquifer water levels remain low and farmers' access to water may be restricted.
The return to trendline yields in 2013 is nearly impossible as the incremental acres allocated to corn are marginal at best. Yields from additional acres in the Western Corn Belt, Reserve Programs, and the South will be well below the national average. With the addition of marginal acres, we see the trendline corn yield between 140 to 150 bushels at best.
Another risk to 2013 production is that farmers may not be able to plant 99 million acres of corn as there may not be enough adequate seed. We expect there to be a shortage of top corn seed varieties in the 2013 planting season, which will leave farmers planting lower yielding corn seeds.
Difficult weather during the planting season in South America may derail their record-setting crop. Heavy rainfall in Argentina's Pampas region and hot dry weather in Brazil has delayed planting, which could lead to sub-optimal yields. Brazil's average corn yield in 2012 was only 63.7 bushels per acre, so there is not much margin for error.
Despite the bearish outlook we expect to develop over the next few months, we see any sell-off in corn prices as on overreaction. In reality, we expect a decent corn crop in 2013, but nowhere near the levels to add substantially to supplies.
If corn prices decline to the $4.00 a bushel range, we see corn as one of the best investments of 2013 and expect prices to be back to $6.00 by the end of the year. Corn buyers, including China, livestock producers, and investors are optimistically waiting on the sidelines.
Disclosure: I have no positions in any stocks mentioned, and no plans to initiate any positions within the next 72 hours. I wrote this article myself, and it expresses my own opinions. I am not receiving compensation for it. I have no business relationship with any company whose stock is mentioned in this article.