The stock market has been on an impressive tear following the resolution of the fiscal cliff deadline. Recently, the market has followed a "Buy the News, Sell the Rumor" script as anticipation of actions by political leaders or central bankers has coincided with frenzied buying once the leaders have acted. Selling has wiped out the bulk of the gains. In 2012, this was witnessed with the Fed's two QE announcements and the Greek bailout - markets rallied into the news but quickly gave up gains as details were digested.
The lone exception to this trend has been the EU's aggressive interventions and rhetoric over the summer that marked an end to the freefall of the Euro. However, this is more apparent in the charts of European indexes as US based indexes such as the S&P 500 gave up a bulk of its gains due to the fiscal cliff fears. As the chart below shows, market action in 2012 was primarily about 4 months of strong, trending gains with the last 8 months of the year, staying range-bound within these established highs and lows. Although within this range, there were plenty of opportunities for bulls and bears.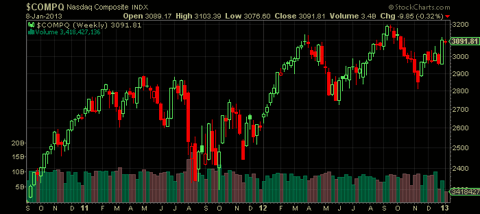 In a previous article, I made my case for why the combination of the uncertainty surrounding the fiscal cliff drama, thin Holiday trading, and an oversold market in a climate of resilient market internals was providing an optimal opportunity for a low risk, long trade. These expectations were realized with the strong gains at the end of November.
In my last article, I discussed another constructive development for bulls in the changing composition of the Fed's membership which was much more interested in exploring unusual policy tools to support economic growth. Of course, this came about much quicker than I anticipated as the Fed implemented an open ended QE tied to economic targets. Going forward, I think that the perception of an aggressive Fed, eager to act in case of any stumbles with more of a focus on unemployment, will be a boon for longs.
In this article, I will build upon the arguments made in the previous two and share evidence that indicates the strong internals of this rally. These internals are requisite for a sustainable, trending rally that can take the S&P 500 past its 2012 September high of 1465 and towards the next logical, target of 1560 which are its all time highs established in October 2007.
Market Breadth
One of the most vexing questions for me when it comes to trading - when to buy into a rally or fade a rally? Conversely, when to buy the dip or sell into weakness? The market at different times rewards following the trend and at other times brutally punishing this strategy while showering rewards upon the contrarians. On the other hand, being a contrarian 100% of the time is a quick and easy way to go broke.
The best answer I've found, and far from a perfect answer, when it comes to the general market is to look at breadth to confirm price. Breadth is essentially participation in terms of the number of stocks moving up and down. Having studied breadth and price charts over the last century, numerous important inflection points have been marked by divergences between breadth and price.
It is important to note that solely relying on breadth would lead one to miss many opportunities and get into long or short trades too early to fully capitalize on the upside. Fundamentals do matter. Political events and central bank interventions can trump divergences in breadth. However, the breadth chart does reflect accumulation and distribution in the markets much more effectively than any other analysis. And of course, accumulation and distribution reflects the interpretation of other market participants' perception of the fundamentals, political climate, and central bank actions. This market based interpretation is more often than not superior to my own, which is why I give it a great deal of deference.
Currently, breadth is leading the market higher and painting a rosy picture of the future as it is already sitting comfortably at all time highs.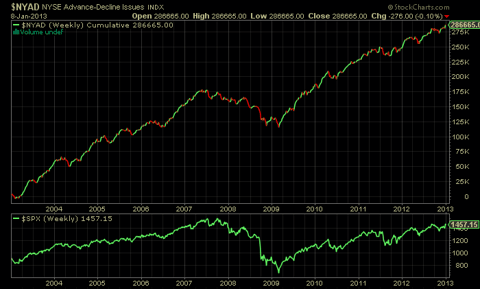 Zooming in on the last 1 year, we see the impressive resilience of the breadth chart in the face of the fiscal cliff fears which caused the indexes to wildly oscillate from panic to euphoria.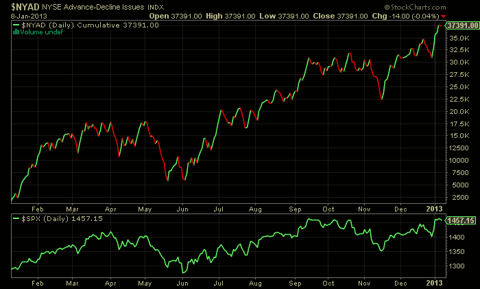 Conclusion
All in all, this rally which is coming out of an almost 8 month consolidation seems ready to break out of this range. My chief reasoning for this is the impressive accumulation evidenced via the breadth charts. There are also more data points which support this conclusion which I hope to go over in a future article. These include the fact that European indexes have already broken out past their trading ranges, the iShares Russell 2000 Index (NYSEARCA:IWM) has already broken out to all time highs, the weakness in bonds (NYSEARCA:TLT), outperformance of cyclical stocks and emerging markets, and relatively tame commodity prices.
Given these supportive data points, it is my expectation that this rally will continue and in the process, taking the SPDR S&P 500 ETF Trust (NYSEARCA:SPY) and the PowerShares QQQ Trust Series 1 (NASDAQ:QQQ) to all time highs, sometime this year.
Disclosure: I have no positions in any stocks mentioned, and no plans to initiate any positions within the next 72 hours. I wrote this article myself, and it expresses my own opinions. I am not receiving compensation for it (other than from Seeking Alpha). I have no business relationship with any company whose stock is mentioned in this article.