Introduction
When AIG crashed on to the rocks of the 2008 financial crisis, US Treasury Secretary Hank Paulson quickly realised that the best way to shore up the ailing balance sheet (aside from pumping billions of taxpayers money in to the business) was to dispose of the crown jewels. So, in 2010, AIA, the jewel in AIG's Asian crown, was floated on the Hong Kong Stock Exchange, raising much needed funds to help stabilise the parent company. AIG maintained a minority interest in the AIA but, in 2012, that too was sold to pay off outstanding debts.
This brings me on to Amazon (NASDAQ:AMZN). Most people recognise Amazon Web Services (AWS) as Amazon's runaway success and crown jewel in an otherwise highly competitive, low margin business. Operating profits in the core retailing business have continued to deteriorate at a rapid pace leading to an overall $28 operating loss in Q3 2012. Amazon themselves have highlighted the potential in the AWS business stating that, in time, AWS could be as large as the rest of Amazon's business. Will Amazon therefore go the way of AIG and be forced to sell off their AWS crown jewel before realising its full potential?
This article seeks to set out the argument for why Amazon will imminently spin off AWS if it is to have any chance of growing sales in the future. To achieve this, the article addresses three key points:
1. The efficiency of Amazon's business model based on their ability to generate top line sales from existing balance sheet assets
2. The capital needs of a business that is projected to double top line sales over the next 3 years
3. The various options available to Amazon to grow its balance sheet to enable sales growth
AWS Background
AWS is a cloud computing services business which provides customers with dedicated cloud and public cloud hosting capabilities.
Despite Amazon's claims around the financial success of the business it does not break out turnover or profitability for that unit in its SEC filings. What it does say in SEC filings is that AWS makes up a portion of "Other" sales which in Q3 2012 amounted to $648 million. Assuming this is 100% allocated to AWS, the business would be approximately twice the size of Rackspace Holdings (NYSE:RAX), its nearest competitor. RAX generated a turnover of $336 million for Q3 2012 with net profit margins of 8% producing an annualised profit of circa $109 million. It currently trades at an all-time high P/E ratio of 108x. Applying the same valuation metrics to AWS would value the business at $22.5 billion.
Arguably, AWS is non-core to Amazon's retail business. Just like other online retailers, there appears to be no particular strategic need to own the servers upon which you run your business. Certainly this is the logic that Amazon sells to its own AWS customers. On that basis, it can certainly position the spin out or partial divestiture of AWS as a resounding success overall. Unfortunately for them, the reality is very different.
Efficiency of Amazon's Business Model
Analysts, reporters and investors have repeatedly beaten the drum about the efficiency of Amazon's business model and the savings that can be passed on to customers due to absence of physical brick and mortar stores. Most of those parties also cite Amazon as the online Wal-Mart (NYSE:WMT) of the digital age.
However, as any offline or online retailer knows, every company needs assets to generate sales, either in the form of retail stores for some, offices, distribution centres, warehouses, inventory, IT infrastructure, logistics assets and many other tangible and costly assets. While it does not operate bricks and mortar stores, Amazon is no different in its need for physical assets than anyone else if it is to generate and ultimately grow sales.
We can determine quite easily whether Amazon's model is actually efficient versus the competition by comparing the amount of sales it generates to the level of assets needed to generate those sales. Higher rates of sales to assets would indicate that those assets are more efficient. The charts below compare Wal-Mart's and Amazon's respective performances.
WAL-MART 2008 - 2011 PERFORMANCE (Year End January 31st of following year)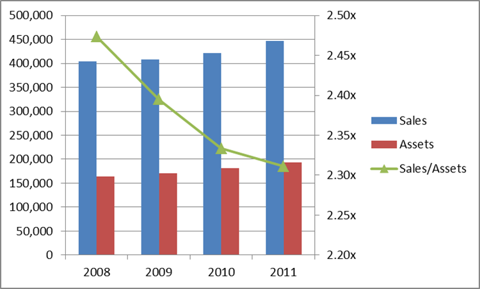 AMAZON 2008 - 2011 PERFORMANCE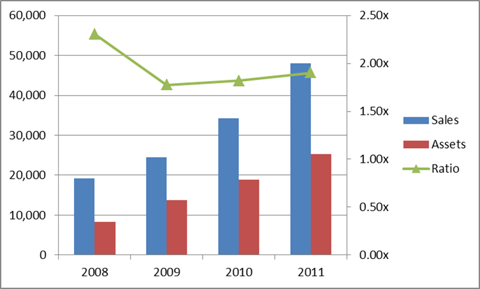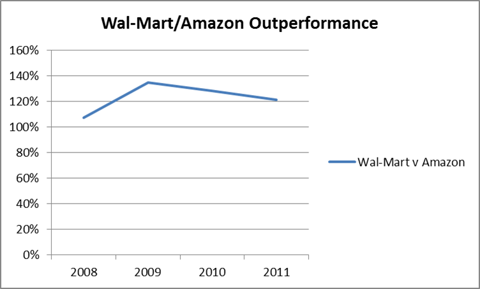 Based on the above charts, Wal-Mart is actually over 20% more efficient than Amazon at generating sales with the assets that it has on its balance sheet. Could one argue that Wal-Mart needed time to become so efficient and that Amazon's efficiency will improve as it rolls out further infrastructure, a common refrain from many Amazon supporters?
WAL-MART 1991 - 1994 PERFORMANCE (Year-end January 31st of actual stated year)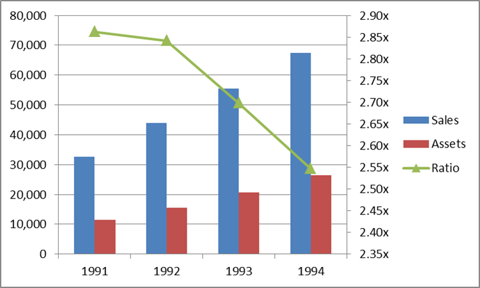 The short answer is no! As the graph above clearly shows, at the same point in its development from 1990-1994, when Wal-Mart's sales were virtually identical to Amazon's, it had a sales/assets ratio of over 2.5 times and it had operating margins of over 3% versus Amazon's operating losses. In fact, as is common to most businesses, Wal-Mart became less efficient as they grew bigger. In all likelihood Amazon will follow the same path.
Capital Needs for the Business
On the basis that Amazon's business is no more efficient than Wal-Mart, to grow sales, Amazon will need to increase the size of its balance sheet dramatically. In other words, for Amazon to double sales, it would need to double the balance sheet, assuming it maintains is current sales/total assets ratio, to approximately $60 billion.
On the basis that the equity as a percentage of total assets remains constant, Amazon will also need to double its equity and will need at least a further $7 billion of equity over the next three years. In the most optimistic of scenarios, Amazon will generate no more than $2-3 billion of equity after tax from operations if it can grow its operating margins from negative territory today to 2-3% during that period. In other words, in an optimistic case, Amazon needs to find $4-5 billion of equity and, more realistically, it probably requires $7-8 billion.
Options for Growing a Balance Sheet
Any business can explore four options when assessing how to grow its balance sheet:
1. Borrow either from banks or through the capital markets
2. Receive funding from your suppliers
3. Retain profits from prior years
4. Raise equity either through share placements or divestitures
On Cyber Monday November 2012, Amazon exploited the euphoria in retail spending to raise $3 billion of funding from a bond issue tapping option 1 above. It also funded growth in its balance sheet by growing its sales, with corresponding growth in supplier credit and improved credit terms with those suppliers, option 2 above. Undoubtedly these forms of finance will continue to play a role in future years however equity will be needed if the integrity of the balance sheet (the ratio of equity to total assets) is to be maintained.
As we have seen, achieving profits, option 3, for Amazon is proving increasingly challenging. On that basis, option 4, share placement or divestitures, is the only remaining viable option.
Conclusion
Given the hype that Amazon has been creating in recent months, it appears that Amazon is already considering an AWS spin out to raise much needed equity and to strengthen its balance sheet for future sales growth.
While Amazon will clearly "spin" this as another great success story, the reality is that Amazon has no choice and is essentially a distressed seller of an excellent business, just as AIG was forced reluctantly to dispose of AIA. The further tragedy is that any sales proceeds from an AWS spin out are likely to be reinvested in a loss making retail business that it less efficient than most people fully appreciate.
Given the imminent equity requirements of the business to grow sales, I would expect a spin out to be announced at the end of January around the time of the Q1 2013 results. At that point, it is a virtual certainty that investors will reappraise their $100 billion residual valuation of a loss making, online retail business resulting in a sharp and significant downward share price adjustments.
Disclosure: I am short AMZN. I wrote this article myself, and it expresses my own opinions. I am not receiving compensation for it (other than from Seeking Alpha). I have no business relationship with any company whose stock is mentioned in this article.