Anyone who owns or follows Teva Pharmaceutical Industries (NYSE:TEVA) is well aware of the laundry list of concerns plaguing its valuation, which is now firmly in single-digit, management-has-no-credibility territory. This article isn't a rehash of those issues or an endorsement of CEO Jeremy Levin's recent strategic outline for moving forward (Investor Day Transcript). The following stock chart shows that investors clearly aren't willing to give Teva credit for any turnaround until they see one (note the slide on December 11 Investor Day).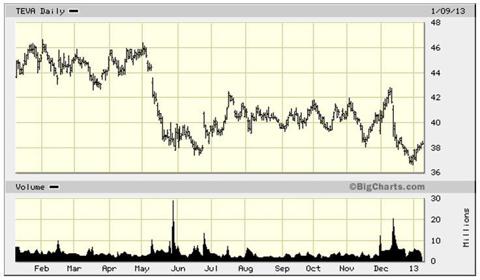 In my opinion, the biggest cloud overhanging Teva is the impending patent expiration of Copaxone, which may be responsible for half of Teva's profits. Since Teva's valuation is now at or below levels where other pharmaceutical companies (BMY, PFE, MRK) with similar patent issues bottomed, and now has a CEO who participated in the resurrection of one of those companies (NYSE:BMY), investors who buy the stock may now have a margin of safety that may limit further losses while providing the potential for a solid profit.
The blueprint for reviving the stock price of a pharmaceutical company with patent expirations and earnings deterioration looming has already been demonstrated at Bristol Myers, Pfizer and Merck. Each of those three companies employed a combination of cost cuts, portfolio transactions and/or capital structure (dividend policy, share repurchases, debt issuance, etc.) changes to get their stocks moving in the right direction again. Of course, just because a strategy worked somewhere else doesn't mean it will work for Teva, but it does mean that Teva's similar problems may be similarly manageable.
The fact that Jeremy Levin was not only an executive at Bristol Myers while that company was transformed (Levin bio), but also invented/implemented the "string of pearls" acquisition/partnership strategy that was central to BMY's turnaround, gives one reason to feel good about him being at the helm.
But an investor needs more than feel-good platitudes and faith in management for a basis on which to invest. So, let's look at some numbers-a pessimistic scenario and a modestly optimistic one.
Pessimistic Scenario
Let's assume that half of Teva's most recent EPS guidance (midpoint is $5.00) is attributable to Copaxone, which loses its patent in 2015, meaning the remainder of the company's products currently generate earnings of only $2.50. Numerous analyst reports and news stories have fretted about a worrisome decline in Copaxone revenues/profits due to competitive compounds and the impending patent expiration. While I haven't seen anyone suggest that Copaxone revenues/earnings will fall to zero, for purposes of ultra-conservatism let's assume Copaxone profits are, indeed, heading toward zero and focus entirely on the profits derived from remaining products.
Year Teva EPS w/o Copaxone
2013 $2.50
2014 $2.80
2015 $3.14
2016 $3.51
Even without any contribution from residual Copaxone revenues, no additional earnings from any deals struck by Levin and little or no profit lift from cost-cutting progress, Teva's remaining product portfolio should still grow at a single digit pace, with the announced share buyback pushing EPS growth into double digits. By 2016, with Copaxone no longer clouding the story, Teva shares ought to regain a P/E closer to that of slow-growing Merck and Pfizer (12x), and 11 x $3.51 would give Teva a share price of $38.61-basically unchanged from today. This does not, of course, mean that Teva can't or won't trade below today's price of ~$38 in the interim, but downside from here seems limited.
Modestly Optimistic Scenario
If Copaxone is still generating some revenue/profit, Levin is able to make some EPS-enhancing deals, the company makes progress with expense reductions, and buybacks reduce the share base by, say, 10-15%, Teva could earn significantly more than the $3.51/share earnings-without-copaxone in the table above. If each of these items (Copaxone residual business, deals, cost cuts and buybacks) were to contribute ~$0.40 to $0.60/share by 2016, Teva's EPS would be between $5 and $6-which, coincidentally is where most of the analyst community's EPS estimates for Teva are clustered between 2013-2016. As Copaxone's patent expiration moves into the rear-view mirror in 2016, the company's remaining earnings stream will likely be growing modestly again and ought to be worth a multiple more in-line with Merck, Pfizer and Bristol Myers (average of 13.5x), or $67.50 to $81.00/share.
Summary
Despite Copaxone's impending patent expiration, and the other "flies" on the Teva story, the analyst community isn't projecting an implosion in EPS. But even if the analysts are wrong and Copaxone's revenues/profits do completely disappear, Teva's valuation appears low enough to provide a reasonable margin of downside safety for current buyers. And, if the company's strategies (which will take years to implement) are modestly fruitful, Teva could reward patient investors with a double in three years.
Disclosure: I am long TEVA. I wrote this article myself, and it expresses my own opinions. I am not receiving compensation for it (other than from Seeking Alpha). I have no business relationship with any company whose stock is mentioned in this article.