SanDisk Corporation (SNDK), a global leader in the NAND flash memory market, designs, develops and manufactures data storage solutions in a range of form factors using its flash memory, controller and firmware technologies. On January 7, 2013, SanDisk had announced new solid state drive, SSD, products, a new distribution channel and a key notebook design win. SanDisk is strengthening its focus on SSD business and going all out in its commitment to deliver industry-leading SSD technology to customers.
Two New SSDs Launched
SanDisk announced the release of SanDisk Ultra Plus SSD for the retail channel and SanDisk X110 SSD for OEM customers. As reported,
"The SanDisk Ultra Plus SSD is ideal for consumers who want to boost their notebook or desktop computer's boot, shutdown, data-transfer and application launch times. The low latency of the SATA 3.0 drive allows it to respond quickly, even with a heavy workload, and its consistently high read speed is ideal for read-intensive applications such as multimedia consumption. The drive delivers up to 530MB/sec sequential read and up to 445MB/sec sequential write speeds1, offering a fast, responsive computing experience. In addition, with no moving parts, the SSD is more durable than traditional hard disk drives and it consumes less power to help maximize battery life."
The drive is now available for $74.99, $109.99 and $219.9 for 64GB, 128GB and 256GB at Amazon.com and Microcenter.com, as well as Newegg.com (for 128GB and 256GB).
According to the same report, the X110, successor to SanDisk's popular X100 SSD, delivers fast sequential and random read/write speeds and employs a low power architecture that significantly reduces the power consumed by the device in low power modes. The SanDisk x110 SSD enables OEM manufactures to design fast, responsive systems with the sleek, thin form factors and is available now in a 2.5" SATA form factor for easy integration.
Both new SSDs are using SNDK's industry-leading 19 nanometer technology, the world's smallest, most advanced manufacturing process node.
A New Distribution Channel
The new worldwide distribution, "SanDisk for Business," was announced on the same day. SanDisk for Business will offer OEM and enterprise-grade SSDs to value-added resellers, VARs, system integrators and direct market resellers, DMRs. The new distribution channel focuses on small and medium-sized business, which is a growing market segment for SSDs.
SanDisk SSD selected by ASUS
SanDisk U100 SSD is being used by ASUS in the ASUS Transformer Book, the world's first notebook with a detachable tablet. The U100 SSD is highly responsive, and it significantly improves the Transformer Book performance, allowing users to quickly boost and rapidly launch applications and its mSATA mini form factor enables the notebook's innovative, convertible form factor.
Analysts' Calls and Earnings Estimates
On Jan 2, 2013, SNDK had its "sector perform" rating restated by analysts at RBC Capital with a $50.00 price target. On Dec. 31, 2012, Sterne Agee reiterated a "buy" rating on SNDK with a $51.00 price target.
Analysts, on average, are estimating an EPS of $0.73 with revenue of $1.53B for the current quarter ending in December, 2012. Analysts are also predicting an EPS of $2.03 with revenue of $5.04B for fiscal 2012. For 2013, analysts are projecting an EPS of $3.51 with revenue of $6.03B, which is 19.70% higher than 2012, as seen from the table below.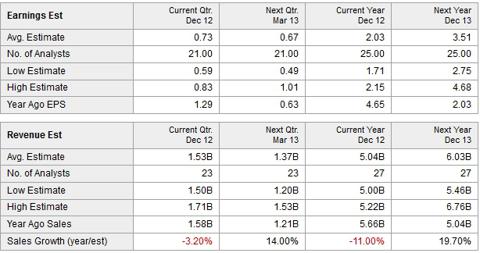 Source: Yahoo Finance
Key Stats and Valuation
SNDK has an enterprise value of $9.98B and a market cap of $10.91B. SNDK currently has a total cash of $2.60B and an operating cash flow of $423.78M with a levered free cash flow of -100.90M, ttm. By using the data obtained from Morningstar, SNDK's key stats can be compared to its competitors in the data storage industry, including Micron Technology, Inc. (NASDAQ:MU). SNDK has a higher revenue growth (3 year average) of 19.1, as compared to the industry average of 14.4. SNDK has lower operating margin of 15.5%, ttm, and net margin of 9.5%, ttm, comparing to the industry averages of 16.3% and 13.0%, ttm, respectively. SNDK has a lower ROE of 7.0, as compared to average of 19.2. SNDK has a lower debt-to-equity of 0.1, comparing to the average of 1.3.
SNDK currently has a P/E of 22.9, which is higher than the industry average of 11.9 and SNDK's 5 year average of 11.7. SNDK has a forward P/E of 12.8, which is lower than S&P 500's average of 14.2. SNDK has a PEG ratio of 1.4.
Technically Analysis
SNDK closed at $45.11 with 0.40% loss on Tuesday. SNDK had been trading in the range of $30.99-$53.08 in the past 52 weeks. SNDK has a beta of 1.80. The MACD (12, 26, 9) indicator had been showing a bullish sign since Nov. 28, 2012 and the MACD difference slightly diverged yesterday. The momentum indicator, RSI (14), is showing a strong momentum at 63.55. SNDK is currently trading above its 50-day MA of $42.18 and 200-day MA of $ 40.54. The next resistance is $45.96, the R1 pivot point, followed by $48.42, the R2 pivot point, as seen from the chart below.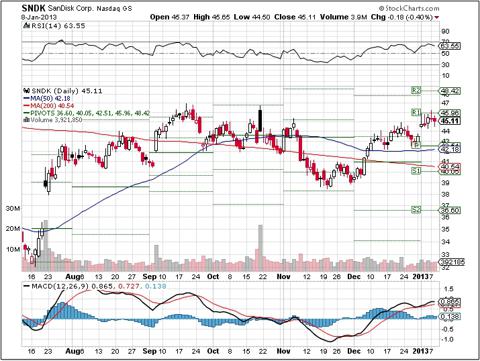 Source: StockCharts.com
Options Strategy
While SNDK has a strong technology position, SanDisk will be affected by the commodity-like and cyclical natures of the flash memory market. Although the current P/E is higher than the industry average, the forward P/E is undervalued compared to S&P 500. For bullish investors, a credit put options strategy is reviewed for investors to acquire the SNDK's stock at a better entry price while gaining some upside potential.
Short 1x April 20, 2013 put at the strike price of $40.00 for the credit of $1.65
Buy 1x April 20, 2013 put at the strike price of $38.00 for the cost of $1.10
The maximum profit is $0.55, and the maximum risk/margin requirement is $1.45 ($2.00 loss - $0.55 credit received). If SNDK closes above $40.00 on April 20, 2013, 37.93% return on margin will be gained. If SNDK falls below $40.00 upon options expiration, SNDK's stock will be acquired at $39.45, which is 12.55% lower than the current price of $45.11.
Note: All prices are quoted from the closing of January 8, 2013 and all calculations are before fees and expenses. Investors and traders are recommended to do their own due diligence and research before making any trading/investing decisions.
Disclosure: I have no positions in any stocks mentioned, and no plans to initiate any positions within the next 72 hours. I wrote this article myself, and it expresses my own opinions. I am not receiving compensation for it (other than from Seeking Alpha). I have no business relationship with any company whose stock is mentioned in this article.