Last Thursday, January 3, automakers revealed their annual sales figures in what turned out to be a great show. American auto sales look to finally be turning a corner, with Ford (NYSE:F), Chrysler and General Motors (NYSE:GM) posting the best December since the 2007-2008 recession. Ford has had a miraculous comeback in 2012, where the stock dropped to as low as $8.82, the 52-week low made in early August. Since then however, shares have rallied 54%, to $13.60, the highest price since July 2011. Have things finally shifted into Ford's favor? Let's look at the sales numbers and see.
Ford continued its dominant grip on the top-selling vehicle in America, the F-Series truck, with 645,316 vehicles leaving the lots in 2012. That's over 64,000 more than last year, an increase of 10%. The Ford F-Series has been the best-selling truck for 36 consecutive years and the top-selling U.S. vehicle for 31 consecutive years. Wow, that's an amazing streak! Overall, truck sales were up 2% for 2012.
The Ford C-Max, which can be read more about here, has had a great start for Ford, as it looks to take market share from other hybrid car makers. For years, the Toyota Prius and Toyota Camry have enjoyed the top-spot in hybrid sales. While this might not change instantly, Ford is certainly gaining ground, and fast. Over the first four months, over 13,000 C-Max models have been sold, the best start for any hybrid, ever.
Ford Focus sales are up over 40% year-over-year, and the hybrid model was recently named the best hybrid in its class. The Ford Escape broke its sales record (which was set last year) by selling over 260,000 vehicles, an increase of 3%. Add in the fact that Ford is seeing record month after record month of sales in China, and you'll soon realize why Ford has been trading so much higher over the past several months.
For more on Ford's China sales, click here.
So where does this leave Ford in 2013? Who cares how good sales were in 2012, when we have 2013 to look at, right? Let's start with the current condition of Ford. With a recent closing price of $13.35 on Monday, Ford appears to be a bit extended on both the 1-year and 3-year charts. Let's look at those before going any further. Below, the 1-year chart with the 20-day, 50-day and 200-day simple moving averages: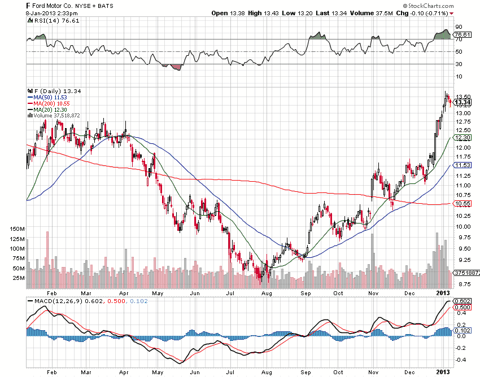 Source: Stockcharts.com
Now here's Ford's 3-year chart with the 50-day, 100-day and 200-day simple moving averages: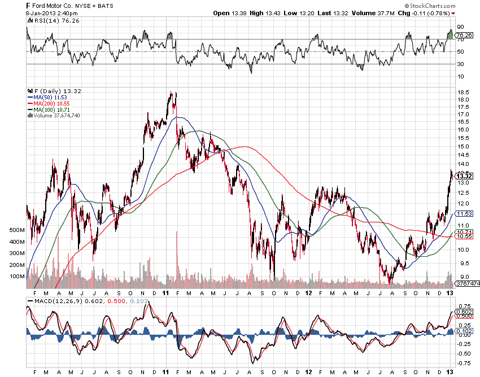 Source: Stockcharts.com
The RSI reading measures the overbought and oversold condition of stock prices. A reading over 70 would indicate a potential overbought condition, while a reading below 30 would indicate a potential oversold condition. Though it has come down in measurement, the RSI is still over 75 on both the 1-year and the 3-year chart. Even a simple chartist could agree that this stock needs to correct, regardless of what the RSI reads.
You'll also notice the volume is down a lot. For a solid 10-days or so, volume was much higher than the average 45 million share 3-month average that Ford had. I think a pullback to the $12.50 price area would be most appropriate, where it will likely find support from the 20-day sma. It is healthiest for the bulls if this happens, as an out of control stock price is never good -- just look at Apple (NASDAQ:AAPL).
I think Ford has definitely caught up to fair value, especially over the past few months where we've seen the stock price increase by over 33%. Still, while the gains are nice, pullbacks are necessary and Ford is no exception. Price obviously isn't the only thing that matters, but valuation too! Many investors use a simple equation called the P/E ratio to determine if a stock is expensive or cheap, based on earnings. Well, when you go to Ford's stock page on Seeking Alpha, or anywhere else for that matter, you'll likely see a P/E ratio reading of around 3.
"Only a 3?" Surely there's something wrong with that, right? Well, yes and no. Ford did some things with its taxes that allowed it to bring tax losses back as profit, thus showing a profit of $4.42/share for the trailing twelve months. A deeper breakdown of the current valuation can be found in this analysis.
For 2012, the P/E ratio is a 9.9, relatively low. We achieved this number by taking Ford's share price of $13.35 -- again, as of Monday's closing price -- and dividing it by the estimated EPS, or earnings per shares for 2012, which is $1.34. Official numbers will be announced January 22, when Ford reports its 4Q results. For 2013, Ford trades with a P/E ratio of 9.
Of course, these valuations could be discounting Ford quite a bit, depending on if it can increase profits at a higher rate than expected. There's one wild card however, and I think it has had an effect on Ford's share price for most of 2012: Europe.
European operations have been hemorrhaging money for Ford amidst the economic downturn. With such low demand, Ford has been overproducing and is left with too many vehicles. Things were bad when investors found out Ford expected to lose around $1 billion in 2012 in the European segment, but got even worse when they found out that figure actually increased 50%, up to $1.5 billion.
After each monthly sales figure came out, we knew Ford and other automakers were doing fine in the States, as domestic sales were great. But Europe was an anchor to the share price. No one wanted to take the risk. I have stated several times that I don't think anyone was particularly bearish on Ford, but they just weren't bullish.
Despite these European woes, Ford continued to do well, beating three straight earnings estimates for the first three quarters of 2012. Now the final quarter is approaching, and I suspect expectations will be high, on account of how well sales for 2012 have done and the recent movement of the stock price. A table of the previous three earnings beats:
| | | | | |
| --- | --- | --- | --- | --- |
| Earnings Period | Earnings (Estimates) | Revenue (Actual) | Earnings (Actual) | Earnings Beat (%) |
| 2012 Q1 | $.35 | $30.5 Billion | $.39 | +11.4% |
| 2012 Q2 | $.28 | $31.3 Billion | $.30 | +.7.1% |
| 2012 Q3 | $.30 | $30.2 Billion | $.40 | +33.33% |
Looking Ahead
Despite the relatively low valuations and the strong sales figures from the United States and China, I think it all hinges on one thing: European loss containment. Even though investors have become very bullish lately, all it takes is a headline from Ford announcing larger than expected losses in Europe and the whole thing could flip once again.
The key in all this came on November 1. Ford had an announcement regarding the position of the CEO. Many investors had expected an announcement for the potential successor, as the assumption was that Alan Mulally, the current CEO, would step down. However, to the surprise of many investors, Mulally announced he will remain the CEO until at least 2014. While this is encouraging, it means that Ford has no easy road ahead of itself, otherwise Mulally wouldn't still be here.
But who better to lead the company, seriously? The man was able to steer Ford clear of bankruptcy, even as other automakers had no other choice in 2008. Even though Ford traded all the way down to $1 -- talk about a regretful missed trade! -- Mulally still managed to turn things around, eventually reinstating the dividend, albeit, a small one.
For Europe, Mulally is trying to stop the bleeding. The announcement to shut down three plants will temporarily ease the pain. The move will help improve efficiency in Ford's European operations, while improving the balance sheet and pleasing investors.
Two of the three plants are in the U.K., with the other in the Belgium. The two U.K. plants should be shut down by mid-2013 and the Belgium plant will cease operations in 2014. The closure will lower production by over 350,000 units or 18%. This is good, as demand is too low and supply is too high. The rebalancing will improve margins and save Ford approximately $500 million.
Picture this: you have two main operations. One operation is doing very poorly, like the European division. So naturally, as sales and demand are down and you're losing money, you slow things down. You lower output, close plants, whatever needs to be done. But your other operation is doing great, like the U.S. division. Sales are the best they've been in a long time and demand can't be kept up with. What do you do there?
Yep, you guessed it: increase production! Ford has committed to investing over $6 billion in U.S. plants by 2015 and took a step toward that in late December. On December 27, 2012, Ford announced it would be spending $773 million on new equipment and capacity expansions for six different plants in Michigan.
The move will create over 2,300 new hourly jobs, while retaining over 3,200 hourly jobs. Though Ford is spending more money, this is still great news. Ford needs more cars, which means more people are looking to them for new vehicles. It doesn't take a genius to realize that increased demand means increased profits, something Ford shareholders have been very patient about over the last five years or so.
Conclusion
Ford wasn't so hot in the beginning of 2012, but I expect the opposite to be true for 2013. Ford wasn't on many investor's minds a few months ago, but it has piqued their interest lately, I'm sure. The sentiment is very bullish and it's understandable why.
I myself am quite bullish on Ford going forward and expect good things from the company in 2012. In a recent Bank of America analysis, it slapped Ford with a $20 price target. While this would be great, I am not that bullish. Perhaps Ford will trade that high, but I want to see a level that it can consistently sustain. I think somewhere in the $16 range would be appropriate, given the current sales and earnings figures.
Unless Ford really blows things away when it reports 4Q earnings, I don't expect to find the price in the $20 window. We've made a lot of money on Ford over the past few months, but let's not give any of it away now. I have sold covered calls against my position and expect it trade south of $13 over the next several weeks. Upon a pullback, I think it would be wise to add shares. I am long and bullish on Ford going into 2013.
Disclosure: I am long F. I wrote this article myself, and it expresses my own opinions. I am not receiving compensation for it (other than from Seeking Alpha). I have no business relationship with any company whose stock is mentioned in this article.