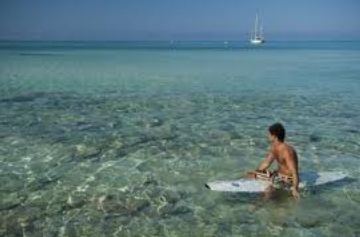 If I said markets stabilized, you'd think me a realtor describing current conditions. But we rallied slightly, taking back some of Tuesday's losses, but still mostly down on the week.
Alcoa's (NYSE:AA) earnings report did little for the stock's price, but the materials sector (NYSEARCA:XLB) rallied overall. Holding markets back were financials (NYSEARCA:XLF) and banks (NYSEARCA:KBE), (NYSE:BAC), as worries over forthcoming earnings results have made investors nervous. Technology (NYSEARCA:XLK) eked out some gains despite ongoing selling in heavyweight Apple (NASDAQ:AAPL) as sector rotation remains in play, while software (NYSEARCA:IGV) and Internet rallied (NYSEARCA:FDN).
The dollar (NYSEARCA:UUP) was slightly higher due mostly to a decline in the yen (NYSEARCA:FXY). Gold prices (NYSEARCA:GLD) weakened once again, as did oil (NYSEARCA:USO) and commodity prices (NYSEARCA:DBC). Along with commodity results, you might check out Darin Newsom's comments regarding the outlook for agricultural commodities. Bonds (NYSEARCA:TLT) were slightly weaker as stocks came back Wednesday.
Overseas markets (NYSEARCA:EFA) and (NYSEARCA:EEM), for example, moved along higher with U.S. sectors, as correlations remain high. There may still be some rotation back to U.S. markets from outperforming overseas markets now that the fiscal cliff has passed.
There was little economic news aside from energy inventories, which were somewhat bearish overall. More data will follow Thursday with Jobless Claims, but little else as the week evolves.
Volume was absurdly light, as investors are holding their fire for more earnings news. Breadth per the WSJ was positive.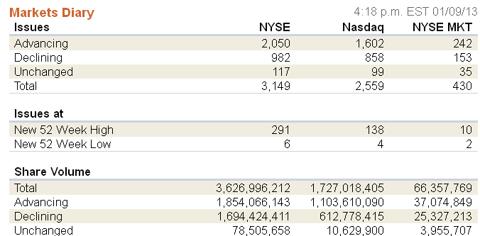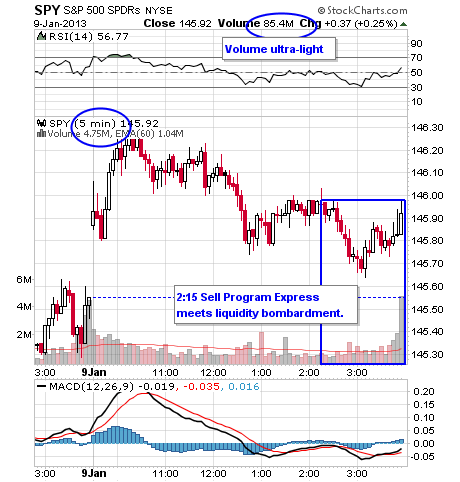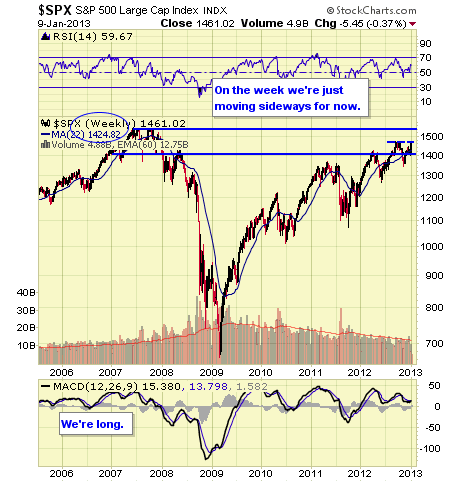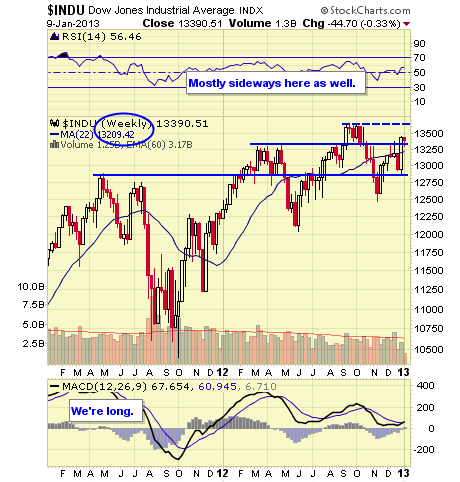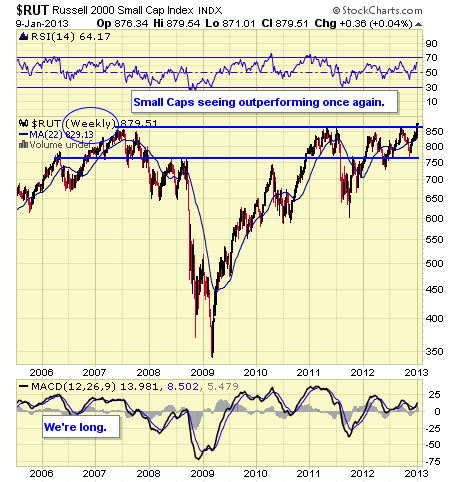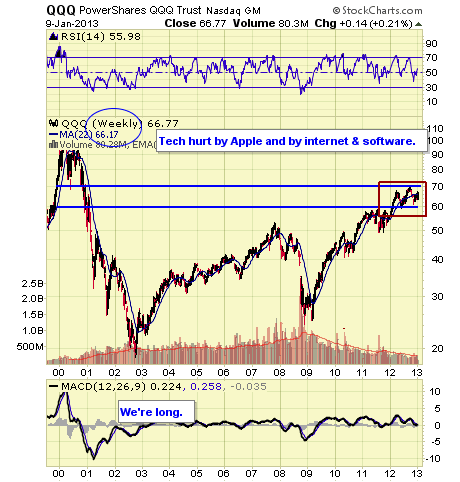 Continue to U.S. Sector, Stocks & Bond ETFs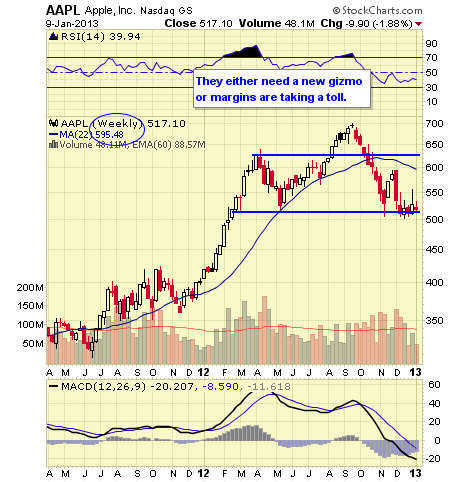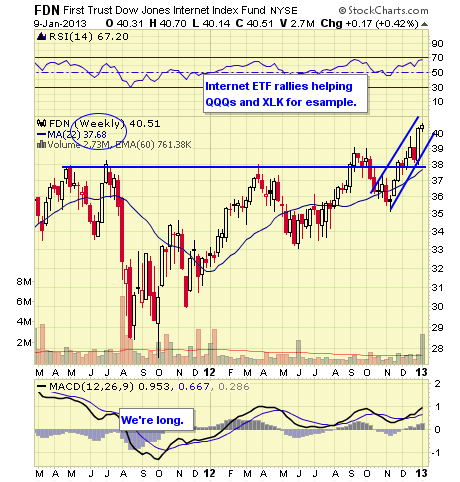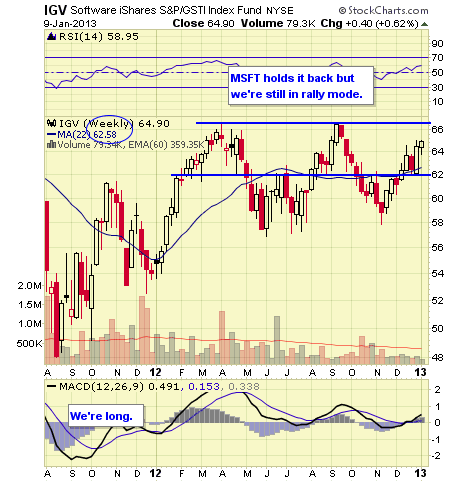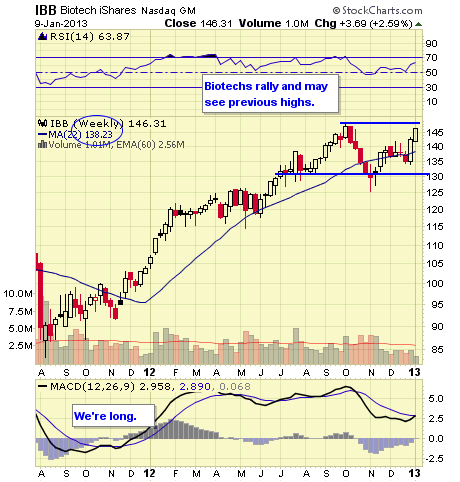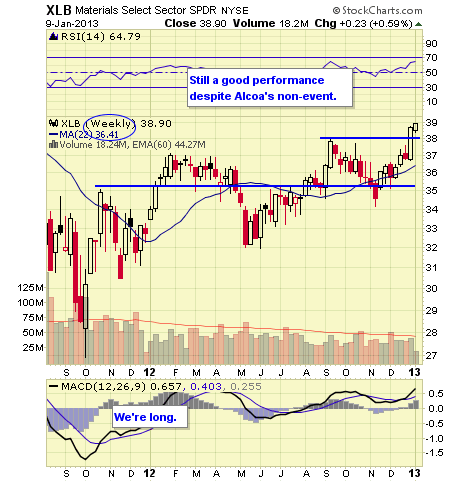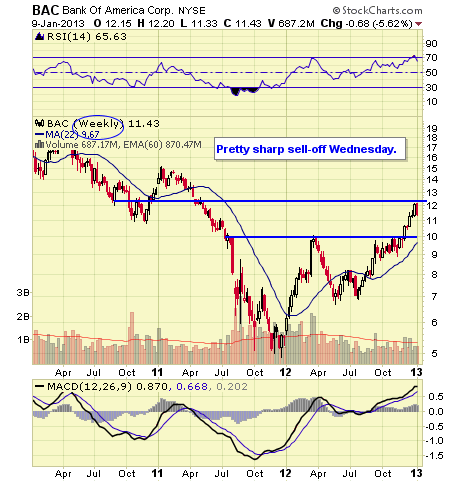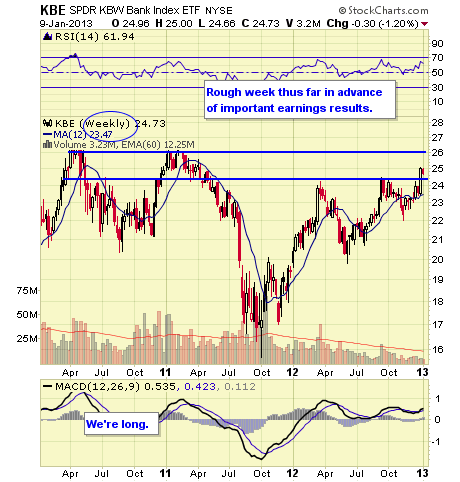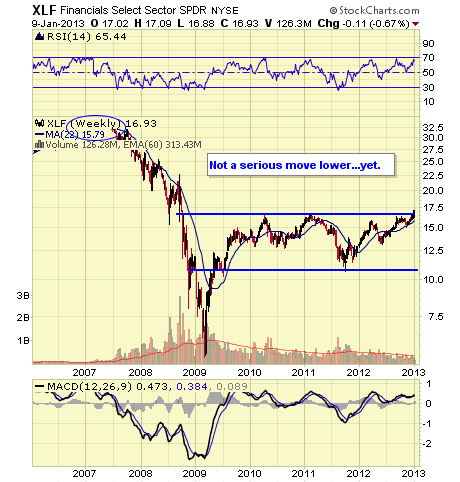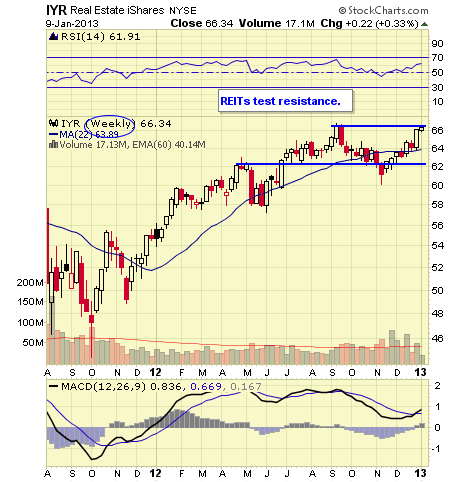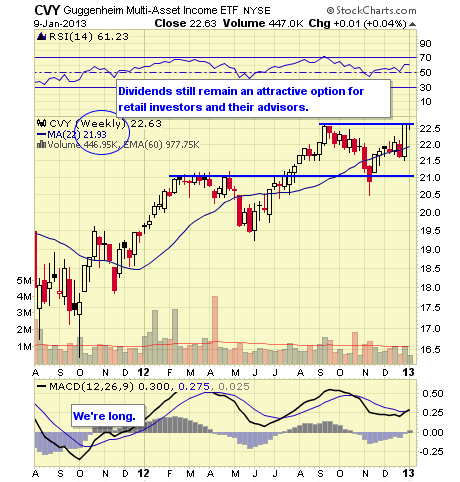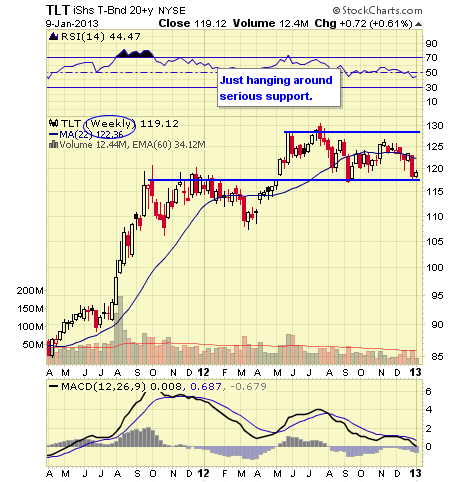 Continue to Currency & Commodity Market ETFs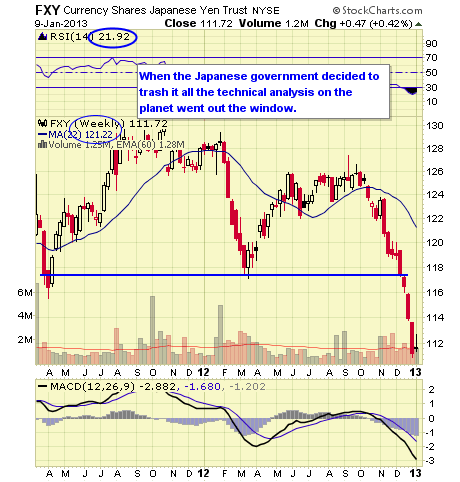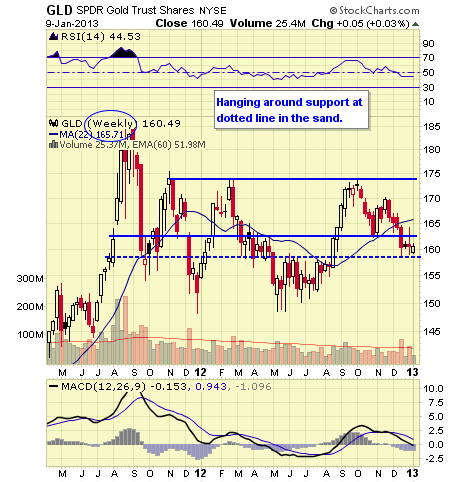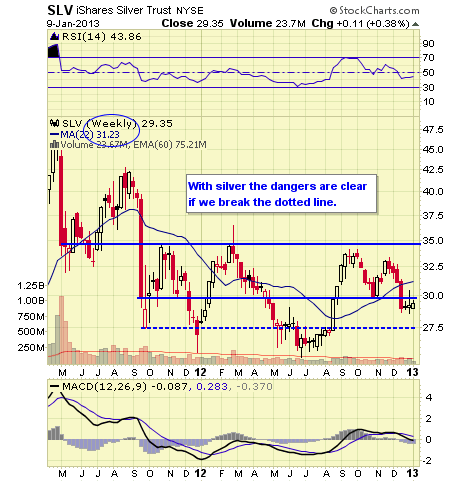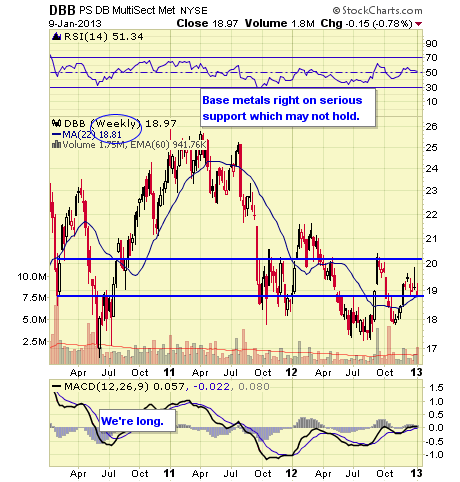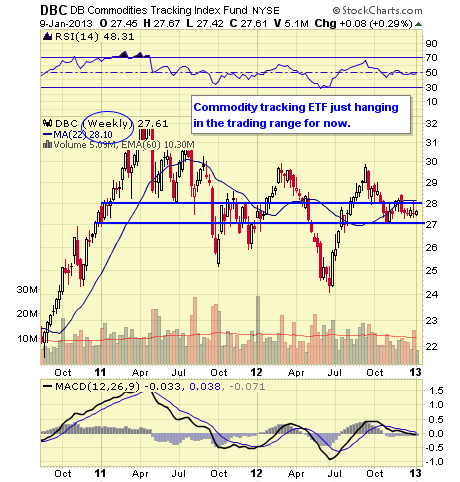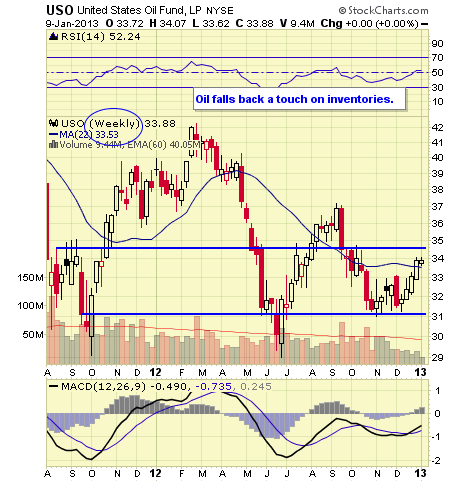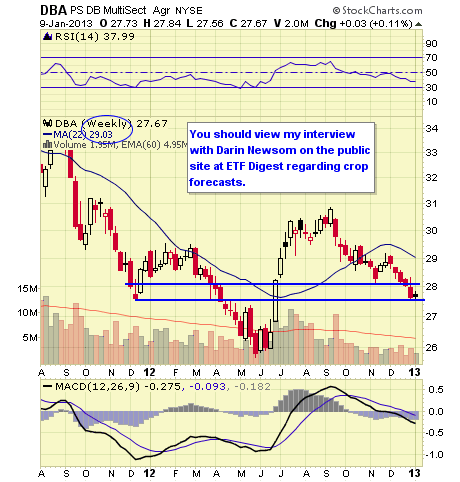 Continue to Overseas Sectors & ETFs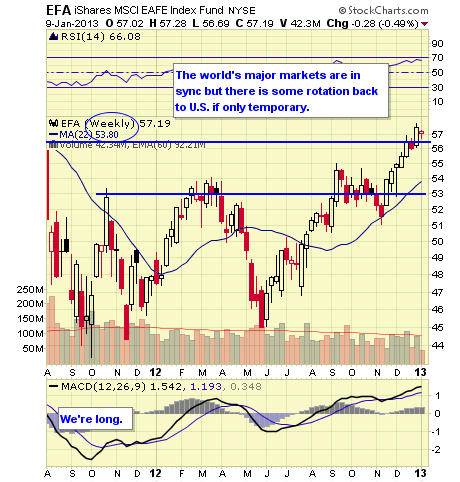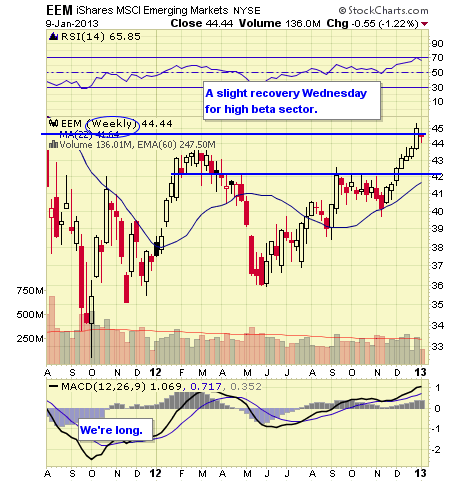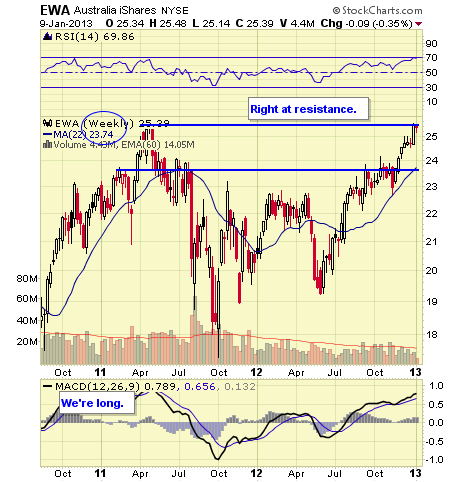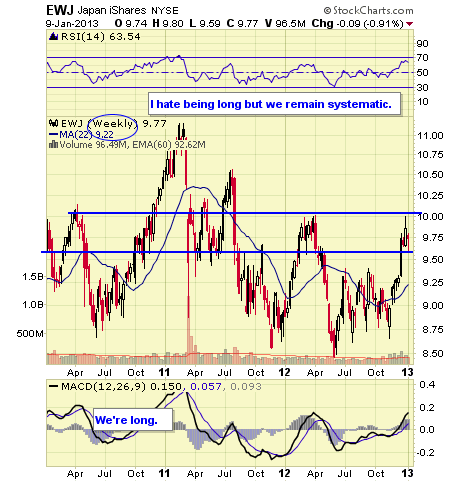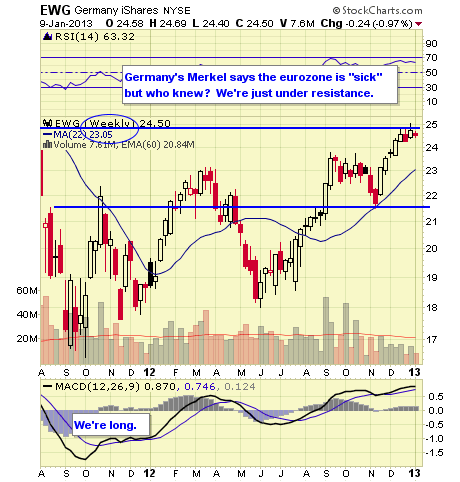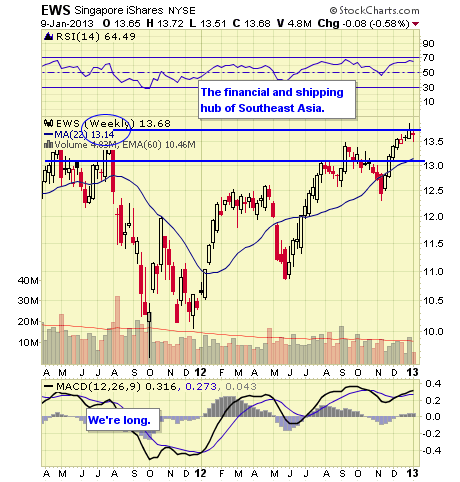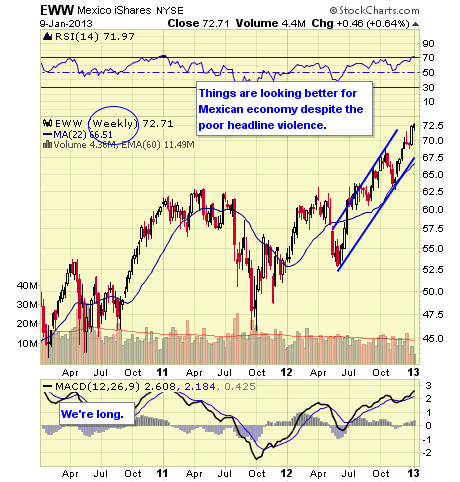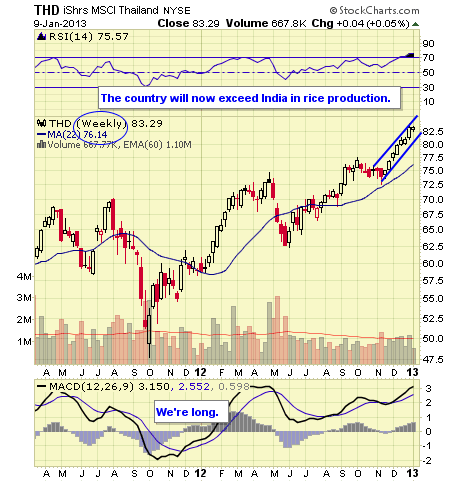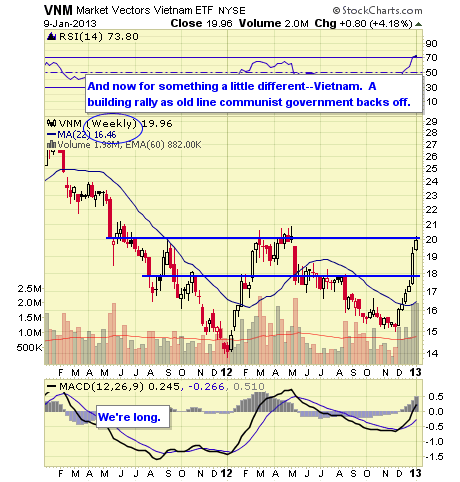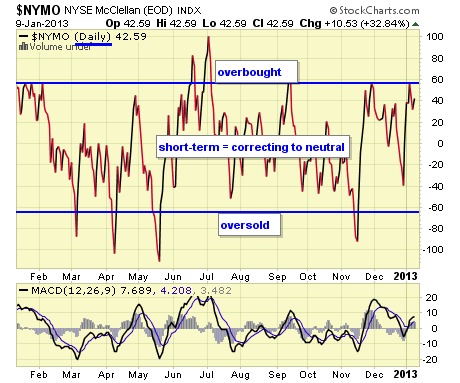 The NYMO is a market breadth indicator that is based on the difference between the number of advancing and declining issues on the NYSE. When readings are +60/-60, markets are extended short term.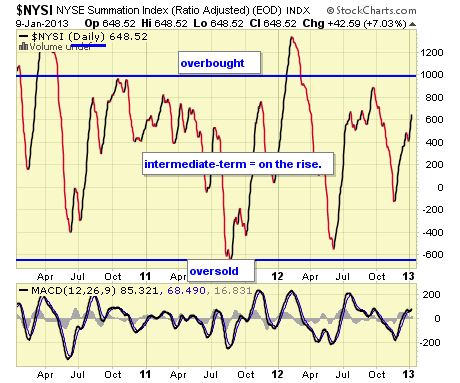 The McClellan Summation Index is a long-term version of the McClellan Oscillator. It is a market breadth indicator, and interpretation is similar to that of the McClellan Oscillator, except that it is more suited to major trends. I believe readings of +1000/-1000 reveal markets as much extended.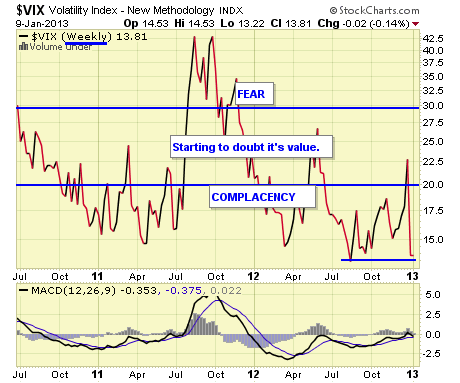 The VIX is a widely used measure of market risk, and is often referred to as the "investor fear gauge." Our own interpretation is highlighted in the chart above. The VIX measures the level of put option activity over a 30-day period. Greater buying of put options (protection) causes the index to rise.
Concluding Remarks
The only conclusions we can draw from current action is that we ran too far too fast on the upside, and investors are holding back, awaiting earnings from financial companies in particular.
Disclaimer: The ETF Digest maintains an active ETF trading portfolio and a wide selection of ETFs away from portfolios in an independent listing. Current "trading" positions in active portfolios, if any, are embedded within charts: Lazy & Hedged Lazy Portfolios maintain the follow positions: VT, MGV, BND, BSV, VGT, VWO, VNO, IAU, DJCI, DJP, VMBS, VIG, ILF, EWA, IEV, EWC, EWJ, EWG, & EWU.
The charts and comments are only the author's view of market activity and aren't recommendations to buy or sell any security. Market sectors and related ETFs are selected based on his opinion as to their importance in providing the viewer a comprehensive summary of market conditions for the featured period. Chart annotations aren't predictive of any future market action rather, they only demonstrate the author's opinion as to a range of possibilities going forward.
Disclosure: I have no positions in any stocks mentioned, and no plans to initiate any positions within the next 72 hours. I wrote this article myself, and it expresses my own opinions. I am not receiving compensation for it. I have no business relationship with any company whose stock is mentioned in this article.