The ECU elites continue to cite the successful recovery in Ireland as evidence their austerity plan is working. Yes, there is some good news. This week, for example, the Irish National Treasury Management Agency sold €2.5B of 2017 bonds. This is the first auction since the bailout program, which began in December of 2010. The bid to cover ratio was 2.8, and the yield was 3.36%, slightly lower than the rate Ireland is paying the troika.
More good news today as the Department of Finance announced they will sell up to €1.0B of a "contingent capital bond" they had bought from the Bank of Ireland only two years prior. Private international investors have expressed interest buying out this bond, and confirms the private sector's confidence in the future of the Bank of Ireland.
Part of Ireland's success comes from the abundance of rain, green grass, and cattle anxious to consume the grass. This combination has made Ireland the biggest exporter of beef in the Northern Hemisphere. Seafood and dairy products are also big export products.
According to Bloomberg Businessweek:
"Irish exports to countries outside the euro region amount to 65 percent of gross domestic product, compared with 23 percent on average for the euro area, according to the Irish Business and Employers Confederation. The Irish Exporters Association just raised its forecast for exports in 2012 to 6 percent growth, from less than 3 percent, saying revenue from outside Ireland will reach a record €183 billion this year.

It will be tougher next year. On Nov. 14, Ireland's Finance Ministry said the weaker global economy would hurt exports in 2013."
Exports are the bright side to the Irish economy, but how much of this would not have occurred without the austerity plan? Glossed over are some of the dark side features.
The Irish real estate market, already down 50%, can erode another 20%, according to some estimates:
"In a published report, Moody's said that in Spain, Ireland, Portugal and Italy, arrears and defaults will continue to rise, especially in the first two countries, while housing prices continue to fall... Moody's argues that the losses in Spain and Ireland would rise "significantly" if banks begin issuing mortgages and selling property, instead of continuing refinancing and changing loan terms."
But the banks carry on, trying to extract blood from a turnip. It is estimated that over 11% of Irish real estate loans are 90 days or more in arrears. In some cases, the property owner owes more than the property is worth to a bankrupt bank. How is this one resolved?
Unemployment in Ireland is as much of a problem here as it is on the Continent. Yesterday, it was reported the EU unemployment set a new record at 11.8%, but the 15 to 24 youth unemployment was 24.4%. In Ireland, the respective rates are 14.6 and 29.6%.
Like so many Irish generations past, the current young adults, after their education, are looking overseas for employment. The favored destinations are now Australia and New Zealand.
Tales of an Irish recovery are a joke, and any politician telling the Irish how good they have it had best have protection plans and a quick exit plan. For the population, their income is stagnant, and the taxes and fees continue to go up.
But what about those countries with even higher youth unemployment -- Italy 27%, Spain 56.5% and Greece 57.6%? How long are these people going to remain docile, accepting the austerity as dictated by the troika, to preserve a single currency that has failed them?
Tomorrow, we get the ECB Interest Rate Statement, which will be followed by a presser with Draghi. Expectations are for the rate to remain unchanged at .75%. With the sorry plight of so many, a stronger euro would do harm. Tourists to the South of Europe would diminish, and exports from Ireland would be more difficult. Draghi must surely understand this, but will he move to lower the rates or increase the euro supply?
My preference in the EURUSD (FXE, UUP) is the sideline. Should the euro mount a rally above the 1.3250 area, I will consider being a seller.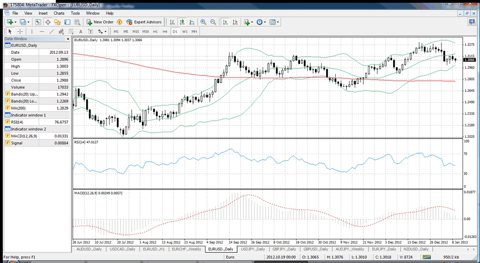 Click to enlarge
Disclosure: I have no positions in any stocks mentioned, and no plans to initiate any positions within the next 72 hours. I wrote this article myself, and it expresses my own opinions. I am not receiving compensation for it. I have no business relationship with any company whose stock is mentioned in this article.