Calumet Specialty Products Partners, LP (NASDAQ:CLMT) provide income investors a robust 7.8% dividend yield. The shares are currently on sale due to a recently priced secondary. I'll highlight the business model and rationale to purchase Calumet shares for increasing quarterly dividends.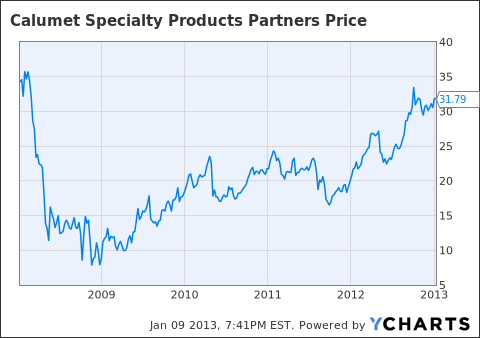 Strong Growth in Quarterly Distributions
In November 2012, Calumet made a cash distribution of 62 cents per unit for its third quarter ($2.48 annualized). The company has increased dividends 24% since the third quarter of 2011, and 34.8% since third quarter of 2010. With units trading at $31.78 as of January 09, 2013, Calumet offers a distribution yield of 7.8%.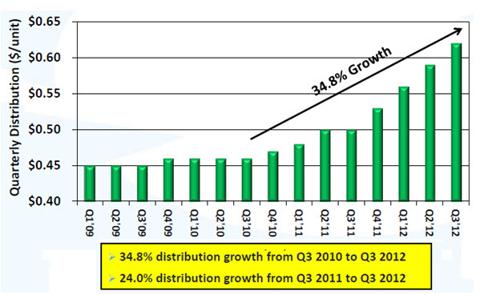 Click to enlarge
Calumet Specialty Background
Calumet Specialty Products Partners, LP, is a Master Limited Partnership (MLP) that produces, markets, and sells refined petroleum products. Its refineries receive crude oil and other petroleum feedstock (raw material) which they break down into more useful refined products such as specialty lubricant oils, gasoline, and jet fuel.
The company owns multiple processing, storage and terminal plants in several oil producing states in the U.S. The partnership is based in Indianapolis and primarily owns and operates its assets in the U.S. It is managed by its general partner, Calumet GP, LLC.
The company was founded in 1990 and held its IPO in 2006. Its founders own 100% of the General Partner and 31.5% of the MLP. Since its IPO, the company has grown significantly through organic investments and acquisitions.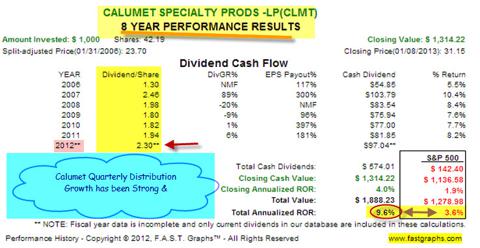 Click to enlarge
Key Investment Highlights
Calumet has a diversified range of over 1,500 specialty products, with flexibility to pass on raw material costs increases to customers through higher prices and thereby protect itself from crude oil price increases.
Its specialty products typically go through lengthy approval cycles but generate higher margins with consistent, stable revenues from long-term relationships across a diversified customer base. Calumet has an experienced management team that's been in place for over a decade, has significant insider ownership and a solid track record of conservatively growing revenues, growing cash distributions and managing profitability through various commodity price volatility environments.
Strategically, the company plans to grow through the acquisition of niche assets with proven cash flow, enhance cash flow through organic growth, increased geographic reach and vertical integration, and increase total refining capacity. Calumet is strongly focused on generating cash for quarterly distributions, improving its balance sheet and servicing interest on outstanding debt.
Two Primary Operating Divisions
The company reports results across two segments: Specialty Products and Fuel Products.
Its Specialty Products division focuses on asphalt, lubricating oils, solvents, synthetic lubricants, waxes and other petroleum byproducts, for use in the production of automotive, consumer and industrial goods.
The map below shows the company's various production, terminal and blending/packaging facilities.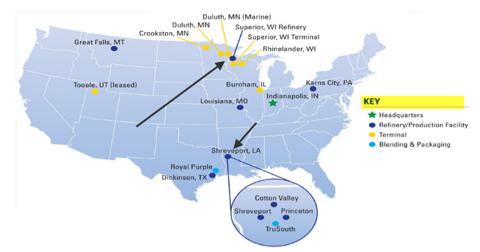 Click to enlarge
Its Fuel Products division produces and markets diesel, gasoline, jet fuel and heavy fuel oils.
The graph above shows how, in 2004, Calumet diversified its focus from specialty products to fuel, and how production volumes and mix have grown over the past few years, with production ramping up 18% annualized.
As the chart below shows, Calumet isn't the highest yield provider but is on the higher side.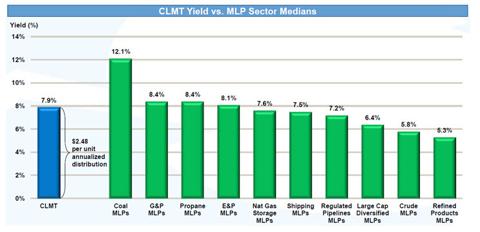 Click to enlarge
In the quarter, the company distributed $35.9 million to unitholders, up from $20.1 million in the year-ago quarter. The company's general partner was allocated $1.6 million as incentive distribution rights, up from $40,000 in the year-ago quarter.
Shares
As of January 9, 2013, shares traded at $31.78 with a price-to-earnings ratio of 9.6x on trailing-twelve-months earnings of $3.29 and a market capitalization of $1.83 billion (2.8 times book value). Shares largely trade in line with the broader market and are influenced by crude oil trends and energy supply and demand factors that also impact broad market sentiment. Year-to-date, shares are up 56% and have outperformed the S&P 500 by about 40%.
Recent News
In July 2012, Calumet acquired Royal Purple, Inc., an independent producer of consumer and industrial lubricants for the oil and gas, food and drugs, chemicals and refining, power generation, transportation and manufacturing sectors. The acquisition cost $332.6 million, net of cash acquired, and was financed using debt and cash on hand. It is expected to strengthen the company's position in the specialty lubricants markets, diversify its asset base and increase distribution channels and geographic reach.
In September 2012, Calumet announced plans to build a 1,000 barrels per day gas-to-liquids (GTL) addendum to its plant at Karns City, PA. This new plant will convert natural gas into the ultra-high quality feedstock for less than the price of crude, and improve refined products' quality.
In October 2012, Calumet completed its acquisition of Montana Refining Company, Inc., for $185 million. Montana Refining can process 10,000 barrels per day and sources its crude oil primarily from Canada. It produces gasoline, diesel, jet fuel and asphalt which it markets within Montana and in the neighboring states of Washington, Idaho and Alberta, Canada.
Financial Update
Calumet had quarterly sales of $1.8 billion, up 52% from the year-ago quarter. Cost of sales stood at a fairly high 87% of revenue and the company had a gross profit of $158.4 million, up 64%, with a 13% gross margin.
Selling, general and administrative expenses almost doubled but were approximately 2% of revenue, as were transportation expenses. The company reported operating income of $98.9 million, up 75%. Net income grew 116% to $42.4 million with a net margin of 4%. Net income to limited partner units was $39.7 million, up 107%, and equivalent to 69¢ per unit from 46¢ per unit in the year-ago quarter.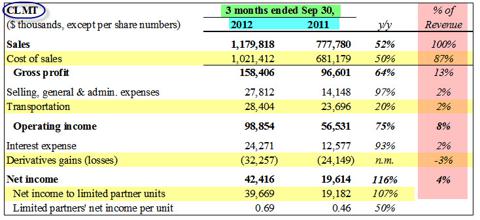 Click to enlarge
At quarter end, the company had 57.8 million units outstanding, up from 41.8 million a year ago.
By segment, the company sold $587.1 million of specialty products and $592.7 million of fuel products, for total sales of $1.2 billion. Sales were up significantly in both segments relative to the third quarter of 2011, when sales totaled $777.8 million. Depreciation and amortization expenses were significantly higher in the quarter, as were interest expenses and losses on derivatives. However, substantially higher sales led to higher net income in the most recent quarter.
Capital expenses in the quarter were $14.3 million, up about 40% from $10 million in the year-ago quarter. Most of the company's sales were within the U.S. International sales accounted for less than 10% of the total.
In the quarter, the specialty products division was affected by an ongoing shutdown of an Exxon Mobil crude supply pipeline to its Shreveport refinery, by lower specialty products prices, and by generally high crude oil prices. As a result, this division's gross margin fell to 15.4% from 18.4% in the year-ago quarter.
In the quarter, the company benefited from higher fuel products' prices that resulted in higher crack spreads. [Crack spreads refer to the price difference between crude oil and its refined petroleum products. Crude oil typically has long chain hydrocarbons that are broken down or cracked to refined products with shorter hydrocarbon chains - products such as specialty oils, gasoline and diesel that sell for significantly more than crude, and this price differential is called the crack spread.]
The company also sold 76.4% more fuel products by volume than in the year-ago quarter, primarily due to production contributions from its Superior Refinery that did not contribute to Q3 2011 revenues.
The table below shows sales by product for the quarter ended September 30, 2012. Gains in packaged and synthetic specialty products and asphalt drove increases in specialty products revenue. Significant increases in gasoline, diesel and heavy fuel oil sales resulted in a sizable jump in fuel products sales.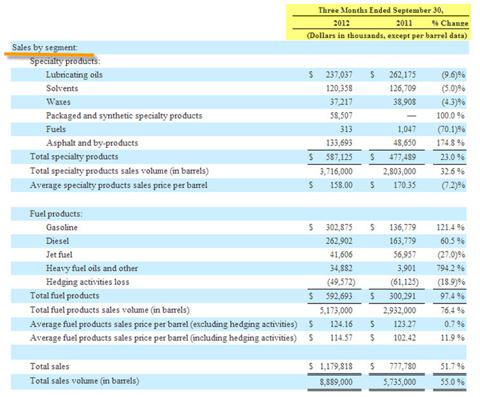 Click to enlarge
The company's profitability is impacted by the prices of crude oil, natural gas and specialty and fuel products, and by supply of feedstock and demand for refined products.
While the company had net income of $42.4 million in the quarter, its distributable cash was $92.5 million. Distributable cash is determined by the company's earnings before interest, taxes, depreciation and amortization (EBITDA), further adjusted for hedging gains and losses, non-cash equity-based compensation and cash payments tied to interest, tax and replacement capital expenses.
Distributable cash was up 84% from $50.5 million a year ago. See table below.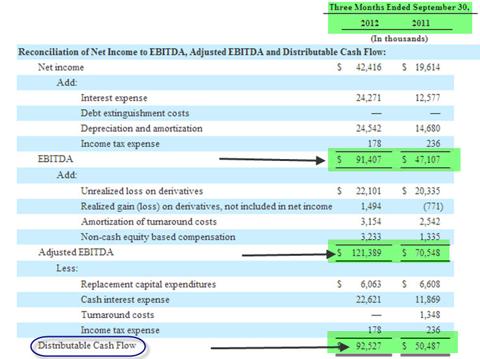 Click to enlarge
At quarter end, the company had $190.6 million in cash and cash equivalents, $494.1 million in inventory and $863.4 million in net property and equipment assets. Total assets were $2.2 billion, up 29% primarily due to an increase in cash and accounts receivable. Long-term debt was $862.5 million, up 47% relative to the beginning of the year. Most of the company's long-term debt consists of notes issued at fixed interest rates, with maturities in 2019 and 2020. In the year, partners' capital declined 15% to $622.2 million.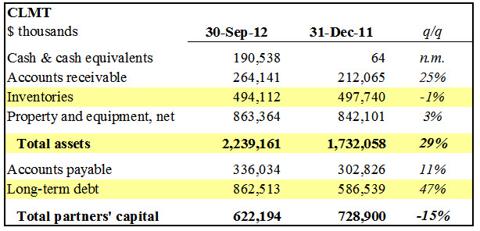 Click to enlarge
Operating activities provided $289.4 million over the first nine months of 2012, with increases primarily driven by higher net income and an increase in accounts payable and accrued interest. Cash used in investing activities was lower due to the Superior Refinery acquisition in September 2011 at a higher price than acquisitions closed in 2012. Cash from financing activities was lower due to a smaller public offering of units and due to the repayment of borrowings under the company's revolving credit facility.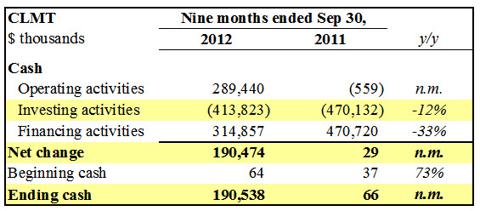 Click to enlarge
As such, the company has sufficient liquidity from its revolving credit facility, cash flow from operations and long-term debt.
The company selectively uses derivatives to manage crude oil, natural gas and interest rate volatility. Hedging positions are recognized at fair value for accounting purposes. As of September 30, 2012, the company had derivative liabilities of $95.8 million. And in the quarter, the company recognized a net gain of $5.3 million on its derivative positions.
Summary
Calumet is a sector leader with one of the broadest portfolios of refined products and a strong list of marquee customers. Calumet is fundamentally an excellent company with sound management and a solid distribution yield. Investors who already own Calumet can consider using covered calls and long puts to hedge potential downside. Investors that have not bought the stock could use put options to lower their cost basis or wait for further drops in share price. I believe the quarterly distributions will continue to increase for income investors.
Disclosure: I am long CLMT. I wrote this article myself, and it expresses my own opinions. I am not receiving compensation for it (other than from Seeking Alpha). I have no business relationship with any company whose stock is mentioned in this article.