The Verge reported that Nokia (NYSE:NOK) is all set to launch its next flagship smartphone made with an aluminum body. By using the same material that is used to build the iPhone 5 body, Nokia will be able to manufacture Lumia 920's successor in a thinner and sleeker build. Below, I will show how global trends favoring Nokia over other mobile phone makers will make the new smartphone a success and help Nokia increase its margins by the end of 2013.
Nokia Lumia 920's Successor, 'Catwalk'
Lumia 920's successor, codenamed Catwalk, is lighter and slimmer thanks to an aluminum body. A tech reporter predicted that the successor will have similar specifications to Lumia 920 and run on Microsoft's (NASDAQ:MSFT) Windows Phone 8. Nokia will depart from its traditional polycarbonate body and use aluminum for its construction. The aluminum bodied Nokia Catwalk will win over those who found Lumia 920's body 'too plastic'. The new smartphone will enable Nokia to compete with Apple's (NASDAQ:AAPL) iPhone, which has a comparable size and weight. The Catwalk will be noticeably thinner and lighter than Lumia 920, which measures 130.3 mm and weighs 185 grams. The iPhone 5 on the other stands 123.8 mm tall and weighs only 112 grams, which makes it noticeably sleeker and thinner. Lumia 920, which had a polycarbonate body, could not compete with the iPhone 5 aesthetically. Nokia's thinner and lighter Catwalk will be a fresh breath of air, as Lumia 920, though admired, has often been criticized as bulky and large.
Global Trends Are Favorable for Nokia
I predict that the Catwalk will be very popular in India and China. Both countries prefer Nokia over Apple in terms of user preference. Viral Oza, the director of marketing for Nokia India, said that people who used simple phones in India are migrating to Nokia Asha for a better experience. Nokia is often seen as a low cost alternative. Nokia's flagship model Catwalk will thus attract Indians to purchase it over iPhone. Indian mobile market is close to a billion, the exact number in March 2012 being 919 million subscribers. Catwalk will generally appeal to more affluent Indians who are willing to spend a premium on a company that they are familiar with.
In China, Nokia struck a deal with China Mobile (NYSE:CHL), which is that country's top service provider, with more than 700 million subscribers. The moment the deal was announced, Apple's stock fell by 6%. Moreover, 29% of global smartphone shipping went to China in 2012, up from just 14% in 2011. The U.S. share fell to 15% from 23%. Again, these numbers tell us that Nokia has huge market potential in India and China.
Catwalk Specifications
Nokia has not revealed specifics about how much the Catwalk will cost or how much it will cost Nokia to manufacture. The Lumia 920 is made from a polycarbonate body, and since the Catwalk will be manufactured with an aluminum body, the successor will retain the premium price tags. The Verge reported that the Catwalk will retain similar specifications as Lumia 920. The company has not revealed if Catwalk will be cheaper than Lumia 920 or where it will be manufactured or assembled. However, Nokia fans did not like the polycarbonate body, and tech analysts predict that they will like the aluminum body more.
Windows Phone 8 Will Help Nokia Gain Ground
Most people were initially skeptical about Windows Phone 8 devices as it was assumed that Microsoft's mobile platform lacked applications. However, with more than 150,000 applications and counting, Windows Phone 8 is the third largest mobile device platform for developers after Apple's iOS and Google's (NASDAQ:GOOG) Android. Both Google Play and Apple's iOS App Store have about 700,000 applications.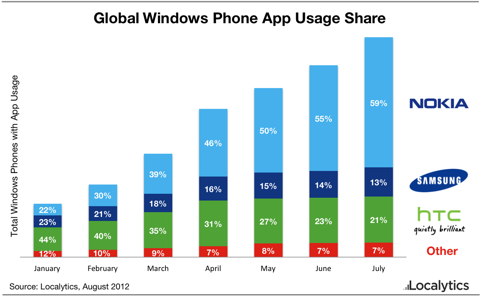 Click to enlarge
Localytics is a research firm that provides app metrics for Windows Phone, iOS, Android, Blackberry, HTML5 and Windows 8 apps. The firm tracks over 350 million devices. Localytics analyzed app usage on handsets running the Windows Phone platform in the United States and globally between January 1st, 2012, and July 31st, 2012.
Windows Phone handsets, according to apps running Localytics, grew by 312% in the first half of 2012. Nokia has firmly cemented itself as the world's biggest Windows Phone manufacturer.
Nokia CEO Stephen Elop has been particularly proactive in stopping the decline by honestly admitting that the company must change if it wants to stay in business. He was crucial in the company's decision to abandon its Symbian software and opt for Microsoft's Windows Phone 8. At the end of the day, Nokia's devices are creating a niche for themselves as sturdy devices that are cost-effective, but run on Windows Phone 8, giving access to almost all the important applications that one could use on iOS or Google's Android.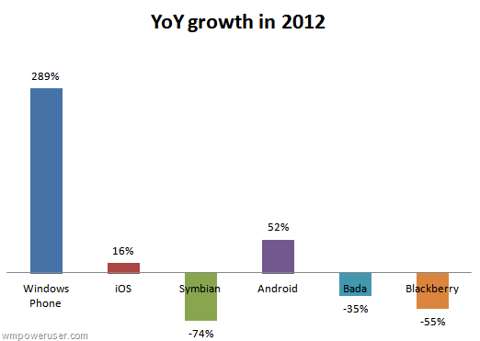 Click to enlarge
According to a report from WMPU, the Windows Phone is the "fastest growing" operating system, with growth jumping an impressive 290% last year. As Microsoft unifies and integrates its ecosystem, Nokia prepares to release a new set of innovative devices.
While the Lumia 920 is doing especially well in its core markets such as China and India, it also fared well in Europe and the United States, where it was the top seller on Amazon (NASDAQ:AMZN) and also the top model sold by AT&T (NYSE:T). Nokia will also join hands with Verizon (NYSE:VZ) to compete with Apple and Samsung (OTC:SSNLF), which it successfully has done so. It is also remarkable that Nokia has gained almost 130% after dropping to a low of $1 per share in July. It currently trades at $4 and has a price to sales ratio of 0.37 and a dividend yield of 6%, which is tempting, as Leo Sun rightly puts it.
Tough Competition
Most are concerned about Research In Motion's (RIMM) new devices that will run on BB10. Analysts believe RIM can make a dramatic comeback if it manages to convince users that it still has some mojo that can give other device makers a run for their money.
Apple has faced quite a lot of problems because of its Maps application, and Nokia's strength lies in its excellent maps software. However, Nokia needs to depend on Microsoft's Windows Phone 8 for software while Apple has its own iOS and 700,000 applications in its marketplace. Google's Android will continue to be the most popular operating system throughout 2013 because of the sheer number of manufacturers that use it. Samsung, LG, HTC, Sony (NYSE:SNE) and many other device manufacturers run their devices on Android. Moreover, Google Maps are immensely popular.
Conclusion
It is too early to predict if Nokia Catwalk is going to be as successful as Lumia 920. However, thanks to global trends that favor Nokia, and its aluminum body, it will be able to compete with high end models such as Apple's iPhone and Samsung Galaxy S II. Moreover, with a growing number of applications for Windows Phone 8, Nokia's devices are becoming increasingly popular. Though it is not known how much it will cost to manufacture Nokia Catwalk, I predict that it will be a huge success all over the world, thanks to its sleek and slim build. Nokia's margins will increase.
Disclosure: I have no positions in any stocks mentioned, and no plans to initiate any positions within the next 72 hours. I wrote this article myself, and it expresses my own opinions. I am not receiving compensation for it (other than from Seeking Alpha). I have no business relationship with any company whose stock is mentioned in this article.