Billy Joel is one of my favorite musicians. I have many of his best sellers in my iPhone and I have one song that I occasionally sing to my daughters at bed time. I'm no singer but I can relate to Joel since his successful music career was directly related to his struggles early in life. His inspirational success was fueled by his work ethic and his passion for helping his single mother make ends meet by playing at a local piano bar. (My single mother sold real estate to help my brother and I go to college).
Joel quit high school without a diploma in order to begin a career in music (he did get a degree 25 years later). He once said
I told them, 'To hell with it. If I'm not going to Columbia University, I'm going to Columbia Records and you don't need a high school diploma over there.
In other words, Joel was self taught and his passion for his trade is the primary reason that he has become a legend in his own right.
Like Joel, I find it interesting that many gifted and talented investors are also driven by severe economic hardship. These "hard knocks" in life are often rooted by failures that later blossom to create drive, determination, and ultimately success. For example, the legendary investor and author Ben Graham had a tremendous advantage in selecting stocks as his early life experiences led him to practice "extreme conservatism" - what later became the principle known as the margin of safety. Graham once said,
The years of poverty since Father's death had touched me only lightly. They had developed in my character a serious concern for money, a willingness to work hard for small sums, and an extreme conservatism in all my spending habits.
Don't go changing, to try and please me
As mentioned, there is a favorite Billy Joel tune that I sing to my kids and the first stanza to Just the Way You Are goes like this:
Don't go changing, to try and please me
You never let me down before
Don't imagine you're too familiar
And I don't see you anymore
We all like consistency and nobody likes change. However, in REIT-dom there is a marriage in the making…two models of repeatability soon to become one…
Now most REIT investors know Realty Income Corporation (NYSE:O), the Monthly Dividend Company®, and American Realty Capital Trust, Inc. (NASDAQ:ARCT) press release earlier this week that they had signed an amendment to a previously announced definitive merger agreement between the two companies.
As you recall, Realty Income announced the proposed merger on September 6, 2012, and the following day I wrote an article (Attention Dividend Shoppers: O What A Great Bargain For This Triple-Net REIT) explaining the beneficial marriage:
Realty Income has one of the most impressive dividend producing machines around. The company has significantly low cost capital, and it is clear that Tom Lewis (CEO) and his talented team are executing a very well thought out and masterfully structured transaction.

The American Realty Capital Trust transaction is a milestone for Realty Income in that it will likely be included into the S&P 500 and the high-quality income will spark further growth and become a dominating player in the highly fragmented net lease sector.
Since the announcement of the dynamite deal, some of the shareholders from the ARCT camp have cried "foul" over the timing and pricing of the proposed sale. Their claim is based upon the argument that ARCT is worth more than its lock-up price of $11.90 per share (or $2.95 billion) and some investors believe that the high-quality ARCT portfolio (75% investment grade) is worth more than the contractual price with Realty Income.
Now remember, I really like ARCT as I recommended the REIT when I wrote the "breaking news" for non-listed REIT conversion on February 28, 2012 (article here).
ARCT will soon add value to the public REIT sector and the listing of the exceptionally risk-aligned portfolio will bring a deliberately well-executed value proposition to the current investors and the proposed new investors. The public listing will provide shareholder liquidity while also providing current shareholders with options to redeploy capital. The secondary offering is priced for 6.6 million shares targeted at $11 to $12 per share and an anticipated market capitalization of around $2.7 billion. Utilizing a mid-point range, the ARCT dividend yield is projected to be around 6% (paid monthly) - making this a competitively risk-aligned "sleep well at night" REIT.
I would not leave you in time of trouble
The second stanza to the Joel classic reads:
I would not leave you in times of trouble
We never could have come this far
I took the good times, I'll take the bad times
I'll take you just the way you are
As I wrote in a previous article O This Is Not A Bubble Gum Machine: This Is A Dividend Machine:
In my unbiased opinion, the ARCT deal is fair and I do not think that either party is leaving chips on the table. The values are aligned and I would not walk away from a profit.
Clearly I support the merger, and it appears that the announcement by Realty Income and ARCT (earlier this week) is a strong indicator that the deal will get done. As per the press release:
Realty Income will now pay ARCT stockholders a one-time cash payment of $0.35 per share in addition to the existing fixed exchange ratio of 0.2874 Realty Income shares for each share of ARCT common stock that they own. The additional cash consideration of $0.35 per share totals approximately $55.5 million in additional proceeds for the ARCT stockholders, of which approximately $52.5 million is being funded by Realty Income and $3.0 million by AR Capital LLC, including William M. Kahane, Chief Executive Officer, President and Director of ARCT, and Nicholas S. Schorsch, Chairman of the board of directors of ARCT.
Effectively this means that the previously agreed to purchase price will increase and the overall cap rate for the transaction will be reduced from around 5.9% to around 5.7% (my calculation). Furthermore, the new deal announced includes (from press release):
An increase in the annualized dividend to Realty Income stockholders by approximately $0.35 per share, to an annualized rate of $2.17 per share beginning with the February 2013 distribution. This represents a $0.22 increase to the original dividend increase of $0.13 per share that Realty Income estimated when the transaction was initially announced. In addition, based on Realty Income's strong revenue and Adjusted Funds from Operations outlook for 2013, Realty Income announced that its board of directors intends to raise the annualized dividend by $0.10 per share in February 2013 even if the ARCT transaction does not close. The $0.35 per share estimated annualized dividend increase, expected after the close of the merger with ARCT, includes this $0.10 per share increase.
Now remember that the trouble that some ARCT shareholders have with the Realty Income deal is the dividend. ARCT currently pays a dividend of 5.77% and now Realty Income has agreed to increase the dividend to over 5%. To put that into perspective, ARCT investors go from 515 assets and 4 quarters paying dividends (as a publicly-listed company) to Realty Income with around 3,353 assets and 60 quarters of paying dividends as a public company.
As Tom A. Lewis, Chief Executive Officer of Realty Income press release,
We strongly believe in the merits of this transaction, which will advance our strategic objectives of increasing our revenue generated by investment grade tenants and further diversifying our portfolio. The amended agreement announced today represents our best and final offer. By upsizing the increase of the annualized dividend to be paid, assuming the closing of the ARCT acquisition, we believe we have materially addressed the difference in dividend rates and that the interests of ARCT stockholders, as well as Realty Income's existing stockholders, will be well served.
Don't go trying some new fashion
Joel said it best, I like you the way you are… and in the case of Realty Income that means consistency, reliability, durability, and dependability. In all simple terms, just the monthly dividend company. As Joel sings:
Don't go trying some new fashion
Don't change the color of your hair
You always have my unspoken passion
Although I might not seem to care
Today we follow that ARCT shareholders may be closer to the marriage as the Institutional Shareholder Services (also called ISS), a leading independent proxy voting and corporate governance advisory firm, has reversed its prior recommendation in light of the amended merger agreement between ARCT and Realty Income (that was disclosed on January 7, 2013). ISS is now recommending that ARCT stockholders vote FOR the proposed merger between the companies. The revised recommendation by ISS today is as follows:
Given the revised terms now present a much more compelling offer, ISS believes the revised terms warrant support, and recommends shareholders vote FOR the merger proposal as revised.
Furthermore, the ISS states (in the follows):
As the significant increase in expected dividends per O share, which fundamental analysis suggests should bolster O share prices, will likely have the effect of strengthening the merger's primary currency, moreover, ARCT shareholders can reasonably expect that the full market value of the consideration they receive will continue to improve as the market recognizes this increase in the value provided by O shares.
I need to know that you will always be
So with Realty Income announcing it was amending its offer to acquire ARCT by offering an increased additional one-time payment (of $0.35/share) and increasing the annual dividend to $2.17/share, what are the risks?
From a pricing perspective, the deal is unchanged: Based upon the conversion ratio and Realty Income's closing price when the deal was announced, the effective takeout was $12.21/share. Since that time, the new takeout price based on the conversion ratio and Realty's portion ($0.33) of the additional $0.35/share cash payment is now $12.21.
From a dividend perspective, the FFO payout ratio will go to 89% (keep in mind that it was to be 86% regardless of the merger deal). Remembering that Realty announced it would increase its dividend to $2.17/share upon closing of the transaction (upped from the previously announced proposed dividend of $1.95/share). Also, remember that upon closing the transaction, Realty Income's overall percentage of investment grade tenant concentration goes from 19% to around 36%.
Remember income investors, the mission statement for Realty Income is plain and simple: we are a monthly income company. This well branded value pitch has a clear message, It's not the "monthly growth company" or the "monthly total return company." It's plain and simple: "The Monthly Dividend Company." As Joel sang:
I need to know that you will always be
The same old someone that I knew
What will it take till you believe in me
The way that I believe in you.
I said I love you and that's forever
According to the ISS:
A Special Meeting of ARCT stockholders to consider and vote on the proposal to approve the merger and the other transactions contemplated by the merger agreement has been scheduled for January 16, 2013 at 9:00 AM ET, at The Core Club located at 66 East 55th Street, New York, New York, 10022.
What could you not love about "The Monthly Dividend Company"? In six days, ARCT shareholders can cast a vote. I suspect that the deal will get done and ARCT shareholders will have made an intelligent choice - summed up by the soft rock legend, Billy Joel:
I said I love you and that's forever
And this I promise from the heart
I couldn't love you any better
I love you just the way you are.
Regardless of the outcome of the vote, a vote cast for Realty Income is a vote forever. The battleship is virtually unsinkable. I'm not suggesting that there is no risk. We all know, everything has risk (including the cash under your mattress). However, with the increased dividend of $.22 per share (assuming the merger closes), the new dividend yield will bump to around 5.2% (based on today's close at $42.22).
Finally, keep in mind that Realty Income will continue to derive a high degree of capital appreciation because of the exceptional risk control performance, especially the asset and disposition decisions - namely timing of the transactions like the ARCT deal that should close soon. There is no doubt that Realty Income is a keeper and, with the most recent news of a dividend hike, I couldn't love you any better. I love you just the way you are.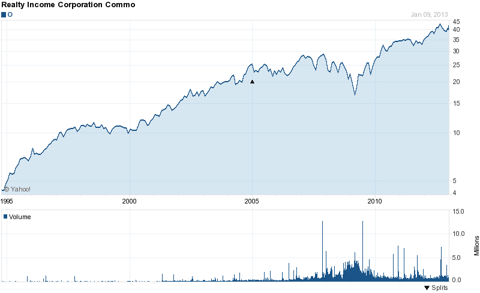 Disclosure: I have no positions in any stocks mentioned, and no plans to initiate any positions within the next 72 hours. I wrote this article myself, and it expresses my own opinions. I am not receiving compensation for it (other than from Seeking Alpha). I have no business relationship with any company whose stock is mentioned in this article.