Microsoft (NASDAQ:MSFT) is quite possibly the world's best business, as reflected by the company's global ubiquity, virtually unassailable market position in operating systems, strong management, and ability to generate enormous profits while employing no capital in the business. While Microsoft is cheap based on 10x estimated FY09 headline EPS, the undervaluation becomes even more apparent if one considers the fact that the company's balance sheet remains highly deleveraged and that valuable businesses, such as MSN and Xbox, are not yet contributing to headline EPS. We value Microsoft at $41-54 per share, based on the sum-of-the-parts valuation analysis summarized on the next page. Our estimate ascribes no value to the company's recently announced $40 billion stock repurchase plan, which should be highly accretive to EPS.
BUSINESS OVERVIEW
Microsoft, founded in 1975, is the world's largest software firm. It operates in five segments: Client (Windows OS), Server and Tools (Windows & SQL Server), Online Services (MSN), Microsoft Business (Office, Project, Visio, Exchange, Live Meeting), and Entertainment and Devices (Xbox, Zune, Windows Mobile, Windows Embedded).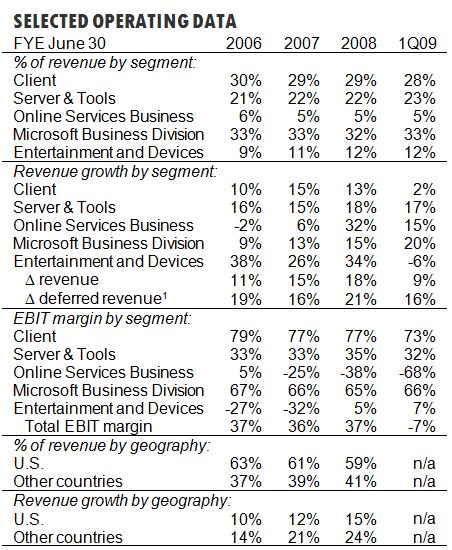 1 Represents y-y change in period-end deferred (unearned) revenue. Deferred revenue was $13.5 billion at 1Q09-end, equal to one-fifth of annual revenue.
INVESTMENT HIGHLIGHTS
Parlayed ownership of PC operating systems into leadership in enterprise software, Internet services, and gaming. The company now generates almost as much EBIT from business software as it does from Windows OS. While MSN online services and Xbox are not yet contributing to profitability, they have the potential to become major profit drivers.

Sales, EBIT, EPS up 18%, 21%, 32% in FY08. Performance drivers included Windows Vista, Office 2007, server software, and Xbox 360.

Authorized $40 billion repurchase in September; has returned $115 billion to shareholders through buybacks and dividends in the last five years.

FY09 (June) guidance for double-digit growth: Revenue of $65-66 billion (up 7-10% y-y), EBIT of $24-26 billion (up 8-13%), and EPS of $2-2.10 (up 7-12%). Revenue growth by segment is expected to be 2-6% in Client, 15-17% in Server & Tools, 10-13% in Online Services, 12-13% in the Business Division, and -3%-flat in Entertainment.

Cheaper than EBIT-to-EV yield suggests. As MSN and Xbox are still roughly breaking even, their value is not reflected in the EBIT-to-EV yield metric. As a result, investors should value MSN and Xbox based on metrics other than trailing earnings.

Stock price implies 9% trailing FCF yield, 11x trailing P/E and 10x forward P/E.
INVESTMENT RISKS & CONCERNS
Competitive threats from Google, open source software, SaaS, etc. Microsoft is aggressively trying to win business away from Google and appears to be the front runner on a competitive deal to supply search and advertising on Verizon mobile phones.

Lower-than-expected demand for Vista, Office or Xbox 360 could significantly slow top-line growth.

Pursuit of Yahoo may reflect limited high-ROC reinvestment opportunities and concerns regarding Google. Microsoft does not plan to rebid for Yahoo.

WHAT ARE THE SHARES WORTH?
We value Microsoft at $41-54 per share, based on the sum-of-the-parts valuation analysis summarized below. Upside to our value estimate could come from share repurchases and better-than-expected performance of the Xbox and MSN.com businesses.

Deserves premium valuation due to defensible moat and stability of earnings and free cash flow.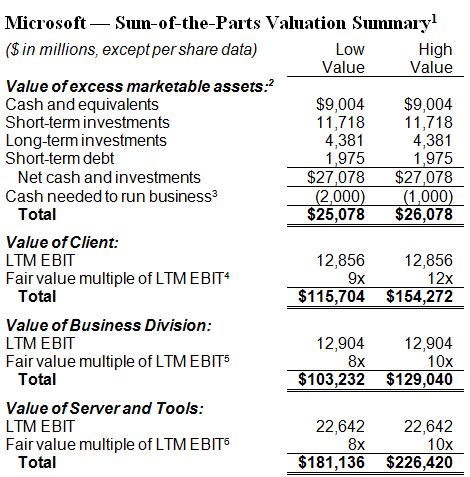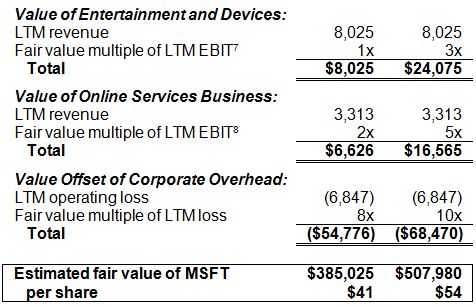 1 Does not include incremental value of $40 billion buyback plan.
2 Based on balance sheet values as of September 30, 2008.
3 Represents MOI estimate.
4 Multiples reflect near-monopoly status and 14% FY08 EBIT growth.
5 Multiples reflect very strong margin profile and 15% FY08 EBIT growth.
6 Multiples reflect strong margin profile and 26% FY08 EBIT growth.
7 Multiples reflect strong Xbox market position and 34% FY08 revenue growth.
8 Multiples reflect large online opportunity and 32% FY08 revenue growth.
Source: Company filings, The Manual of Ideas estimates and analysis.
WHY THE SHARES MAY BE MISPRICED
Viewed as unexciting by many tech investors, despite 18% revenue growth in FY08.

Headline earnings ignore value of Xbox and MSN businesses, making a sum-of-the-parts valuation analysis necessary to judge fair value.
POTENTIAL EPS ACCRETION FROM SHARE REPURCHASES
We estimate EPS accretion of $0.11-$0.13 over the next twelve months (NTM), assuming $40 billion spent on incremental share repurchases and an average price paid of $26-30 per share.

Microsoft treasurer George Zinn: "…strong credit quality coupled with investors' current appetite for high quality paper provides a unique opportunity for the company to establish its first-ever commercial paper program and enhance its capital structure." (September 22, 2008)

The following analysis shows EPS accretion sensitivity to various assumptions of repurchase amount and purchase price per share.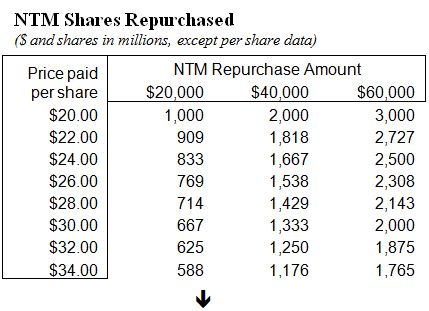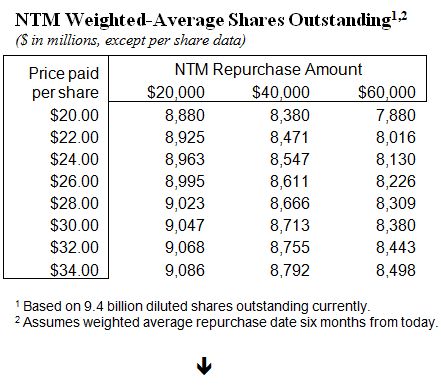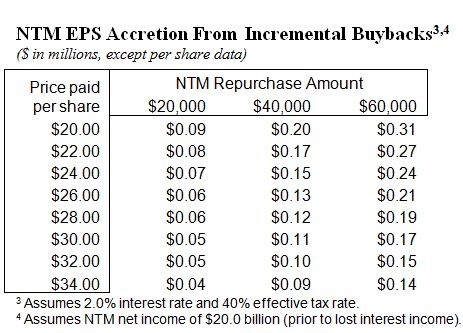 Disclaimer: Copyright 2008 by BeyondProxy LLC. BeyondProxy and its affiliates may have positions in and may make purchases or sales of the securities discussed in this report. It is the policy of all Related Persons to allow a full trading day to elapse after the publication of this report before purchases or sales of any securities discussed herein are made. No Related Person held a position in MSFT as of the date of publication of this report. Use of this report and its content is governed by the Terms of Use described in detail here.