Dear Seeking Alpha readers,
After the success of our iPhone app, we are proud to announce our new Android app.
Seeking Alpha's portfolio app delivers our opinion and analysis articles and unique, short-form breaking news and commentary ("Market Currents") to Android phones. The app is centered on portfolios or watchlists, and offers customizable push notifications, lightning-fast load times, and a clean user interface.
Here's a short video introducing the app:
We publish more than 6,000 articles and 90,000 comments per month. And we have the #1 short-form news product for investors. So rather than developing another "me too" Android app, we asked our developers to design a super-clean, super-fast stock market app that delivers timely news and commentary to mobile users.
The Seeking Alpha Android app is fully customized around users' portfolios and watchlists. The app's simple, intuitive interface lets our content speak for itself, and brings readers real-time data, news and analysis on the stocks they follow.
Here are some of the features of the portfolio app:
Simple portfolio/watchlist setup - use your existing SA portfolio, or create a new one
Multiple watchlists - create different portfolios for different clients. Or follow news and commentary on your stocks by theme or industry
Lightning-fast stock quotes and navigation - time is money. Our app does not keep you waiting
News on your stocks that's fast and easy to read - Market Currents pack an astonishing amount of information and insight into a tiny form-factor
Exclusive analysis on your stocks by trusted authors - now there's no need to read Seeking Alpha only at your desk
Customizable push notifications - receive push alerts on your stocks as frequently or as infrequently as you like
Key market data and top news stories - find out what's moving today's markets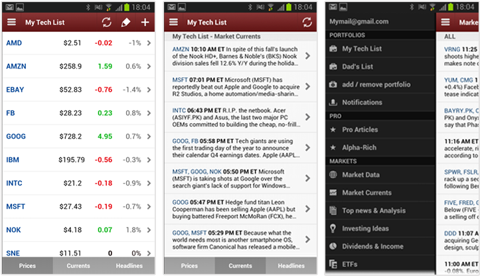 Our portfolio app is free to use and available now on the Google Play App Store.
The Seeking Alpha team