Stocks To Trade:
Today, we are looking at an earnings trade in Express Scripts (NASDAQ:ESRX), longs in Dupont (NYSE:DD) and Starbucks (NASDAQ:SBUX), and shorts in Yahoo! (NASDAQ:YHOO) and AutoZone (NYSE:AZO).
For an earnings trade, we are looking at Express Scripts today. The company is expecting a big quarter to finish out FY12, but the outlook for FY13 looks weaker. The company is expected to report over 125% revenue growth along with 25% earnings growth, but its last report went poorly as the company gave weak guidance. The company commented that it expected a significant pullback in 2013 as the company loses UnitedHealth (NYSE:UNH) as a customer along with its expectation of companies to pull back on hiring. ESRX believes that estimates for 2013 are too aggressive. The news sent shares soaring down after Q3, but they have built up since.
We like the stock moving into the earnings report, and we believe that 2013 weakness is priced into the stock. The future PE for the company right now is sitting at just 13, which is a very solid level to buy at-- especially for a growth stock. Growth in FY13 is expected to be about 13% for earnings. The UNH removal is priced into the guidance, and we like the stock if it can break a key resistance line at 55.50 and could really get going if it can get back over its 200-day MA. Earnings are a month away, and we believe that ESRX has the potential to make a nice move with such solid growth expected for the quarter. Another positive is that ESRX's CEO said the Medco integration is going very well right now. The company acquired Medco back in April to become the largest pharmaceutical benefits provider. That acquisition is providing a lot of the growth, and while inorganic, it does create a value opportunity.
Trade: ESRX, Long
Buy Point: 55.50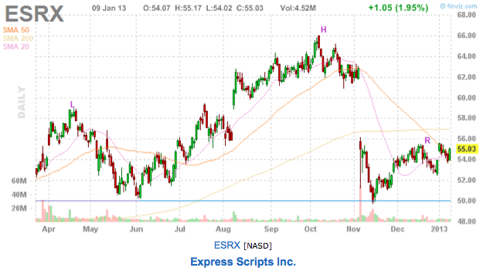 For longs, we like the looks of Dupont and Starbucks. Both are Buy-rated right now in our EquityAnalytics department, and SBUX was one of our Top 9 investment ideas for 2013. DD has a $58 price target for 2013. The stock broke above $46 yesterday, and we like the looks of Dupont moving forward. First off, the company is undervalued right now. PE at 15 and future PE at 12, both showing very nice value to complement its 3.75% yield as well as what could be a very nice growth rate in 2013. The company is expected to see 14% growth in earnings in 2013, which is a very solid rate. The rebound is due to growth in the company's businesses other than performance chemicals, and it is also planning a $1B share buyback plan, which will help increase equity value as well.
The stock had strong resistance at $46 since October, but it's breaking above those levels right now. We like adding the company on this breakout as it looks headed to $48, the 200-day MA and then $50, where it has strong resistance as well. Look for some nice cyclical rebound in DD this year as shares are priced very cheaply right now.
The other stock that we like right now is Starbucks. SBUX was one of our top investments for 2013 as we have a price target at $72 for the year. SBUX has definitely regained its dominance in 2012 as a high-margin coffee producer, and we foresee another big year in 2013. One snag for the company appears to be the Verismo instant brewer. The company has received some negative reviews of the product and recently dropped prices drastically. However, we still see a lot of upside for the company, as the company will benefit from the high margins from the individual packet sales of coffee for the machine. 2013 will be the year for SBUX to ramp up its stores in China and should start to see stronger returns in the country. The company currently has 700 stores in China, but it wants to double that number 2015.
SBUX should see around 200-250 new stores come online in 2013. We believe that the company's growth in China will be a strong source of growth in revenue and earnings for the company. The China-Asia-Pacific region for SBUX saw 28% growth in net revenue in the latest quarter, with same-store sales rising 10% year/year. We have not come to any concrete conclusion on the Teavana acquisition. We do believe the company's earlier acquisition of Evolution Fresh will be a strong growth idea as the company ventures into the Jamba Juice realm, and the company obviously wants to increase its tea exposure with the purchase of Teavana. We believe the company is setting up for another strong year and should see some of its 2012 plans and developments come to fruition in 2013. We like an April options play for a long-term investment. $48 is a great support level for SBUX.
Equity Trade: DD, Long
Breakout Point: $46
Options Trade: SBUX, Apr20, 48/46 Bull Put Spread
Max Gain: 15%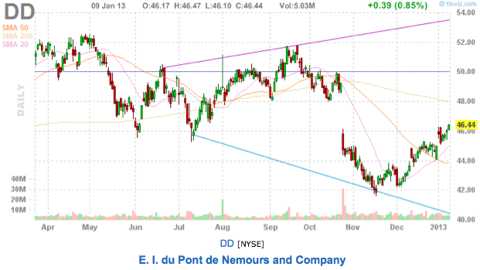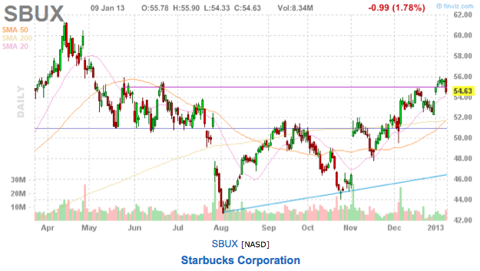 For shorts, we like the looks of Yahoo and AutoZone. We continue to have a Sell rating on YHOO with a $15 price target, and the stock looks like it could be ready for a breakdown. We continue to see YHOO's business as overvalued, and think 2013 could be a correcting year for the company.
Here is the situation we are looking at in Yahoo. The company has been hanging its hat on Alibaba for the past couple years, and with the recent sale of 40% stake in the company, it has only a 23% stake left. While Alibaba has a lot of growth potential, the company needs growth in its own business to show any more upside. We do not see that happening. Expectations are for the company to see flat growth in earnings and limited growth in revenue. The company has seen drops in search engine market share for the past sixteen months and is down to only 12% now. The company was at 15% at the beginning of 2011, and even new leadership has not turned it around. Additionally, YHOO just left South Korea at the end of the year. Where is growth going to come from for Yahoo? Until we see some new development to generate some interest, we believe YHOO is vastly behind Google (NASDAQ:GOOG). Further, Facebook (NASDAQ:FB) wants to move into the search market as well.
AutoZone is looking weak as well right now. AZO has looked quite weak since earnings on December 4. The company has been breaking down since and looks good for a bear call spread. The company's growth in FY14 looks limited after a strong couple years. The issue for AZO is that the company has benefited from a lack of new car sales due to limited upside in the economy. New car sales, though, have been better, meaning less people are keeping older cars and needing to repair them. The company's last report showed slowing sales growth, and the upside for the stock looks limited. Morgan Stanley recently downgraded the stock to Underweight due to lack of EPS growth catalysts and exposure to tax payroll expiration. Those issues are keeping shares in check. We see the 370-390 area as strong resistance for the stock moving forward with limited upside. The 200-day and 50-day MA are both key resistance lines sitting in that area. The 370/380 bear call spread for Feb16 expiration is worth 11-12% currently.
Equity Trade: YHOO, Short
Breakout Point: 19.00
Option Trade: AZO, Feb16, 370/380 Bear Call Spread
Max Gain: 12%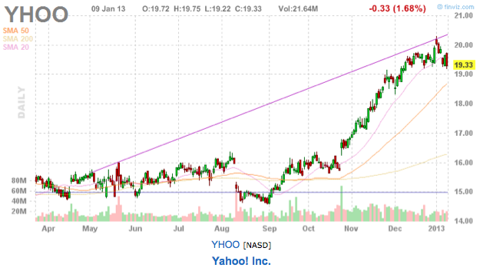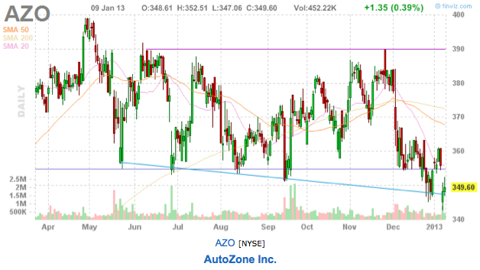 Thursday's Outlook:
The market bounced back on Wednesday after some relief of earnings fears from Alcoa (NYSE:AA). The aluminum producer met expectations but had very positive outlook for 2013. It saw good demand for airplanes, trains, and many more aluminum using products. Earnings fears have been ruling the market due to the fiscal cliff hanging over businesses in the latest quarter. The big report for the week is Wells Fargo (NYSE:WFC) on Friday, as financials are expected to have a solid quarter and would be affected by any hangover from the fiscal cliff. The market will get some solid data today with jobless claims and Wholesale Inventories to be reported. The jobless claims report will probably be the main market driver.
Chart courtesy of finviz.com.
Disclosure: I have no positions in any stocks mentioned, and no plans to initiate any positions within the next 72 hours.
Business relationship disclosure: The Oxen Group is a team of analysts. This article was written by David Ristau, one of our writers. We did not receive compensation for this article (other than from Seeking Alpha), and we have no business relationship with any company whose stock is mentioned in this article.