Detroit's auto bailout drives down a Congressional cul-de-sac. To add to this, General Motors (NYSE:GM) has hired a bankruptcy lawyer, Bank of America (NYSE:BAC) is to cut 35k jobs and weekly jobless claims have soared to 573k (a two year high). Just to rub salt in the wounds, JP Morgan's (NYSE:JPM) Jamie Dimon tells us that 2009 is going to be another annus horribilis horror show for banks. It's no wonder the Dow Future is off 275 as I scribble.
Today's Market Moving Stories
This whole thing just gets more surreal by the day. I recall in college studying the Tulip frenzy, the South Sea Bubble and the Mississippi system. But nowadays we get a Ponzi scheme every other day. This time, a former Nasdaq chairman was arrested in an alleged Ponzi scheme! You really couldn't make this stuff up.
There really is nowhere to hide, nowhere to run when Procter & Gamble (NYSE:PG) starts warning about sales.
Nor is there anywhere to export to anymore, as US exports fall. Recall previously that I have spoken of this as the very last pillar that was propping up the castle of sand that was the US economy.
Meanwhile following hot on the heels of the doom and gloom of the IMF and World Bank forecasts for 2009, we get less than glad tidings from the OECD. They now think that the recession will be longer and deeper than previously thought.
Just when you thought that those over cautious chaps in the ECB were getting in touch with the real world, they start back peddling and have strongly hinted that there won't be the much needed January rate cut. Well at least Germany has something in common with the US, with both auto industries in crisis.
HBoS warns that it is to take another £3.3bn in impairment charges, with its operating environment increasingly difficult. It said pressure is building on its net interest margins due to significant reductions in BoE rates. In other words, they're simply not squeezing enough out of its deposit base any more. Meanwhile, its wholesale funding costs remain high relative to base rates. It also warned that corporate credit conditions have continued to deteriorate significantly.
A story doing the rounds is that if the bellwether Japanese Tankan survey of business sentiment is bad enough, then that could tip the Bank of Japan committee in favour of a rate cut on Dec 19th. The Tankan is out on Monday. Rates are already a mere 0.30%, so ZIRP beckons.
The Atlantic's Marc Ambinder has a must read post about the fires Team Obama sees itself having to put out once it assumes office.
Auto Bailout Plan Fails
The US Senate decided there was nowhere near enough support to approve the House's plan for emergency loans to GM and Chrysler. So they decided 52 to 35 to end the debate and have a go at reworking the deal. This is actually what happened with the TARP; the House approving it, the Senate rejecting it, altering the terms, approving and then sending it back to the House. So all isn't lost in terms of the loans, but time is everything, especially for GM, which warned last week that it might not make it to the end of the year. GM is reportedly now gathering its lawyers and bankers together to consider the possibility of dropping into Chapter 11 bankruptcy.
It's important to realise the Senate wasn't simply being obstinate with a debate on whether it would be a case of good money after bad. The disagreement actually centered on union demands. If anything, it's the UAW that's being stubborn and playing chicken with GM's future (and hence the workers it represents). Among the big concessions requested of the UAW are for wage parity between its members and workers of other auto manufacturers, in particular the Japanese car companies operating out of the US. While the UAW has accepted wage deals for new workers, it is reluctant to give up much for existing staff, and certainly not on the short timetable currently proposed. This is the point the Senate can't get past - bailing out the autos firms, but without workers having to shoulder a greater burden.
Data Today
US retail sales are out at 13.30 GMT. With this figure likely to be dire, today could get VERY ugly. The University of Michigan Consumer Sentiment Survey, released at 15.00 GMT, is unlikely to provide any positive news either.
Someone just pressed the self destruct button and a red blanket has engulfed equities
And Finally…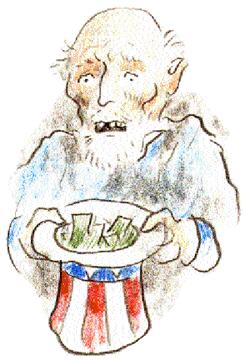 Twas the night before Christmas, and all through the Street.
Not a head hunter was working, which was no easy feat.
The resumes were hung, by the fax machine with care.
In hopes that a 2 x 2 might soon appear there.
The interns were fighting over who covers the Fed.
While visions of Grad school danced through their head.
My wife worked the night shift with me at the Gap.
We just liquidated the IRA, and what was left of my CAP.
Then down on the trading floor there arose such a clatter.
It sounded like the Yanks just hired a new batter.
Across all my windows, the offer-wanteds did flash.
I took a look at my shorts and threw up in the trash.
When, what to my wondering eyes did appear,
But a 5.00% mortgage rate and GSEs …without fear!
With a little old Fed chief, so lively and tan.
I knew in a moment it wasn't Greenspan.
More rapid than rate cuts the liquidity came
and he whistled, and shouted, and called them by name.
On Five year! on Three years! On Two years! On Bills!
Looks like I picked the wrong time to join Shinnecock Hills.
Forget about appraisals, and FICO et al,
Just refi 'em, refi 'em,… refi 'em all!
The market was tightening, like a bat out of hell!
"She'll put that BUY thru Tradeweb!" one salesman did yell.
Things looked real bad, when out of the blue.
A salesman named Donny, had something to do.
His eyes how they twinkled! His dimples… how merry!
His cheeks were like roses, just like the guy in Glengarry.
He sold me some GN's, and then the GN 5 roll too!
He even sold GN 5 1/2's, well below 102.
Then he sprang from his Bloomberg, and picked up the phone.
His smile grew wide, as he dabbed on cologne.
We heard him exclaim, as he ran out of sight:
"The MBA is back in Vegas, and I just booked the last flight!"
Disclosures: None