Consolidation by acquisition is the name of the game in the mobile industry today. As companies compete to stake their claim on the new mobile frontier, they look to leapfrog one another by acquiring companies that are more nimble or innovative. The most recent example can be seen in a definitive agreement for athenahealth (NASDAQ:ATHN) to acquire Epocrates Inc. (NASDAQ:EPOC), a company that develops mobile apps for the health industry, for about $293 million in cash. The mobile app Instagram is another example. It was recently bought by Facebook (NASDAQ:FB) for $1 billion. In 2012, Apple (NASDAQ:AAPL) acquired a company called Chomp, a search engine that helps people find mobile apps. This is just the beginning of a growing trend in consolidation by acquisition. Opportunities exist for investors to profit by positioning themselves in companies that focus on providing the consumer and enterprise with great mobile experiences. Let's examine some of these.
Millennial Media, Inc. (NYSE:MM) is a mobile advertising platform company. Millennial Media technology, tools and services help developers maximize their advertising revenue. The Company's technology and data platform, known as MYDAS, determines in real-time which ad to deliver. In February 2012, its platform reached over 300 million users worldwide, including approximately 140 million users in the United States. More than 30,000 apps are enabled by its developers to receive ads delivered through its platform, and the Company can deliver ads on over 7,000 different mobile device types and models. Its platform is compatible with all major mobile operating systems, including Apple iOS, Android, Windows Phone, Blackberry and Symbian. In February 2012, it processed over 45 billion ad impressions.
On May 6, 2011, the Company acquired 100% interest of Condaptive, Inc. Millennial Media offers audience reach, targeting capabilities and the opportunity to deliver interactive and engaging ad experiences to consumers on their mobile connected devices. The Company's developer base includes mobile Web publishers, such as CBS Interactive (NYSE:CBS) and The New York Times, and app developers, such as Zynga (NASDAQ:ZNGA), Rovio, maker of the popular Angry Birds mobile app and Pandora (NYSE:P), as well as other developers, such as UberMedia and Gogii. Its advertiser clients include advertising agencies and brands, including 23 of the top 25 national advertisers as ranked by Advertising Age magazine, or Ad Age, based upon United States ad. During the year ended December 31, 2011, approximately 10% of the Company's revenue was derived from outside of the United States. This kind of value can certainly attract the attention from some of the largest outfits in mobile advertising such as Google (NASDAQ:GOOG), Facebook or Apple.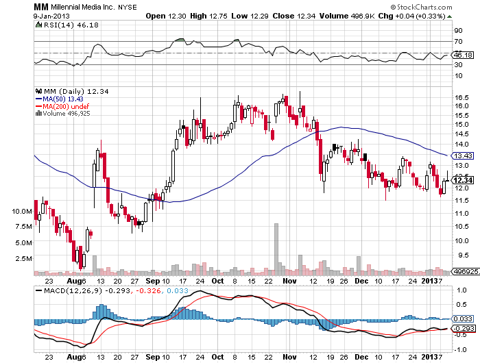 Vringo, Inc. (VRNG) is engaged in developing software for mobile phones. It provides a platform, which allows users to create, download and share mobile entertainment content in the form of video ringtones for mobile phones. In July 2012, it merged with Innovate/Protect, Inc. In August 2012, Nokia Oyj sold a portfolio consisting of over 500 patents and patent applications worldwide to Vringo. The Company's VringForward technology enables users to share video ringtones with friends. Its Vringo Mobile Application includes gallery-based content browsing of video ringtones. The Company competes with Monikker, Emotive, Fox Mobile, Thumbplay, GigaFone and Zad Mobile. Vringo is also a company engaged in the innovation, development and monetization of mobile technologies and intellectual property. It recently provided a summary of three motions filed with the Courts in its wholly-owned subsidiary I/P Engine, Inc.'s litigation against AOL (NYSE:AOL), Google, IAC Search & Media (IACI), Gannett Company (NYSE:GCI), and Target Corporation (NYSE:TGT) (collectively, "Defendants"). On November 6, 2012, a jury in U.S. District Court in Norfolk, Virginia ruled in favor of I/P Engine and against Defendants with respect to Defendants' infringement of the asserted claims of U.S. Patent Nos. 6,314,420 and 6,775,664. After finding that the asserted claims of the patents-in-suit were both valid, and infringed by Defendants, the jury found that reasonable royalty damages should be based on a "running royalty," and that the running royalty rate should be 3.5%. On November 20, the clerk entered the Court's final judgment. I/P Engine presented evidence at trial that the appropriate way to determine the incremental royalty base attributable to Google's infringement was to calculate 20.9% of Google's U.S. AdWords revenue, then apply a 3.5% running royalty rate to that base. Of particular interest is the option for a more powerful player to easily acquire a controlling stake in the company by acquiring its stock on the open market outright.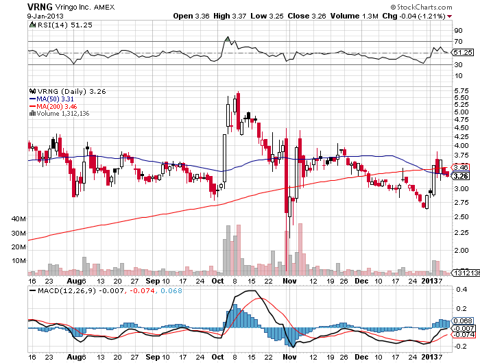 Mimvi, Inc. (MIMV.OB) targets millions of mobile apps with its search and recommendation engine as it enables consumers to find and discover mobile apps, products and services. As a new global leader in mobile recommendation and search technology platforms, Mimvi also develops advanced mobile apps and proprietary algorithms for personalized search, recommendation and discovery services for the mobile application and social networking industry. Mimvi recently signed a deal with Microsoft (NASDAQ:MSFT) based on its mobile and search technology. The company is in the process of releasing advanced mobile apps that double as search and recommendation engines for Windows Phone 8, the iPhone, Android devices and for social networking platforms. Mimvi product lines also include Mimvi Link, a transaction network product that matches relevant mobile apps to any content. Mimvi Connect is a product offering for mobile app developers that offers a true partnership into the Mimvi business development ecosystem in partnership with Microsoft.
The Mimvi Connect program encompasses all the needed components for the app developer, to finish or re-launch mobile apps on various platforms while sharing revenue based on transactions that occur within the mobile apps. The value in providing search services to help people find websites is similar to the value in search services that help people find mobile apps. Mimvi works with the Microsoft Azure cloud services team to maintain an architectural foundation and API (Application Programming Interface) to serve consumers, app stores and partners, including Microsoft, with mobile app, search, discovery and recommendation services. Mimvi competes with Google, Apple and Amazon in the area of mobile app discovery and distribution while maintaining relationships with Samsung and Daiwa Quantum Capital through its management team. Apple has already made acquisitions in this area and it can be anticipated that Mimvi remains and attractive candidate for strategic partners looking to make a move in this area.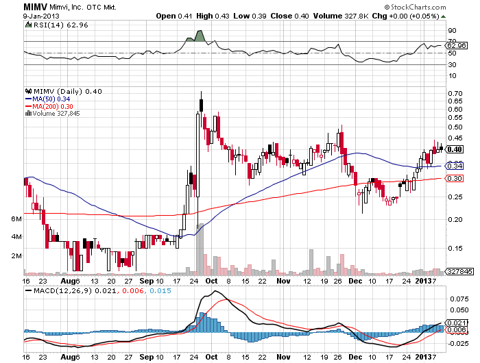 Velti plc (VELT) is a global provider of mobile marketing and advertising technology and solutions. The Company's platform Velti mGage, allows its customers to use mobile and media, such as television, print, radio and outdoor advertising to target, reach, and engage consumers through mobile Internet applications; convert consumers into their customers, and continue to manage the relationship through the mobile channel. The Company's mGage platform provides agencies and companies a set of tools including analytics and reporting, and business intelligence. On January 23, 2012, the Company completed the acquisition of the remaining interests of CASEE. On November 14, 2011, Velti completed the acquisition of Mobile Interactive Group Limited. On October 4, 2011, the Company completed the acquisition of Air2Web, Inc.
The Velti mGage Create enables the design and development of mobile Websites, mobile portals, media creation, landing pages and micro-sites via a drag and drop graphical user interface. Velti mGage Create is integrated with Velti mGage Measure to provide the customer with information and metrics regarding consumer response to the Website or portal. Velti mGage Interact provides customer relationship management functionality. Velti Play enables broadcasters and mobile operators to extend tried and tested mass-participation concepts to social media and mobile apps. The platform is integrated with Facebook and Apple's direct billing platforms. Velti mGage Measure provides tracking and reporting of consumer behavior and engagement across media platforms, including traditional, online and mobile. Velti is a clear target for larger players looking to maintain their lead in mobile advertising.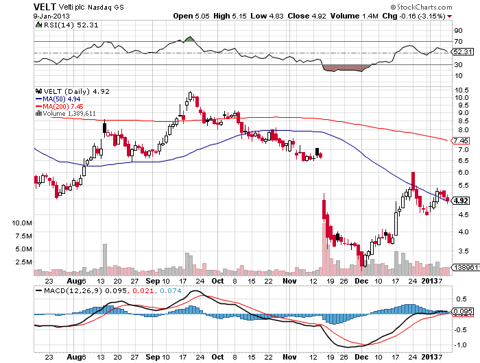 Research In Motion Ltd. (RIMM), a company that once held the high esteem of consumers and investors alike, has maintained a course of providing continued support to its Blackberry line. Most of us are likely familiar with its recent fall from grace but many do not know why. While resting on its laurels, the company missed the opportunity to provide updated interfaces and a wide variety of mobile apps to a new generation of consumers. The Ex-Co-CEO Jim Balsillie, at one point thought mobile apps were just a fad, similar to those who thought websites were a fad. Failing to compete in this area, RIM fell behind --along with its stock price, which has been severely depressed until recently. RIM's stock price is on the move upward after suffering a long downtrend and it remains ripe for a takeover based on mobile industry consolidation.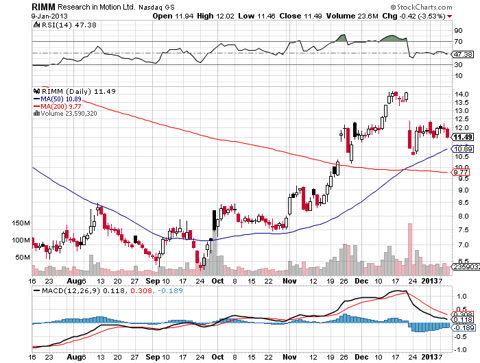 The option to profit is yours as an investor. Building a position in highly innovative mobile plays like these before consolidation fully takes place can be very rewarding. Much of the risk is mitigated by the upward spiral currently carrying many of companies into new areas of the mobile economy.
Disclosure: I am long MM, VRNG, MIMV.OB, VELT, RIMM. I wrote this article myself, and it expresses my own opinions. I am not receiving compensation for it. I have no business relationship with any company whose stock is mentioned in this article.