Hard Assets Investor reader David wrote in asking: "What has caused the spread relationship between Brent and NYMEX crude to swing so dramatically from previous levels?"
Before we dive into that, David, let's make sure we're all on the same page.
West Texas Intermediate [WTI] crude is the basis grade for the NYMEX oil futures contract, while Brent crude is the marker for the dominant oil contract traded on the Intercontinental Exchange. WTI is also referred to as "light, sweet" oil, reflecting its lower sulphur content and lower viscosity. Cracking sweeter, lighter crudes into the cleaner-burning distillates is easier, so WTI typically commands a price premium over other global grades. Over the past two decades, the premium has averaged $1.50 per barrel.
This price differential, however, can be volatile. Sometimes, not often, the premium even gives way to a discount. Extremes in the spread occur from time to time, reflecting tightness in local markets' political uncertainty and shifts in shipping rates.
There's also a seasonal influence on the spread. The spread tends to widen in the early summer and fall during the winter to reflect U.S. crude oil movements to refineries. Seasonality, however, can be trumped by - what else? - profit motive.
WTI Premium Over Brent Crude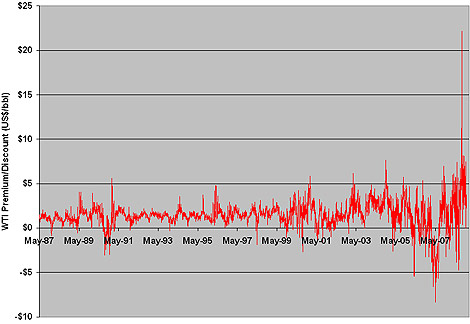 Over the past month, WTI has commanded an average $4-a-barrel premium over Brent, and the market is well-supplied with crude oil. Refiners, in fact, are incentivized to put more oil into storage.
Noticed the contango lately? (If not, see "Oil Demand Perking Or Peaking?".)
Nearby delivery prices are at a deep-enough discount to deferreds to encourage refiners to hold crude in storage and finance its cost by selling the higher-priced back-month futures for a cash-and-carry arbitrage. Yesterday, the quarterly contango was over $6 a barrel, making the cash-and-carry profit more than $4.50.

A contango affects refining margins. As the deferred contracts sequentially approach expiration, their prices, all things held equal, should decline. This expands refining margins, evidence of which we've seen over the past few days (see "Gasoline: Still Losing—Near Breakeven"). The profit potential represented by these margins further encourages refiners to build inventories. Hedging, too, shifts to selling futures on refined products rather than crude oil. Gasoline, in particular.

You starting to see something here?
If Brent is cheap in comparison with WTI - in other words, if the WTI premium widens - then spot cargoes of Brent will move to the U.S. rather than to other markets.
The credit crisis has made the cash-and-carry proposition much more attractive. Financing costs have cheapened for those entities that can obtain loans or that can self-finance and/or possess storage capacity of their own.
That'll change. Eventually. Probably not today, though.