Gold and silver have pulled back from their recent highs hit in early autumn last year after spiking significantly following global central bank actions in August and September of 2012. To get an idea of the recent weakness in the precious metal sector, look to the most popular gold and silver ETFs, the SPDR Gold Trust (GLD) and the iShares Silver Trust (SLV), which are down 6.3% and 9.1% respectively in the last three months. In contrast, the ETFs that track the miners of these metals such as the Market Vectors Gold Miners ETF (GDX), the Market Vectors Junior Gold Miners ETF (GDXJ), and the Global X Silver Miners ETF (SIL), are down even further in the last three months, losing 15.1%, 16.7% and 10.0% respectively and stocks within these ETFs could be a buying opportunity for multiple reasons.
With the recent Federal Reserve announcement to accelerate its debt-buying program, known as quantitative easing, to spend another $40 billion to $45 billion a month in balance sheet expansion to replace operation twist, I believe that the time to do some buying in the precious metals sector for the long-term investor is now. This is primarily due to the fact that these recent actions further the central bank easing tailwinds for precious metal prices that I have previously discussed. Gold and silver prices overreacted on recently released Federal Open Market Committee (FOMC) minutes, in which it was discussed that the intense bond buying program may need to slow in the future to prevent the Fed from taking on too many assets on its balance sheet. I contend, however, that first, investors should watch what the Fed does more than what its members say during meetings. Second, the amount of easy money that has flooded the market has already created long-term tailwinds for gold, as eventually inflation will hit and investors will seek safe-havens. Third, the Fed's hands are somewhat tied, as their actions are directly related to economic indicators such as unemployment rates, thus, no decrease in bond buying or mortgage asset purchases are likely to slow until these numbers improve. Finally, the Fed simply cannot stop their purchasing or cutoff the easy money supply, as they know that such actions will rock the United States economy back into recession.
The fiscal cliff deal that occurred last week does little to nothing in solving the debt crisis in the United States. Expanding debt levels in the United States, combined with the easy money supply globally, are a tailwind for precious metals because many investors trade precious metals as competing currencies against the dollar. To hedge against inflation that will eventually occur, many investors and nations seek financial protection in the precious metals, which in turn, will increase demand. This is particularly true for gold as central banks will continue to be purchasers of gold in 2013. Gold was weak for much of the 1990s, and its decline was compounded by net selling from central banks, particularly those in Europe. This selling continued early in the last decade even as gold prices picked up, but gradually the selling abated and then buying picked up and has been intense in the last few years. Although central banks will continue their purchasing in 2013, that doesn't automatically mean gold prices will rise next year but it at least provides a source of buying that should help limit any downside.
While the aforementioned ETFs should perform well in 2013, individual stocks, however, can offer substantially better returns relative to the ETFs if selected carefully. Stock selection in the gold sector can be difficult, but the following table can help point investors in the direction of stocks in the sector to consider. Owners of each stock in the table below should take note of where their company ranks in terms of its cash cost production per ounce and debt to equity ratio. Table 1 shows that the lowest cost gold producer is Yamana Gold (NYSE:AUY), followed by Goldcorp (NYSE:GG). The company with the lowest debt to equity at 1.6% but a cash cost per ounce that is 2.5 times as high as AUY is Eldorado Gold (NYSE:EGO). The next lowest company displaying superb debt management is again Yamana Gold. These two critical metrics suggest that Yamana is worth a further look, particularly for owners of this company's competitors as it may be worthwhile to consider switching into Yamana and selling a weaker company.
Table 1*. Major Gold Company 2012 Cash Cost Per Ounce of Gold Produced And Debt to Equity Ratio as of January 1, 2013
| | | |
| --- | --- | --- |
| Company | Cash Cost Per Ounce Gold ($) | Debt to Equity (%) |
| Agnico-Eagle (NYSE:AEM) | 556 | 24.0 |
| Anglogold Ashanti (NYSE:AU) | 737 | 59.6 |
| AuRico Gold (NYSE:AUQ) | 504 | 12.8 |
| Barrick Gold (NYSE:ABX) | 592 | 50.2 |
| Eldorado Gold | 493 | 1.6 |
| Goldcorp | 220 | 13.4 |
| Gold Fields (NYSE:GFI) | 916 | 34.9 |
| IAMGold (NYSE:IAG) | 710 | 16.9 |
| Kinross Gold (NYSE:KGC) | 677 | 20.4 |
| New Gold (NYSEMKT:NGD) | 443 | 16.6 |
| Newmont Mining (NYSE:NEM) | 693 | 37.1 |
| Yamana Gold | 201 | 9.9 |
*Source: Yahoo Finance.
In addition to the cash cost per ounce and debt to equity metrics, other combinations to look for in a stock are those in which the underlying company offers growth as well as a decent dividend. In light of the recent Federal Reserve announcements and lack of Washington's ability to truly control the United States' debt, I believe that gold and silver stand to benefit from price appreciation, and in this article, I will further highlight why AUY is a great way to play the precious metals sector. I will show that AUY's last two quarters demonstrate that this company is strengthening and is rapidly becoming one of the best-of-breed precious metal mining companies. AUY, after its recent dip from the highs, is a strong opportunity buy that long-term investors should consider going forward as the company offers the lowest cash cost per ounce of gold produced, incredible debt management, long-term growth, and a decent dividend for the precious metals sector which it has increased every year. Unlike most of its competition, Yamana has delivered a turnaround third quarter vs. the second quarter. Given that this company is strengthening while others in the sector are languishing after missed quarters, with ABX, AU and NEM as prominent examples, I think investors in this sector should seriously consider AUY as a play on gold.
General Company Overview
AUY is principally a gold producer, but it also engages in excavating other precious metals such as a significant amount of silver, as well as copper, molybdenum and zinc. The company has operations throughout the western hemisphere but mainly in Mexico, Brazil, Argentina, and Chile (see figure 1). AUY's property portfolio includes seven operating gold mines in total, including the Chapada mine, the Jacobina mining complex, and the Fazenda Brasileiro mine in Brazil. In Chile, it operates the El Peñón mine and the Minera Florida mine. In Mexico, AUY operates the Mercedes mine. In Argentina, the primary project is at the Gualcamayo mine. AUY also has a 12.5% indirect interest in the Alumbrera copper/gold/molybdenum mine in Argentina. Finally, the company holds interests in various advanced and near development stage projects and exploration properties in Brazil, Chile, and Argentina.
Figure 1. Yamana Gold Mining Operation Locations, as of October 2012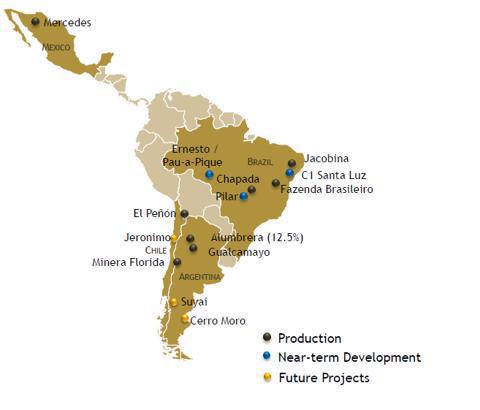 Second Quarter - AUY Missed Earnings Estimates yet Superb Development Progress Made
Most Q2 earnings reports in the gold mining sector were disappointing, and AUY was no exception. AUY reported a Q2 miss on top and bottom lines. Net earnings came in at $43 million, or 6 cents per share vs. 22 cents estimated by analysts. This was a 77% decline from the $195 million profit, or 26 cents per share, in the same quarter a year ago. Excluding one-time items, the company said adjusted profit was 18 cents per share. Revenue came in at $536 million, down from $573 million as lower metal prices and reduced volume of copper concentrate sales impacted the quarter. The company said the decline was somewhat offset by increased sales of gold contributed by the Mercedes Mine in Mexico, which was under construction a little over a year ago. Total gold production was 288,700 ounces compared with 278,737 ounces a year ago, while total copper production slipped to 40.4 million pounds, which was down from 70.7 million pounds a year ago. The company sold 268,441 ounces, which was up from 261,926 ounces a year prior. Copper sales fell to 37.4 million pounds from 41.6 million pounds a year ago. Despite some slowing production and reduced profits in the quarter, the company had a strong quarter as it relates to progress made at sites, as displayed in Table 2.
Table 2. Yamana Gold's Project Development Progress Highlights, as Reported to Investors at Close of the Second Quarter, August 2012
| | |
| --- | --- |
| Project Operation Site | Progress Highlights |
| Chapada, Brazil | Mineralization has now been identified along a strike length of almost 16 kilometers with the discovery of significant gold and copper mineralization encountered approximately 2,500 meters south of Corpo Sul. This will potentially enhance throughput through the blending of these higher-grade ores and allow further development in size and scale to result in an entirely new mine. Additional concessions along the strike to the south were acquired providing further regional upside potential. |
| Pilar, Brazil | Maria Lazarus, located 10 kilometers west of Jordino, has returned drill results similar to Jordino in both grade and width. Drilling two kilometers south east of Jordino intersected coarse visible gold indicating that the system is open in that direction. These discoveries continue to confirm a cluster of mineralized zones and represent possible ore sources for production at Pilar. |
| Jeronimo, Chile | Results from the feasibility study indicate production of approximately 175,000 ounces per year for the first four years and a mine life of 11 years. Discussions have begun with joint venture partner, Codelco (43% owner of the project), on the feasibility study, possible optimizations and advancing the project toward a construction decision. |
| El Peñón, Chile | A new vein has been discovered approximately 300 meters east of Fortuna and a new zone of significant mineralization has been identified south of the main Dorada vein and to the west between Dorada and Providencia. Drilling has delineated a new high-grade deposit at the Elizabeth vein located 400 meters east of Victoria within Pampa Augusta Victoria. This will significantly extend mine life and further enhance production at, or above, a 440,000 ounce sustainable production level. |
| Mercedes, Mexico | New discovery at Barrancas where drilling has intersected mineralization approximately 600 meters north of Lagunas Norte. Infill drilling at Lupita is confirming the width and grades of mineralization and continuing growth of measured and indicated mineral resources. These are expected to enhance the mineral resource base, extend mine life, and facilitate higher throughput and sustainable production levels. |
Third-Quarter Results - Beats The Street Estimates, Significant Progress at Mining Sites
AUY's Q3 results were better overall for the company compared with Q2. It reported record revenue of $611.8 million in the quarter. Net earnings were reported at $60.0 million, or $0.08 per share. This is down year over year from Q3 2012 earnings of $115.77 million, or $0.16 per share. The adjusted earnings were $177.6 million or $0.24 per share compared with $190 million or $0.26 per share in the year-ago quarter. This was an earnings beat as the consensus analyst estimate for the quarter was $0.23. Revenue was a slight miss, as the estimates called for $613.89 million. However, revenue was well above the year-ago quarter's revenue of $555.2 million. The company's earnings were impacted by an increase in the Chilean tax rate that took effect in September. The change affects the tax rates on both current and deferred income taxes for the company. Earnings were also hit by lower silver and copper prices, but the volumes of gold sales were higher than the year-ago quarter, partially offsetting reduced pricing.
Mine operating earnings for the quarter were $279.2 million, while cash flows from operations were $363.1 million. Cash flows generated from operations before changes in non-cash working capital was $285.7 million. Production for the quarter was solid. Total gold production was 310,490 ounces for the third quarter. This includes the company's production from the Alumbrera mine where there was 13,633 ounces of production. It also included 1,861 ounces from the re-treatment project at Minera Florida. This compares with total production of 279,274 ounces for the year-ago quarter. Copper production for Q3 was 39.4 million pounds (from the Chapada site), slightly less than the 41.4 million pounds for the third quarter 2011.
Financial Strength and Excellent Debt Management
The balance sheet of the company shows $400.4 million in cash and equivalents on hand at the end of Q3 with an increasing debt-to-asset ratio. Some of this debt results from the fact that AUY has increased its exploration budget nearly 300% over the last four years, positioning it for continued top-line growth in the years ahead. AUY still has a debt-to-equity ratio of less than 0.1, whereas its larger competitors GG, ABX and NEM have taken on more debt to finance multibillion-dollar projects. The company currently has over $1.15 billion in available funds, including the cash balance of $400.4 million and its unused credit facilities. As a result of the company's investment efforts in each country it mines in, a lot of progress has been made at all exploration and development projects, as summarized in Table 3.
Table 3. Yamana Gold's Project Development Progress Highlights, as Reported to Investors at Close of the Third Quarter, October 2012
| | |
| --- | --- |
| Project Operation Site | Progress Highlights |
| Chapada, Brazil | Additional drilling during the quarter has further defined the geometry and grade continuity of Corpo Sul from the southwest limits of the 2011 mineral resource for an additional strike length of 2.9 kilometers. Mineralization has now been identified along a strike length of almost 16 kilometers centered by the main Chapada pit. Corpo Sul is expected to enhance throughput through the blending of higher grade ore with ore from the main Chapada pit and, as its size and scale increases, it will be evaluated as a standalone orebody. The new discoveries have led to the initiation of a pre-feasibility study that is now underway and expected to be completed by year end. |
| Ernesto/ Pau-a-Pique, Brazil | Physical completion is on schedule for end of year. Commenced the commissioning phase which will continue for the remainder of the year as will the process for obtaining the final operational permits. Commercial production is expected by mid-2013. |
| Santa Luz, Brazil | Physical advancement for the project is over 90% complete progressing to a planned physical completion by the end of 2012. Start-up of operations is planned for early 2013 with commercial production expected by mid-2013. Water availability for Santa Luz will come from a reservoir where water is collected during the rainy season that usually starts in November. The pace at which the ramp-up of production will occur will depend on the speed at which water is accumulated in the reservoir. |
| Pilar, Brazil | Physical advancement is approximately 66% complete with planned start-up for mid-2013. The company anticipates commercial production by the end of 2013. |
| Jeronimo, Chile | Discussions with joint-venture partner Codelco (43% owner of the project) will continue toward an objective of evaluating a construction decision. |
| El Peñón, Chile | The majority of the drilling was completed at Dorada West and the Elizabeth vein at Pampa Augusta Victoria. The new and additional drilling to be completed in the fourth quarter will allow for initial mineral resource estimates to be completed at both new vein zones by the end of the first quarter of 2013. Drilling at Dorada West has outlined mineralization along a strike length of approximately 900 meters and a dip length of 150 meters. The deposit remains open to the south and down dip. |
| Cerro Moro, Argentina | Evaluation of exploration and development plans is under way. This evaluation is expected to be completed by the end of 2012. The $5 million to be spent in 2012 on this newly acquired property are to increase and upgrade categories of mineral resources, with a focus on certainty in the definition of grade and size of the orebody. |
2013-2014 Production Outlook
Yamana has increased its gold production in each of the last three years, as shown in figure 2. Looking ahead, final production for fiscal 2012 is now slated to be about 1.175 to 1.31 million ounces, most of which will come from the Mercedes mine in Mexico as production ramps up. For fiscal 2013, production is expected to come in slightly less than previously anticipated, at 1.48 million to 1.66 million ounces, down from prior estimates of 1.5 to 1.7 million. Most of 2013 production will come from full-year production from Santa Luz and Ernesto Pau-a-Pique operations. By fiscal 2014, production is targeted to be at a sustainable level of approximately 1.7 million ounces, down slightly from prior estimates of 1.75 million. This includes production from the existing mines and development projects for which construction decisions mentioned in tables 2 and 3 have been made. Should the company stay on track and on budget it is poised for strong growth. I presume that the company believes it will stay on budget and grow steadily as it increased the dividend 18% to 6.5 cents per share, continuing a trend of annual dividend increases. In fact, AUY has increased its dividend 550% in the last three years, as shown in Figure 3.
Figure 2. Yamana Gold Year-Over-Year Gold Ounce Production Growth, 2010 to Present
Figure 3. Yamana Gold Annual Dividend Growth, 2009 to Present
Political Risks
The company holds mining and exploration properties in Brazil, Argentina, Chile, Mexico, and Colombia, exposing it to the socioeconomic conditions as well as the laws governing the mining industry in those countries. Inherent risks with conducting foreign operations include, but are not limited to, high rates of inflation; military repression; war or civil war; social and labor unrest; and organized crime and hostage taking, which cannot be timely predicted and could have a material adverse effect on the company's operations and profitability. The governments in those countries are currently generally supportive of the mining industry, but changes in government laws and regulations including taxation, royalties, the repatriation of profits, restrictions on production, export controls, changes in taxation policies, environmental and ecological compliance, expropriation of property, and shifts in the political stability of the country could adversely affect the company's exploration, development, and production initiatives in these countries.
In efforts to tighten capital flows and protect foreign exchange reserves, the government of Argentina issued a new foreign exchange resolution with respect to export revenues that resulted in a temporary suspension of export sales of concentrate at Alumbrera during the third quarter as management evaluated how to comply with the new resolution. The recently announced amendment to the foreign exchange resolution extended the time for exporters to repatriate net proceeds from export sales to 180 days enabling Alumbrera to resume exports in July, subsequent to the quarter end. The government of Argentina has also introduced certain protocols relating to the importation of goods and services and providing where possible for the substitution of Argentine produced goods and services. The company continues to monitor developments and policies in all its jurisdictions and the impact thereof to its operations.
Consistent with its risk management protocol, in order to mitigate land title risks, the company makes no commitments and does not undertake exploration without first determining that necessary property rights are in good standing. However, despite the company's best efforts, land titles may still be affected by undetected defects or government actions.
Bullish Analysts
Analysts are very bullish on the stock. AUY recently had its price target increased from $21.00 to $24.00 by analysts at RBC Capital, who have an outperform rating on the stock. Further this month there were a series of analyst commentaries that were positive on the stock. Scotia Capital upgraded the stock from a sector perform rating to an outperform rating in a report issued on October 18, 2012. Other equity research analysts have also recently issued reports about AUY. Analysts at Barclays Capital initiated coverage on AUY in a research note to investors on October 16, 2012. They also set an overweight rating and a $25.00 price target on the stock. Separately, analysts at Morgan Stanley initiated coverage on AUY in a research note to investors on October 10, 2012. They set an overweight rating and a $25.00 price target on the stock. Finally, analysts at Dundee Securities raised their price target on shares of AUY from $17.00 to $22.00 in a research note to investors on October 3, 2012.
Recent Stock Performance
AUY has a 52-week range of $12.68-$20.59 and, at the time of this writing, trades at a near three-month low of $16.35 a share on average daily volume of 5.3 million. While trading at a premium relative to larger competitors GG and ABX on its current P/E multiple of 34.5, the forward P/E is an attractive 11.3. The five-year PEG ratio is at 1.7, but it does not reflect likely surges in precious metal prices in the next five years stemming from inflation and currency debasement resulting from central bank action, which could directly benefit revenue.
Conclusion
I believe that AUY has great potential due to its debt management, ability to maintain and raise the dividend, as well as clear growth plans moving forward. The Fed, in another stimulating announcement to purchase treasuries spending another $40 billion to $45 billion a month to replace operation twist, means that the gold stocks are buys as gold prices have yet another tailwind. These continued easing pressures will pressure the dollar long term. With the tailwinds for gold prices in place and with AUY's supreme cash management relative to its peers as well as its incredibly low cash cost per ounce of gold produced, I believe it will stay on budget and continue to grow steadily, despite any political risks it may face. I'll be looking for another dividend increase in 2013 even though it just increased the dividend 18% to 6.5 cents per share. Analysts currently have a $24.11 price target consensus on the stock with a mean recommendation of "buy." I believe the stock could see $25 (a 33% upside from current levels) by early next year in light of further stimulus and once issues surrounding the fiscal cliff are settled.
Disclosure: I am long EGO, GG, SLV, AUY. I wrote this article myself, and it expresses my own opinions. I am not receiving compensation for it (other than from Seeking Alpha). I have no business relationship with any company whose stock is mentioned in this article.