In the past quarter, gold (NYSEARCA:GLD) bugs came treacherously close to being placed on the list of endangered species, as the precious metal fell a little over 10%, from its high of $1,796.05 in early October 2012. But gold bug conservationists need not be alarmed. Growing economic activity in China is expected to inflate asset prices in 2013, which will lead to investors positioning themselves to hedge against this increase, thus increasing the demand for gold once again. Investors should closely monitor the asset with the view to purchase through the investment vehicle GLD. Another driving factor in 2013 - US austerity measures - may dampen inflation expectations but the gold bug species can escape any threat of endangerment by using TIPS (NYSEARCA:TIP) as a defense. While investors should consider purchasing GLD around the $148 to $154 price range, the current market price of TIP is an opportune time to purchase the security.
Rises in The East
You cannot know where you are going until you know where you have been. Hence, to truly understand where the price of gold will be over the next couple of months, trends of the past couple of months must first be discerned. According to the World Gold Council, Gold demand in Q3 2012 was down 11% from a year earlier. One of the attributes to this slowdown in demand was a decline in momentum in China. China's jewelry sector was down 5% year-on-year in the 3rd quarter of 2012 while its bar and coin investment demand was 12% lower year-over-year. One of the drivers for the decline would have been the decelerated growth in the Chinese economy. The chart below illustrates China's gold consumer demand along with its real GDP.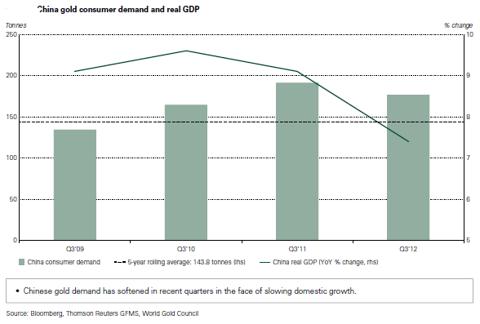 Alas, with China expected to grow between 7.8%- 8.0% in 2013, the increased economic activity will lead to an improvement in Chinese demand for the precious metal. Already we are seeing signs of economic improvement. The latest figures show Chinese industrial production accelerated in November to 10.1% year-over-year from 9.6% in October. China's PMI also displayed signs of improved economic activity. Chinese PMI increased to 50.6 in November from 50.2 in October. Also headline nominal retail sales growth rose 14.9% year-over-year in November, exceeding its 14.5% growth in October. The charts below display Chinese Industrial Production, PMI and retail sales.
With Chinese economic activity on the rise and its inflation still registered at the trough, now appears to be an excellent time to hedge inflation with gold. In November, CPI inflation rebounded to 2% year-over-year from 1.7% in October. PPI remained negative but improved to -2.2% year-over-year in November from -2.8% in October. With Chinese economic activity improving, the growth will lead to a rise in inflation, most likely, the increase will be back to mid-2011 levels, which is a little over 6%. With the second largest economy in the world producing a CPI of 6% in 2013, global inflation is most likely to increase. Thus the allocation in gold, a historical inflation hedge is prudent. The line chart below shows Chinese historical CPI and PPI.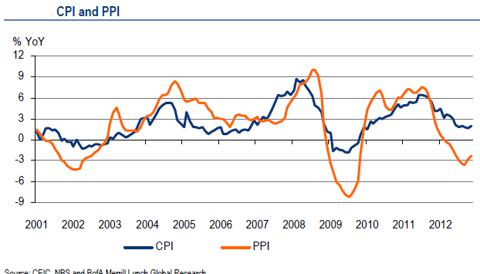 Sets In The West
Notwithstanding the improvements in China, a position in gold requires a hedge. The fiscal austerity measures that are most likely to be implemented in the US, i.e., tax increases and spending cuts, are expected to dampen US GDP by 50 bps. Thus with conservative estimates for US GDP in 2013 to be around 2%, the price of gold may face further downside volatility.
Why Gold Bugs Should Hedge With TIPS
While gold produces returns that beat inflation over time, the metal (and by extension the ETF) does not distribute income. When GLD is coupled with TIP, gold bugs receive an inflation beating position that distributes income. TIP has a 12-month distribution yield of 2.22%.
Another reason why gold bugs should purchase the metal in conjunction with the TIPS is the US Dollar. While gold is priced in Euros & Yen, its major denomination is the US Dollar. As such, if the US Dollar were to appreciate, gold will likely decline. Rather than rush into pure US Treasuries, gold bugs should consider holding a position in TIPS. The decline in gold will be mitigated by the price increase in TIPS. Currently, the correlation between the ETF TIP and IEF (iShares 7-10 Year Treasury Fund) stands at 0.61. Furthermore IEF's distribution yield of 1.80% is lower than TIP's 2.22%. TIP is the better option.
To ensure proper protection, gold bugs will have to hold almost 4 times as much TIPS as they do gold. This is based on the fact that the standard deviation of gold is approximately quadruple the standard deviation of TIP.
Technically Speaking
The ETF GLD appears to be exhibiting range bound movement over the past couple of years. Quite recently, GLD hit resistance around the same level it did in March of 2012, the $175 price level. On the shorter term, the ETF is in a downtrend, producing lower highs and lower lows. Investors should monitor these moves and pursue to purchase this security around the $153.50 to $148 price level as that might be a zone of price exhaustion for the downtrend and a rebound to the $175 price level. The chart below shows a weekly chart of GLD.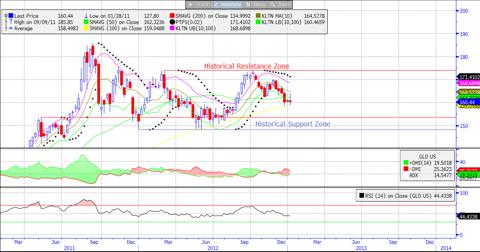 The ETF TIP has been in a medium term uptrend but has hit resistance at the $123.44 price level. The security is currently trading near its weekly support trend line, might make it a buying opportunity. The chart below shows the weekly chart of TIP.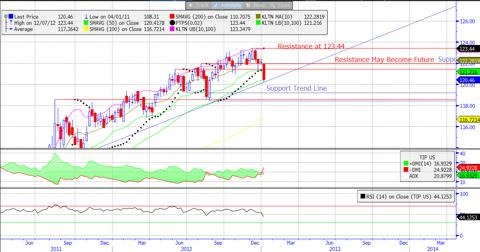 Gold bug conservationists need not be dismayed as the gold bugs will return in 2013. Improved economic activity in China will drive global inflation, leading investors to purchase Gold. If US austerity measures trump the activity, a hedge in US TIPS should suffice.
Disclosure: I have no positions in any stocks mentioned, and no plans to initiate any positions within the next 72 hours. I wrote this article myself, and it expresses my own opinions. I am not receiving compensation for it (other than from Seeking Alpha). I have no business relationship with any company whose stock is mentioned in this article.